Audi Azzurra fights back
Brisker wind conditions prevailed today in the Bay of Palma for the fifth day of racing at the Copa del Rey Audi Mapfre. The SSEerlies peaked of 18-20 knots as racing got underway at 13:00 hours and combined with a lumpy sea made for an exciting start and fast sailing.
In IRC 0 Niklas Zennström, skippering Rán, took two second places in as many races today, maintain her overall lead on 13 points. Rán benefitted from Shockwave's today's poor performance, George Sakellaris' mini-maxi only managing a fourth and a fifth, now nine points adrift of Rán overall. Today's victories were claimed by the new JV 72 Stig and Sir Peter Ogden's Jethou, which proved faster in the stronger conditions.
In IRC 1 ,Audi Azzurra Sailing Team scored back-to-back wins to reclaim the overall lead on count-back, leaving the trophy resting on a knife edge with just one day's racing remaining. The three-time Copa del Rey winning team are now tied at the top of the leaderboard on 18 points with Audi Sailing Team powered by All4One. Azzurra is ahead on count back, having won four races to All4One's three.
It was a return to winning form for the Italian/Argentinean team, who just yesterday posted their worst results of the regatta, fifth and sixth, to fall to a three point deficit in second place behind All4One. But with good starts and slick crew work skipper Guillermo Parada and tactician Vasco Vascotto, steered them back to the top.
"We wanted to gain as many points as possible on All4One, they did a good job to come back especially in the second race, but we held them off,'' Vascotto said. "We are happy today, but we are unhappy that we're not doing our best sailing. We've had our ups and downs. Tomorrow we need to have good starts again and play our game. We feel we have more than one chance to win this. Going into the last day on equal points is not a bad thing, it gets the adrenaline going."
All4One fought hard to protect their lead, finishing second in both races, but in race two the finish was a nail-biter crossing just one second ahead of Provezza. The team fought back from fifth place to finish second, but on corrected time they placed third, a position that ultimately sealed their fate in second place overall.
"We fought back, it could have been worse today,'' said tactician Jordi Calafat. "Tomorrow, we have to race better. In the races when we have beaten Azzurra we have had strong starts and we've managed to get ahead at the first cross, that first cross is crucial. It's not about being aggressive tomorrow. We like to sail loose, but because they know they need to cover us and they are faster than us it will be difficult. But, we are more than happy to be where we are today, and we have a good chance tomorrow."
The 52s have continued to prove dominate in the IRC 1 division, holding the top six places, with Gladiator rounding out the podium places on 27 points, followed by PowerPlay, 29.5, Paprec Recyclage, 33 and Provezza 7, 39. Tomorrow Spain's Crown Prince Felipe will compete in IRC 1 tomorrow on board the 52 Aifos.
In the J/80 class, Mapfre is the clear favourite with just two races left. Conditions proved tricky for the one design classes, with 14 knots of wind gusting up to 18 knots and lumpy seas in the first race. Carlos Martínez discarded Mapfre's result in today's first race, which was won by Jose María van der Ploeg on Nilfisk, who finished third in the second. Nilfisk and Nextel where eighth and sixth respectively. Overall Mapfre holds to the top spot with a six point lead over second classified Nextel.
The strong winds tested sailors in the X-35 class and the committee was forced to make the start black flag for race 2, after a general recall on the first attempt. Audi Ultra's bad performance today, 7-9, has caused her to lose the lead overall to Margherita–Jsteam of Roberto Mazzucato, 7-2, followed by Alberto Fusco's Hotelplan–Spirit of Nerina with a 3-3.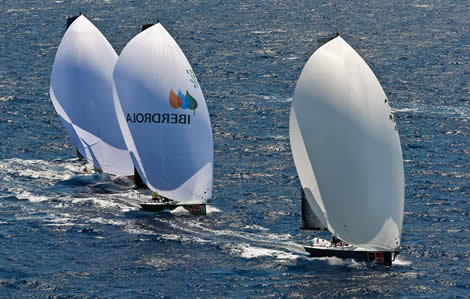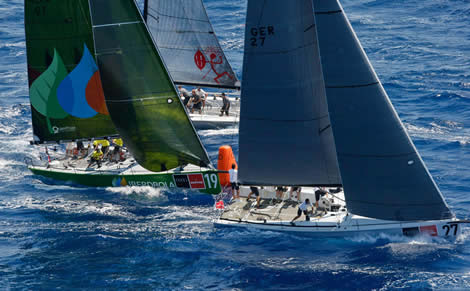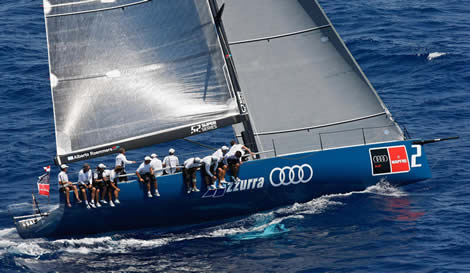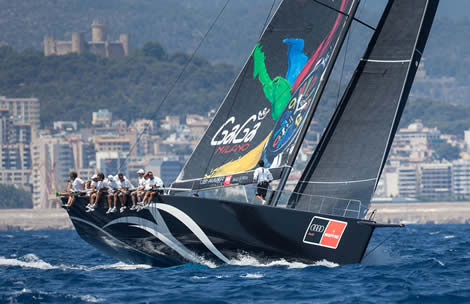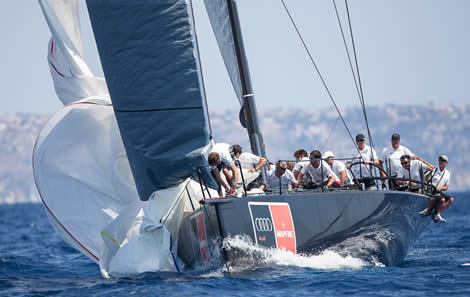 Back to top
Back to top