Audi TP52s collide
The overall lead of IRC 1 at Copa del Rey Audi Mapfre division hangs in the hands of the International Jury, after a collision between longstanding regatta leaders Audi Azzurra and provisional leaders Audi All4One resulted in counter protests after their boats collided during a mark rounding.
The pair was neck-and-neck on the approach to the mark when All4One got the inside overlap, Azzurra didn't keep clear and their yachts collided. The Italian/Argentinean team made a 720° turn dropping from first to fifth.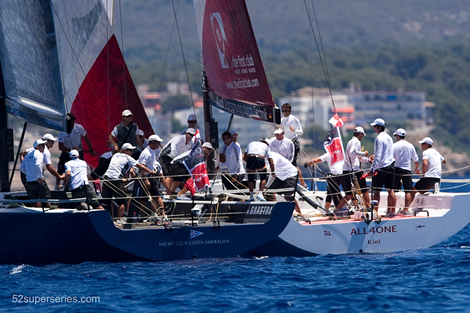 At the finish each team notified race management of their intention to protest the other. The protest will be heard by the International Jury at the Real Club de Náutico later tonight. The outcome could cause a major shakeup of the overall leaderboard on what was otherwise a victorious day for Audi All4One.
The team scored back-to-back wins thanks to the powerhouse partnership of America's Cup and Olympic gold medallists Jochen Schüemann and Jordi Calafat, who proved invincible. It is the third line honours win in two days for the on-form team, having won Wednesday's coastal race. The trifecta of victories provisionally moves the team to the top of the overall leaderboard on 19 points, edging them to a three point lead over longstanding leaders Audi Azzurra Racing Team with just two-days racing remaining.
But, with a protest pending and more racing to come All4One strategist former Olympic Star crew Pascal Rambeau said it was too early to take too much confidence from the victories. "There is still a long way, four races to go,'' he said. "We have to take it one race at a time and stay focused and keep the momentum we have. It is competitive racing, today proves that."
It should have been a day of celebration for Azzurra, today 19 marks the 30th anniversary of the launch of the first Azzurra yacht. Instead the team were commiserating their worst results yet: sixth and fifth on corrected time. The bad form could see Azzurra lose the lead they have held for two-days and slip from a 5.5 point lead, to three point deficit in second place.
Provisionally Audi Sailing Team powered by All4One are the Copa del Rey IRC 1 leaders on 19 points, followed by Audi Azzurra Sailing Team on 22, Gladiator on 24.5, PowerPlay on 27.5 and Paprec Recyclage on 29.
Elsewhere the fleets were faced dealing with the light conditions providing some of the tightest and most tactical racing until now, tThe 15 knot WSWerly of the three past days backing into the SSW and lightening SSWerly light breeze of around six knots for the start, the sea breeze picking up to 12-14 knots by the early afternoon.
The wind was best on the left side of the course as IRC 0's first start got underway. Rán didn't perform to her best in today's first race, finishing third, and could only improve by one point in race two when she was second, but Niklas Zennström's mini maxi holds to a six point lead over second placed Shockwave of American George Sakellaris, which was first in the first race, and third in the second.
Alessandro Rombelli's Mini Maxi Stig finished better today, posting second and first placed finishes, but the Italian JV72's two DNFs yesterday cause her to remain in fourth overall. Sir Irvine Laidlaw's Wally 82 Highland Fling was forced to abandon the first race after her spinnaker tore. She didn't start the second.
In the Soto 40 competition, Andrés Soriano's Alegre led the first race from start to finish, showing good speed, but also benefited by some unlucky episodes for the rest of the fleet, in the testing conditions. However Alegre finished sixth in race two, which could have favoured second placed Iberdrola, but Agustin Zulueta's team finished a disappointing 5-5, leave them seven points after of Alegre overall. Bigamist had the best day today, with 2-1 elevating them to the fourth overall.
No changes in the RI 1 results , where Swanderfull of José Caldeira and Chuny Bermúdez remains leader, with a seven point advantage over Hendrik Brandis' Earlybird. In RI2 the consistent Power Plate of Olympic sailor Gustavo Martínez Doreste is first, followed by Pedro Campos' Movistar.
Discards came into effect today in the J/80 and X-35 classes after their eighth race. The J-80 class sees Carlos Martinez's Mapfre increase her lead thanks to her rival Nextel being OCS in the first race followed by a fourth in the second, while Mapfre scored a 2-1. The victory in the first race went to José María van der Ploeg's Nilfisk but she could only manage a seventh in the second. Nextel lies second overall, followed by Nilfisk, 20 points clear of fourth place.
In the X-35s, yesterday's leader Hotelplan–Spirit of Nerina could only manage an 11th and an 8th today and has now been overtaken by Margherita – Jsteam of Roberto Mazzucato thanks to a 1-2, with Finnish Samuli Liesti's Audi Ultra in second.
Tomorrow two more windward-leeward are scheduled and discards will come into effect for the handicap classes.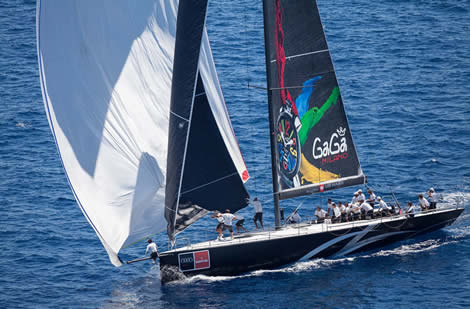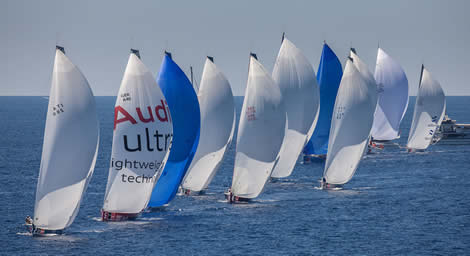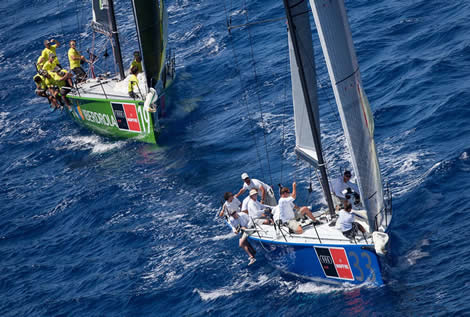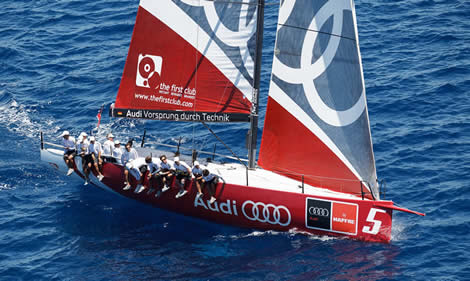 Back to top
Back to top