Late surge from Phil Robertson
Kiwi skipper Phil Robertson was unbeaten today at the Stena Match Cup Sweden to finish top of the qualifying round thereby getting the first pick of opposition in the Quarter Final as he looks to continue his fantastic early season form in the Alpari World Match Racing Tour.

Robertson may have gone under the radar of some of his fellow skippers, having taken two of his three qualifying losses in the first day of sailing before winning seven from eight to secure the early advantage. A win in the final flight of the day saw him beat Yanmar Racing's Peter Gilmour in a match that was set to decide first position. Robertson, said: "When we started the Gilmour match, we didn't realise on board that it could allow us to top qualifying.

"There was a 30° wind shift about two minutes out and the guys on board did a beautiful job to position ourselves to get there first and we got a massive lead in the light shifting winds so it was a hard match to stay ahead, especially with a big lead. He caught right up then as the match got closer it was a bit more comfortable for us as we were able to stay in the same area and do what we do best which is keep it close and keep ahead.

"Our crew are all really comfortable with each other and one of our big strengths is the wind and spotting the breeze. When it comes down to that, when it's shifting like it was, I'd back our team any day and I have full confidence in them to tell me to go the right way so all I have to do is make sure the boat is going fast."

Gilmour remained relaxed about his final standing, saying: "The priority for this team is always to reach the latter stages of the knockout rounds ahead of topping qualification. Whilst it's important for count-backs and the choosing of your next opponent, we put more importance on getting our team practiced as much as possible at this stage whilst ensuring we're one of the eight that progress."

Robertson took the lead at the start of the match as a late change of wind direction immediately before the gun caught both teams off-guard. Seeming to make the best of the situation, Robertson crossed ahead on the first upwind leg, perhaps adapting to conditions which suited his easy-going sailing style, something noted by Gilmour before the race: "Phil sails pretty loose. The team are cool and collected."

Good boat handling from Gilmour near the first mark allowed him to make back some of the distance and he turned downwind only marginally behind. The gap remained tight as the skippers chose different gate marks and Gilmour looked to make his move on the final lap. The gamble didn't pay off and Robertson ended up closing out the race to take a comfortable win and the lead in the race for the Quarter Final.

Gilmour still secured second choice of Quarter Final opponent and chose to sail against fellow Australian, Keith Swinton while Robertson took Reuben Corbett to set up an inter-Kiwi battle.

After dominating performances in the opening three days of qualifying, local hero Bjorn Hansen struggled against the other skippers looking for top spot in the qualification table, losing out to Tour Champion Ian Williams and his GAC Pindar team and seven-time Stena Match Cup Sweden winner, Gilmour.

Hansen's Flight 22 pairing against Williams got off to a promising start for the Swede, getting the better positioning at the start, winning the left side of the course. The boats came together for the first time and Williams made a big dial down trying to throw Hansen off balance and force a penalty on him, but the umpires ruled that Hansen had done enough to avoid his competitor and raised a green flag.

The boats remained close going into the top mark for the first time with Williams managing to give Hanson bad air from his controlling position on the right hand side of the course. Williams extended into a one length lead as the pair chose opposite gate marks coming downwind for the first time, with Hansen searching out the right hand side of the course for better pressure and an opportunity to get himself back into the match.

The move failed to help Hansen find a way back and Williams saw out a comfortable win, saying: "The guys got it right against Bjorn [Hansen] and a few good calls on tactics were key in putting us in a really good position. Today we were really focused on winning our last few matches and closing out Qualifying in top spot but we're still happy to progress."

Hansen was handed a Quarter Final match-up against compatriot Johnie Berntsson on home soil, meaning that local fans can look forward to a thrilling all-Swedish match tomorrow and a definite presence in the Semi-Final on the last day of racing. Williams will face France's Pierre-Antoine Morvan.

Italian Simone Ferrarese was among the group knocked out after the first round, despite a significant improvement over the last two days. He finished on four wins and felt unlucky after a couple of close matches ultimately made the difference between progression and an early exit, saying: "We didn't get off to a good start but each day we got stronger and got a bit more familiar with the boats. We hadn't sailed on them before as it's our first year as a Tour Card Holder.

"Today we started on just two wins so were in a must-win situation in all of the matches. We're disappointed after leading Peter [Gilmour] by about four lengths in our match before losing out on a couple of manoeuvres where he did really well to come back into it, then against Torvar we got a good start but broke a winch early on and lost that one too. We'll stay positive and go to Chicago with more experience."

The Stena Match Cup Sweden Quarter Finals tomorrow from 0900 CET, with the Semi Finals and Final on Saturday.
Quarter Final Draw:
Phil Robertson (NZ) WAKA Racing vs Reuben Corbett (NZ) AON Racing Team
Peter Gilmour (AUS) YANMAR Racing vs Keith Swinton (AUS) Black Swan Racing Team
Ian Williams (GBR) GAC Pindar vs Pierre-Antoine Morvan (FRA) Vannes Agglo Sailing Team
Bjorn Hansen (SWE) Mekonomen Sailing Team vs Johnie Berntsson (SWE) Berntsson Sailing Team

Qualifying round standings:
Phil Robertson (NZ) WAKA Racing 10-3
Peter Gilmour (AUS) YANMAR Racing 10-3
Ian Williams (GBR) GAC Pindar 9-4
Keith Swinton (AUS) Black Swan Racing Team 9-4
Bjorn Hansen (SWE) Mekonomen Sailing Team 9-4
Johnie Berntsson (SWE) Berntsson Sailing Team 9-4
Pierre-Antoine Morvan (FRA) Vannes Agglo Sailing Team 7-6
Reuben Corbett (NZ) AON Racing Team 5-8
Joachim Aschenbrenner (DEN) Team Trifork 5-8
Staffan Lindberg (FIN) Alandia Sailing Team 5-8
Torvar Mirsky (AUS) Miss Sophie 4-9
Simone Ferrarese (ITA) Ferrarese Racing Team 4-9
Laurie Jury (NZ) Kiwi Match 3-10
Viktor Ogeman (SWE) Team Accure 1-12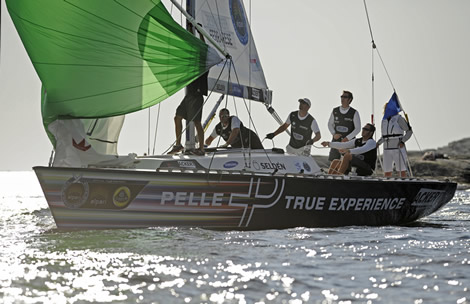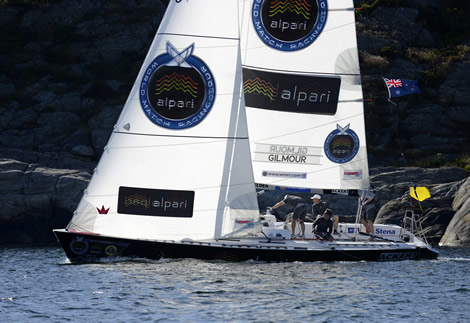 Back to top
Back to top