Grant Dalton airs his views
Wednesday July 4th 2012, Author:
James Boyd
, Location: none selected
Emirates Team New Zealand CEO Grant Dalton was in Lorient last week, to gee on his boys on the Camper VO70 - which clearly worked given their leg nine victory into Galway on Monday. The round the world race legend also attended the announcement about the Volvo Ocean Race's new 65ft one design.
With his team challenging for the 34th America's Cup and also competing in the Volvo Ocean Race, Dalton found himself drawing stark comparisons between the two events, particularly the costs involved with each.
"What is great is that it has been done, someone made a decision - Knut [Frostad] in this case - and has actually attacked it head on, whereas America's Cup just lost the plot when it comes to cost control and costs have blown through the roof and they are still going up. So that is interesting - a real contrast. You see the background of Knut – he is a guy who has had to raise money all his life for his own sailing, so he is following that culture of attacking cost head on and I think that is absolutely to be commended."
Particularly Dalton endorses the choice of going one design for the amount it should reduce campaign costs. The Volvo Ocean Race as a sports marketing entity, he maintains, cannot justify teams costing 25-30 million Euros (or more in Groupama's case). "There will always be those that say it is the wrong way to go – 'it is one design, it is not the culture of the race' – but when you boil it all down there isn't any money in the world – it has gone! We think of it as purists, but there is this simple fact that unless something is done it won't survive – period - because the money doesn't exist. We spend all our time looking at pictures of the boat, but there isn't a lot of focus put on the fact that the world economy is such that you can't raise very much money at the moment."
However with the new one design the goalposts are certain to move and it will place far greater premium on the crew. This, Dalton says, will be partly dictated by the number of under 30 or 28 year olds that will be required in the eight man crew next time around. "And there will be a really heavy premium on getting the right navigator. There are not many guys on the boat so you are going to have to go the right way. So if I was a good navigator I'd be pretty happy right now because I'd be putting my price up quite a lot..."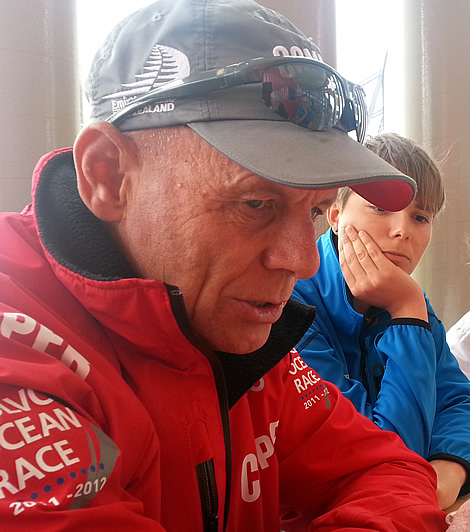 However the boat isn't the biggest ticket item with professional sailing teams like Emirates Team New Zealand. Salaries at present account for around 55-60% of a total campaign budget (not just in the Volvo Ocean Race but across most campaigns, Dalton says). "Numbers of people, duration and salaries are your major cost."
He reckons that the next step would be to introduce salary cap for teams. "You do that and then you cap it properly. Of course yachtsmen are going to resist that like crazy, but the people that raise the money won't."
There are plenty of examples of salary caps working in sport down under, but also examples of teams cheating it with clandestine backhanders and people ended up with 'free houses', etc, rugby league being the worst example. But Dalton points out there that have also been plenty of people and teams caught cheating the system and heavily fined as a result.
So was he surprised that the new one design is from Farr rather than the dominant designer of the last three Volvo Ocean Races - Juan K? "Knut answered it. Poor old Pat Shaughnessy [Farr Yacht Design President] looked like someone had shot his grandmother! They still have some racing pedigree, but they don't do too many race boats any more so they are in a better position than any other designer to set up the systems that are needed to do a production boat. I think they are the right choice. They can't be that far wrong with the design of the boat - maybe someone could have done one that went 0.2 of a knot faster, but they are all the same."
Dalton adds that from his team's perspective, being an America's Cup team, the one design will make life easier for them as in addition to the reduced cost, the turnkey one design to be used in the 2014-5 Volvo Ocean Race will tie up less resource for them.
So does this mean we will be seeing Emirates Team New Zealand in the next Volvo Ocean Race? "I don't know at this stage. I haven't thought about it because I have enough problems to deal with! So the answer is I'd like to, but I have given it no thought."
A concern of Dalton's is that costs may not go down if big teams do the obvious thing and get two boats – if this is permitted. "Serious teams will have two. So two of those ends up being a lot more than one of these [a VO70]." If two boat teams are allowed then it will be like the 2008-9 race when two boat teams will be obliged to race both their boats. "I don't think it is a bad thing," Dalton continues. "That cost can be controlled if the two boats can't sail together and that happens in the Cup now, but I don't know what he [Knut] is going to do about that. We are not allowed to sail two Cup boats together until February next – but then we couldn't sail them together even if we wanted to and logistically we'll never be able to sail two boats together whereas Oracle just throws another 200 people at it. I don't know how you control that."
Dalton echoes our concerns over the VOD65's reliability. "They are like rental cars now and you can't take any strategic advantage through design or being strong in certain conditions, so when the gas is on the gas is on. And depending on how strong the boat ends up you will reach a point where it will be where the VO60s got to ultimately - they got so reliable so that the humans dropped first – they couldn't do it. Ultimately you couldn't break a Volvo 60 and we were just breaking ourselves. So these boats will probably be a bit like that. It is certainly possible to get to that stage with a high performance boat that is strong enough and the people just can't take it."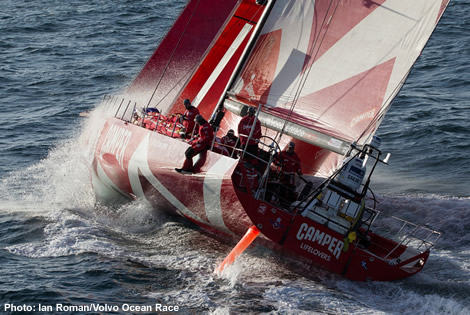 Of Groupama's victory in this Volvo Ocean Race, Dalton was impressed. He's had exposure to the French sailing scene when he skippered the Club Med maxi cat to victory in The Race 12 years ago. "Groupama has done a good job. It was interesting watching them on the first two legs. On the first leg they sailed very 'French' [their flier to Africa] and the second was pretty 'French' as well but they were starting to get it under control and by the third leg they were sailing really smart and they have been doing that since. The boat is seriously quick. It is the quickest boat in the race, at times by quite a lot. We are fourth or fifth quickest which is a struggle, like on the leg coming into Lisbon when we were pretty much all together and Groupama just stretched and we just got left behind. So I think they have done a really nice job. And they have adapted to the Anglo-Saxon kind of way."
Equally Dalton says he was surprised by the decline of Telefonica throughout the race. "I don't know. I guess the horseshoe fell out of their arse. I have no idea what happened. Sometime you can't get it wrong and sometimes you just can't buy a trick. Sometimes there is no reason, you do nothing differently and it just doesn't fall for you."
Certainly the Spanish team's generally dismal performance in the in-port races can't have helped. "The in port racing is important - you start [the subsequent offshore leg] the next day on a high if you do well. Mentally you must start low if you have a bad in port. I don't think it has helped. And the points add up, if you do them well they eventually count. But one leg [into Lisbon] has spun this whole race. You wouldn't have thought that in nine legs one leg could make the difference. In general terms it nailed it for Groupama effectively at that point."
Having been at the last few stopovers Dalton says that the teams in general have suffered from not being able to modify their crew set-up and in particular their communication when they swap between inshore and offshore modes. "I was on board [Camper] in the in port race in Lisbon and I thought they sailed pretty nicely. We should have won it – we screwed it up at the bottom mark before we came on the wind – it was a communication mistake. It cost us that race in Lisbon when we should have won it."
So Dalton thinks the Camper boat is the slowest of the new designs. Why? "Because of a mistake. I am still cross about that. We just got it wrong. The Juan K boats are better and Marcelino [Botin] can answer it better, but I think it is an induced drag issue - we gave away what we believed was an induced drag created by higher stability, in other words you get more drag with stability and you couldn't use it, but in fact you can. And I think their boards are a lot better than ours too. Basically we aren't quick enough – the boat's wrong."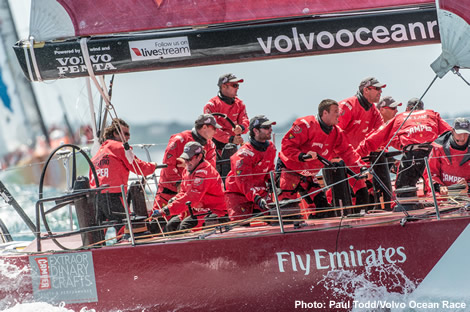 While there were rumours early in the race of rifts within the Camper crew, Dalton says he was unaware of this. However he was surprised Chris Nicholson's crew weren't more 'pissed off' with their performance. "A little bit of biffo might have helped! They have been amazing how they have held together. Normally you get at least one skipper being sacked in Cape Town. I don't know. We made a change in Abu Dhabi and put Nico downstairs because tactically we were just woeful, so they could concentrate more on that. That was a definite gain tactically, although we have had a couple of beauties since. Otherwise there have been no issues on the boat at all. If there were issues on the boat I'd have stepped in. Maybe there should have been. Maybe there hasn't been enough conflict. Sometimes everyone gets a bit too chummy. Certainly Team New Zealand suffered from being too chummy going into the 2003 Cup. A little bit of conflict isn't necessarily a bad thing, but there have been no issues at all."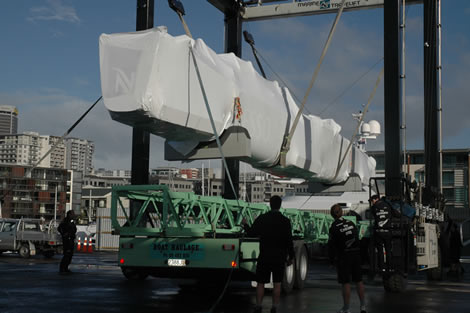 America's Cup

While Knut Frostad is striving hard to halve campaign costs in the Volvo Ocean Race, Dalton says that in the America's Cup costs are spirally upwards out of control. "We are up at more than 20% of the total budget we thought we would spend. That is up about 35% up from the Cup in Valencia." Part of that is down to the strength of the New Zealand dollar against the Euro, but it is also the greatly inflated cost of designing, building and developing the AC72s. While a Version 5 took 18-20,000 man hours to build, with the AC72 it is taking around 50,000 to construct the platform alone "...and we can be within 500 hours because we are that close to finishing it," while the wing is around 15,000 man hours. So a threefold increase at least. And, as the Kiwi team's chief designer Nick Holroyd told us recently, with 35 designers on the payroll, they have estimated that 50 man years has gone into just the design.
"It's nuts. I don't feel led up the garden path, because we were calling it early. I remember the very first day they said it was going to be cheap we called 'yeah, right', but I think a lot of other people have [been caught out]. I think the Koreans - they have had the biggest shock they had since the North invaded them... I think they don't know what they don't know yet... Coutts is now already talking about, if they were to retain it, they'd scrap the 72 and go to a smaller boat and he wants budgets of 30 million which seems a familiar figure. I think the commercial market for the Cup is about 30 million."
The Emirates Team New Zealand AC72 is to be launched later this month followed a build predominantly between the Kiwi team's long term builder, Mick Cookson, and Southern Spars. While Cookson has built the hulls and parts for the wing, Southern Spars has built the majority of the wing and also supplied some other parts such as the bowsprit and the other spars likely to be used to handle the fore and aft rig loads on the platform.
Given the tales of occasional carnage when Oracle was manhandling the ginormous wing on and off USA 17, Dalton is anticipating that this is going to be a significant issue with the AC72. The 45 wing, while it is being lifted on and off the platform can be tethered by crew holding guy ropes. However that won't be adequate with the 72. "You'd need an elephant on the end of the guy rope! So the whole thing has got to be held down with weights and you drive the weights around so the thing can' take off on you."
They are also having to take steps handling the AC72 to get it in and out of Auckland's Viaduct Basin where they have their base. "We have built tugs, like bumper boats so that they can go 360deg so we can take it out backwards in a southwesterly or bring it in backwards in a northeasterly. And we have got a new big chase boat due in the water in a couple of weeks – a big 45ft cat with 1200hp on it. It is not to keep up with the thing, but if it tips over you need a lot of torque to rewrite it..." Or to pick up the bits.
Emirates Team New Zealand's first AC72 is to be launched in Auckland later this month.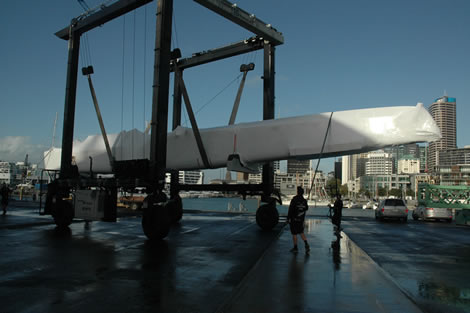 Back to top
Back to top