USA surges ahead
Audi Sardinia Cup favourites, Team USA, comprising the TP52 Quantum Racing and the Soto 40 Iberdrola, has overtaken Italy to assume the lead in the team results of the Audi Sardinia Cup held out of Sardinia's Yacht Club Costa Smeralda.
Iberdrola notched up three bullets today, and this, combined with a 3-1-4 scoreline from Quantum, was sufficient to move then ahead of the Italian home team of TP52 Audi Azzurra Sailing Team and the Soto 40 Alegre by nine points. The Swedish team, of Niklas Zennström's Ràn (TP52) and Stefan Jentszch's Soto 40 Black Pearl are currently third with two more race days scheduled.
Today's three races were held in 7-8 knots easterlies making for tricky racing for all the yachts. This second successive day of light sea breeze conditions allowed the crews to reap the benefits of their learning.
The Azzurra team performed the best in the 52 series, their second and fourth places complemented by a gun-to-gun win in the third race which keep them in close contention overall, just two points behind Quantum Racing after five races. Doug De Vos' regatta leaders scored a 3,1,4, coming off second best to Azzurra off the start line of the day's final race. That left the World Champions to fight hard, but ultimately unsuccessfully, to break down the French resistance of Paprec, who again proved they have the speed and skills to make a favourable impression in this white hot fleet.
As ever super sharp starting was a primary requisite for success. But in the first race it was excellent downwind legs which allowed Tony Langley's Gladiator's crew to leave Audi Azzurra in the shade. The Italian boat had lead for three of the four legs, but Langley's crew stole the winning gun on the final third of the run.
In the second race Quantum Racing were able to dictate terms after a strong start, finishing ahead of Gladiator.
With the top two boats at the regatta pushing for the pin in the final race of the day, one was going to come off second best. In the end Azzurra nailed it and were able to squeeze Quantum Racing off into the less favoured middle of the course, so building a good lead from half way up the beat that they were able to hold to the finish.
"As a group we feel like we are pretty quick in these conditions and not that risky, so we did not risk everything to win the starts," commented Andy Horton, Quantum Racing's tactician. "The first one was okay. We were able to come back, the last one bit us."
Gladiator sullied their 1-2 scoreline for the day with a sixth, but Langley and crew still lies third going into Saturday's high points value coastal race which is planned. Their tactician Chris Larson commented: "Today was a good day, the best we have ever sailed – since I have been with the boat for four regattas I have sailed with the boat. Tony and the trimmers did a really nice job trying to communicate and talk more about the angles we are trying to achieve upwind in this light stuff and so we talked about that last night and this morning, and so they did a really nice job of stepping up to the plate and that showed in the first two races. The third one we were on the line alright but were just a little bit slow and then got to the right side and it was not very good there, and so we kind of paid the price there with Quantum. It was a tough race."
Audi Azzurra Sailing Team seemed to be going quicker than they were yesterday, tactician Francesco Bruni felt. "We were going better. The small changes we made ensure we are going in the right direction, a little bit of work on the sails, the way we sail the boat, a little tune up. The boat was going better, but there is still a bit of a difference in boat speed between us and Quantum, they are a little quicker upwind and a small edge downwind, smaller than yesterday, so we are going in the right direction."
Ado Stead, on tactician Rán added: "It was pretty tricky today but we are much happier with the way we sailed the boat than yesterday. Yesterday was the first day that we had sailed in such light stuff for a while and last night we just had a think about some things we were doing, made five or six subtle changes. I missed an opportunity in the first race and did not convert a reasonable start and got sucked into Azzurra. The second race we were over the start and got back to third, so we were pleased enough with that and the third race we got a good start and a second. We are happier than yesterday, we know there is still more to improve."
In the Soto 40 fleet it was all about Iberdrola today and her three consecutive victories. Trailing the Jose Maria Torcida Seghers-steered boatwere Tony Buckingham's Ngoni and Black Pearl respectively in Race Three; Alegre and Bigamist in Race Four and Black Pearl and Ngoni in the final race of the day. Andres Soriano's Alegre, which took two bullets in yesterday's first day of racing, now sits four points behind Iberdrola in the overall results for the Soto 40s.

Antonio Piris Turner, Tactician on Iberdrola said: "It was a great day for us: we got three bullets. We had better starts today as we changed our sail trim, we are not used to sailing in such light winds and it seems that small changes in the main battons were enough to give us a little more ground. Alegre had a great start yesterday and today didn't do so well but that could all change tomorrow, that's the great thing about one-designs."

All participants are guests at a barbecue at Aqua Lounge Bar & Restaurant this evening. Racing is scheduled to continue tomorrow with a coastal race scheduled for both classes. The start is scheduled for 12 noon and easterly breezes of approximately 6 knots are forecast.
Audi Sardinia Cup - team results
1. USA: Soto 40 Iberdrola Team (3/3/1/1/1=9) - TP52 Quantum Racing (1/1/3/1/3=9) Tot. pts 18
2. Italy: Soto 40 Alegre (3/1/5/2/4=15) - TP52 Audi Azzurra Sailing Team (3/2/2/4/1=12) Tot. pts 27
3. Sweden: Soto 40 Black Pearl (4/2/3/4/2=15) - TP52 Ràn (4/4/4/3/2=17) Tot. pts 32
4. Great Britain: Soto 40 Ngoni (5/5/2/5/3=20) - TP52 Gladiator (2/3/1/2/5=13) Tot pts 33
5. Cayman Islands: Soto 40 Bigamist (2/4/4/3/5=18) - TP52 Powerplay (5/5/5/5/4=24) Tot pts 42

Audi Sardinia Cup - 52 Super Series
1 Quantum Racing (USA) 1,1,3,1,4 10pts
2 Audi AZZURRA Sailing Team (ITA) 3,2,2,4,1 12pts
3 Gladiator (GBR) 2,3,1,2,6 14pts
4 RÁN (SWE) 4,4,4,3,2 17pts
5 Paprec Recyclage (FRA) 5,5,5,6,3 24pts
6 PowerPlay (CAY) 6,6,6,5,5, 28pts
Audi Sardinia Cup Soto 40 top three results

1. Iberdrola 3/3/1/1/1=9
2. Alegre 1/1/5/2/4=13
3. Black Pearl 4/2/3/5/2=16
From Nico Martinez/Soto 40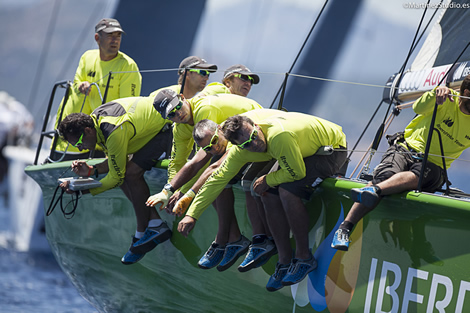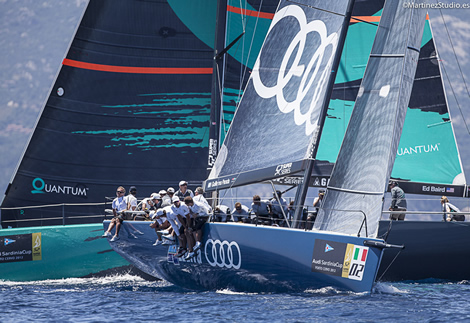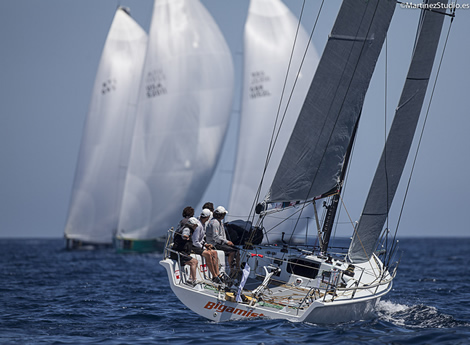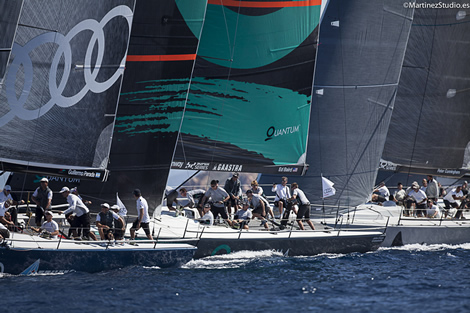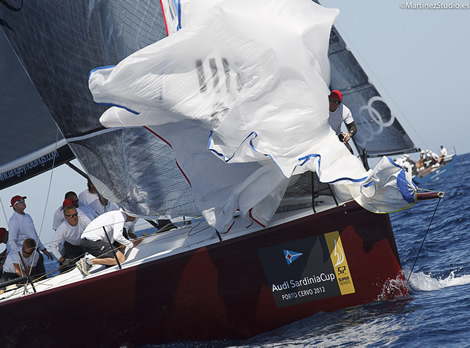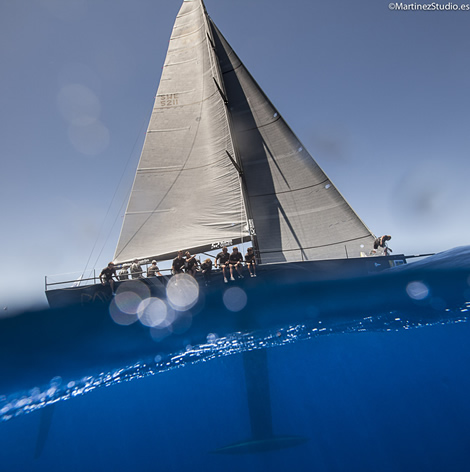 Back to top
Back to top