Tonnerre into the lead
Under pewter grey skies with big breeze and frequent rain squalls, the sailors today had a harsh introduction to the RORC IRC National Championship.
Shortly after the first start, the fleet got a taste of the wicked conditions, as an angry 35-knot gust ripped through the racecourse. Thankfully, it was the biggest blast of the day but the wind rarely dropped below 20 knots and rain peppered the competitors throughout the three races. Spotting the huge gusts and nailing manoeuvres were vital to success. Some passed the test with flying colours, others returned to shore with shredded sails and dented pride.

In IRC One, Piet Vroon's Ker 46 Tonnerre de Breskens started the series with a disappointing tenth, but came back firing on all cylinders to win the next two races and lead class one overnight. After racing Vroon commented: "It is a simple rule but he who makes the fewest mistakes usually gets the best results. We didn't break anything today, not even a sail batten and that is all down to the crew being careful and handling the boat well. I was especially happy with our results today, as on short courses we do not have a lot of time to make up our time handicap on other boats, it was great effort by the crew today, it really is all down to them."

Anthony O'Leary's Ker 39 Antix is second in class after three races. "We kept the sails above the boat today and to be honest I was too pre-occupied with that to notice those who didn't manage it. In those conditions, you keep your eyes on the road!" Jan Persoons sailing Grand Soleil 43, Il Corvo had a consistent day to claim third overall in the big boat class. Mark Devereux's Swan 42 Brevity, started well, but the crew will probably remember the day best for their über-Chinese gybe, caught on camera by Paul Wyeth.

It's tight at the top of IRC Two with just one point separating the top four yachts after three races. Jim Macgregor's Elan 410 Premier Flair was in fine form today and they needed to be - a badly shredded kite threatened to put them out of contention in Race 2 but the team showed great tenacity to claw their way back to claim a second place finish in the race. Jim's daughter, Lucy Macgregor, was calling tactics, grinning from ear to ear and obviously enjoying a break from her build up to representing Great Britain at the upcoming Olympic Games. Past RORC Commodore Andrew McIrvine's First 40 La Réponse finished the day in fine style taking the gun in Race 3 by a substantial margin to claim second in class. However, La Réponse is tied on points with Marc de Saint Denis & Géry Trentesaux's MC34 Courrier Vintage and Sailing Logic's Reflex 38 Visit Malta Puma.

Today's outstanding performance came from IRC Three. David Franks' JPK1010 Strait Dealer scored three bullets by some margin, exhibiting terrific boat handling, one of the smallest yachts at the regatta was fully under control in the feisty conditions. "I have to say that it was easier in our class to read the shifts because we had two starts in front of us to observe" admitted Strait Dealer's tactician, Graham Sunderland. "We concentrated on tactics upwind today and more on the boat handling downwind, which I think paid off. I was absolutely delighted for David (Franks), his Etchells racing has massively improved his driving skills, and he was top of his game today. Also I would like to add that the RORC race management team did a great job snapping off three races today in quick succession."

IRC Four had a different winner in each race today, Grant Gordon's J/97 Fever won the first rubber but rival J/97 Jika Jika, sailed by Mike and Jamie Holmes, fought back to take Race Two. Michael Kershaw's Chimp, was the last boat to finish in Race 3 but on corrected time the vintage Half Tonner enjoyed their first bullet of the regatta.

Racing at the RORC IRC National Championship continues tomorrow with three races scheduled. However, it may be too early to put away the wet weather gear - the weather forecast is suggesting fresh to frightening conditions for the second day of the regatta.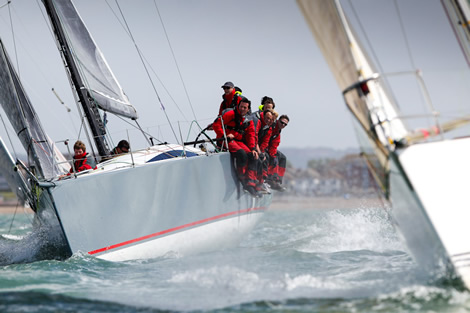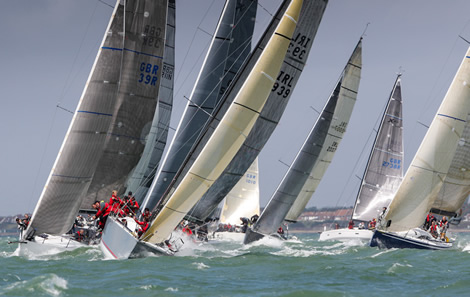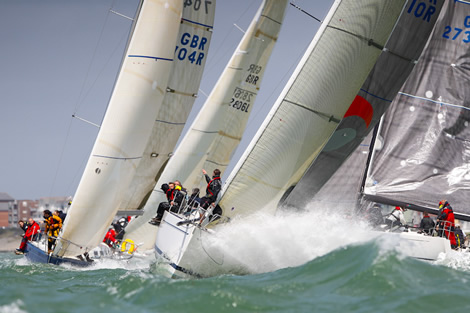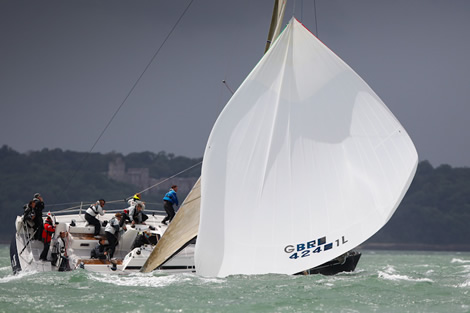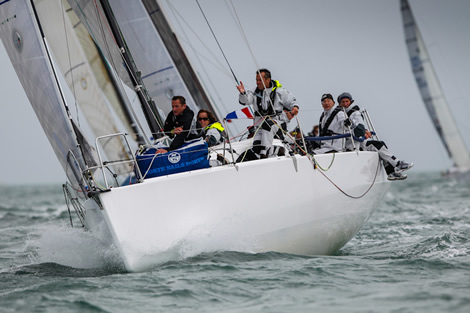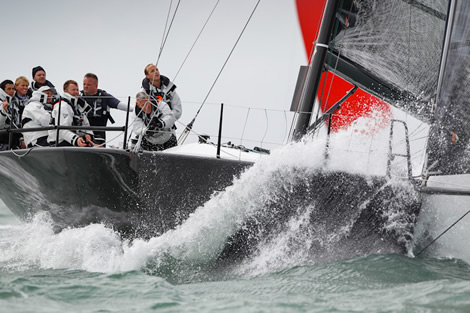 Back to top
Back to top