Alpari World Match Racing Tour in 2012
Thursday May 31st 2012, Author:
James Boyd
, Location: none selected
The newly christened Alpari World Match Racing Tour has got off to an intense start with the opening event of 2012, Match Racing Germany segueing directly into the Korea Match Cup this week.
The big news this season is the arrival of Alpari, the international foreign exchange (Forex) traders, the first time the Tour has had a title sponsor since the departure of Swedish Match at the end of its seven year tenure in 2005.
"It is great to have Alpari on board and also a Title Sponsor for the Tour," says Tour Executive Director, James Pleasance, who is back working with the Tour in an advisory role, following the departure of CEO Jim O'Toole. "Alpari is no stranger to sponsorship, but they are a new brand in the sailing world, and that is something both they and us are keen to promote and the Tour is the ideal platform. They also plan to activate their partnership at all the events and they already made an impression at Match Race Germany last week."
Alpari's arrival will hopefully allow the Tour to grow while alleviating some pressure from Tour owners Patrick Lim and Peter Gilmour, who have been investing in the international match racing circuit for two years now.
In addition to corporate hospitality, Alpari was also attracted by the Tour's media proposition, in particularly its TV coverage which includes live broadcast coverage and simultaneous live internet streaming from every event in 2012
The Alpari partnership, as well as recently getting Lotus on board as Official Performance Automotive Partner, were brokered by Tour Sales Director Matthew Strachan and the Tour's former CEO Jim O'Toole, prior to his departure in March. O'Toole was brought in by Lim and Gilmour in 2010 to manage the Tour and help attract new sponsors on board. There are at present no plans to replace him, however Pleasance, who previously worked on the Tour during the Swedish Match years over 2002-2007, is standing in, in a part-time consultancy role in the meantime.
Schedule
This year the Tour features nine events, concluding as ever with the Monsoon Cup in Malaysia in early December.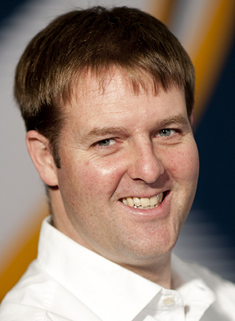 The schedule kicked off later this year, with Match Race France - the event that normally opens the season, has now moved to late September to tie in with the Marseille stop in the MOD70's European Tour. "It seemed to make sense to share infrastructure costs and provide more things going on at the event," explains Tour Director, Craig Mitchell. "The MOD70s will be racing further offshore and we'll be racing right on the shore, trying to increase the spectacle."
New to the Tour this year is also the Chicago Match Cup in mid-July, marking a significant move to the Tour into the US. While the Tour's management is trying to bring new events on board at a high level, with big prize money and budget for television, the US event has come in at a lower level than the more sizeable Asian events. However America is recognised as being a key market for the Tour and Don Wilson and his team at the Chicago Match Race Center are highly motivated to raise their game and host a Tour event, following the Grade 1 they ran in 2011. This is the first time the Tour will have visited the USA since the Allianz Cup in San Francisco in 2006.
The Chicago event will be held off Navy Pier, a significant tourist attraction in the heart of downtown Chicago.
Last year, the Tour made a call to cities wishing to host events and according to Mitchell this conjured up around 100 interested parties. With the tendering process run by Terry Newby at Regatta International, this list has now been distilled down to seven or eight serious contenders and Mitchell says that they expect this to result in at least three new events being introduced to the Tour over the next 18 months.
New faces
This year will see a change of guard among the competitors. Many familiar names are back – Team GAC Pindar's Ian Williams, Johnie Berntsson, Bjorn Hansen, Yanmar Racing's Peter Gilmour and Phil Robertson. Graduating up from the Grade 1 circuit to the Tour this year is Frenchman Pierre-Antoine Morvan (who reached the finals at Match Race Germany last weekend), and Antipodean duo Laurie Jury from New Zealand and Keith Swinton from Australia. They are replacing Francesco Bruni (now with Luna Rossa) and Torvar Mirsky (although Mirsky is competing in Korea this week).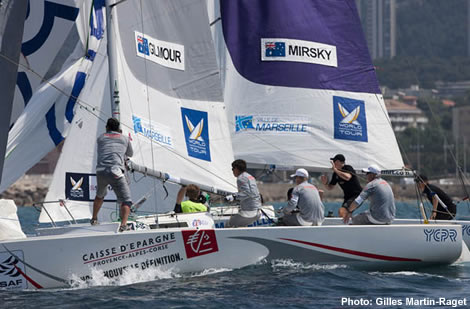 TV
In addition to the arrival of Alpari, another major step forward for the Tour this year is the addition of live broadcasting. At events in 2011 live coverage of events was streamed over the internet, but in 2012 part of every event will be broadcast live on television. "It has always been the Tour's goal and vision to go live broadcast from every event," says Pleasance. "Although sailing at any level still has a way to go in building global television audiences, it also delivers very high returns from partners, particularly when there are 4-6 hours of live broadcast from every event."
The plan is to have a two hour live broadcast on the penultimate day of racing at each event and another on the final day, incorporating the finals. "Currently there are 10 live broadcasters and over 30 highlights broadcasters,but the list is evolving daily with new broadcasters as the season gets underway. Boulder Creek International are managing the distribution."
Other developments
Traditionally the Tour represented a breeding ground for America's Cup sailors, but over the last two years in particular, there has been a change of landscape with the America's Cup shifting to multihulls.
But Craig Mitchell says this shift occurred before the change to multihulls: "Nearly all the well known America's Cup sailors have cut their teeth at one time or another on the Tour, but the two boat testing for the AC in 2007 allowed teams to do more in-house racing. After the 33rd America's Cup in Valencia in 2010, many have now turned their attention to multihulls but some, like Ian Williams, are cleverly combining the two disciplines. Phil Robertson is another example of a sailor that came on to the Tour just last year and is now racing with China Team."
Looking at this another way, with the AC moving on, this does now leave the Alpari World Match Racing Tour as the pinnacle event in monohull match racing.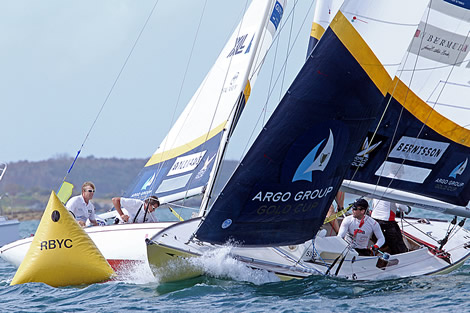 Rules
Partly prompted by developments in the AC, this season the Tour organisers are also experimenting with the rules. "We started a process in the middle of last year talking to teams, event promoters and umpires, to test some things out," says Mitchell. "We looked at a couple of areas that it might be interesting to change and started down that process. The main driving force was to try and keep the match close and give opportunities to the boat behind to overtake - everything we have done is to try and develop that. We have taken out the course restrictions rule - if a team is going to overtake from leeward then they can force the windward boat away from the mark." Teams are also now allowed to pump the sails as much as they want over a certain wind speed, although this will be determined by the type of boat they are using at each event.
They have also removed the penalties, which has been replaced by the boat that has infringed having to cross the stern of the other boat. This will again encourage close racing.
"They have been developing over the past 15 years and it is a pretty tidy set of rules, but when we looked at it all, no one was out there doing much testing with the match racing rules," says Mitchell. "So we thought we should give it a go. I spoke to ISAF and they were enthusiastic."
But trialling new rules is not as simple as you might think. "Certain rules you can change and others that you can't change," says Mitchell. "We asked permission for rules we can't change like Rules Apart 2, Rule 42 and a few others. We asked permission for the year to try those and obviously to give feedback on how they go. Then there are other bits we've changed that we don't need permission for. So now we'll try and test it and if it all goes horribly messy and doesn't work, then I just wear some egg on myself for quite a while!"
Unlike the Cup, Mitchell says there are at present no plans to alter their windward-leeward course formats.
So where does Mitchell see the Alpari World Match Racing Tour in five year's time? "More events for sure (up to 15 per year) but its important to keep the quality of the racing and the events. The Tour is a premier international sailing series and we obviously want to maintain that. Over the next five years at least, we want to build our fanbase, introduce new events, grow the global television platform and also increase the prize money for the teams."
2012 Alpari World Match Racing Tour Calendar:
Stage 1: May 23 – 28 - Match Race Germany, Langenargen, Germany
Stage 2: May 29 – June 3 - Korea Match Cup, Gyeonggi, South Korea
Stage 3: July 2 – 7 - Stena Match Cup Sweden, Marstrand, Sweden
Stage 4: July 10 – 15 - Chicago Match Cup, Chicago, USA
Stage 5: July 24 – 29 - Portimao Portugal Match Cup, Portimao, Portugal
Stage 6: Aug 28 – Sep 2 - St. Moritz Match Race, St. Moritz, Switzerland
Stage 7: Sep 24 – 29 - Match Race France, Marseille, France
Stage 8: Oct 1 – 7 - Argo Group Gold Cup, Hamilton, Bermuda
Stage 9: Dec 4 – 9 - Monsoon Cup, K.Terengganu, Malaysia

2012 Tour Card Holders:
Johnie Berntsson (SWE) Berntsson Sailing Team
Simone Ferrarese (ITA) Ferrarese Racing Team
Peter Gilmour (AUS) YANMAR Racing
Bjorn Hansen (SWE) Mekonomen Sailing Team
Laurie Jury (NZL) Zoke Kiwi Match
Pierre-Antoine Morvan (FRA) Vannes Agglo Sailing Team
Phil Robertson (NZL) WAKA Racing
Keith Swinton (AUS) Black Swan Racing
Ian Williams (GBR) Team GAC Pindar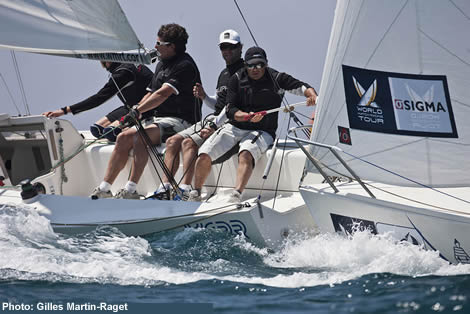 Back to top
Back to top