Volvo Ocean Race: Difficult days ahead
Thursday May 24th 2012, Author:
James Boyd
, Location: none selected
While the Volvo Ocean Race spent most of yesterday blasting east, so this morning they have all be forced to gybe north to avoid an area of high pressure
Chart above and those below courtesy of Expedition/Tasman Bay Navigation Systems and GRIB (GFS model) from PredictWind
Positions at 0655
| | | | | | | | | |
| --- | --- | --- | --- | --- | --- | --- | --- | --- |
| Pos | Boat | Skipper | Lat | Lon | Spd | Crs | DTF | DTL |
| 1 | Telefonica | Iker Martinez | 34 41.780n | 059 05.080w | 12.1 | 28 | 2381.15 | 0 |
| 2 | Groupama | Franck Cammas | 34 24.220n | 059 09.200w | 11.1 | 43 | 2390.62 | 9.5 |
| 3 | Abu Dhabi | Ian Walker | 34 52.820n | 060 12.770w | 14.1 | 11 | 2429.14 | 14.1 |
| 4 | Puma | Ken Read | 34 52.200n | 060 43.770w | 14.5 | 18 | 2453.11 | 72 |
| 5 | Camper | Chris Nicholson | 35 13.300n | 061 13.920w | 15.5 | 30 | 2468.63 | 87.5 |
| 6 | Sanya | Mike Sanderson | 35 17.430n | 061 57.070w | 15.3 | 17 | 2500.09 | 119 |
Over the course of yesterday Groupama was leading the charge east until Telefonica, positioned to the north of the French boat, nosed in front late evening.
Sadly conditions aren't panning out how everyone had hoped. Furthest south yesterday, Camper was first to blink when at around 1330 UTC she gybed north for three hours, followed by another two hour long hitch in the same direction mid-evening - a costly repositioning move leaving her the most northerly boat on the course but in last place. Since then other have followed suited - Sanya gybed north shortly before midnight, followed by Puma at 0300 and then Abu Dhabi. At the latest sched all six boats have gybed north.
The reason for this move is that the boats have fallen off the back of the favourable band of southwesterlies that the teams hoped would propel them most of the way across the North Atlantic. Meanwhile an area of high pressure has been forming to their southwest centred over Bermuda and because of this there is now better pressure in the north. For example at the latest sched Groupama has 14 knots, while Camper has 22, both from WSW.
"The boats to the north of us were continuing gaining on us in more pressure, and we are going to have to take a loss to go there, but the future wasn't looking good staying in the south," said Chris Nicholson of Camper's move. "We are going to take some more losses to get back into pressure and try to get back in touch with these guys."
Abu Dhabi skipper Ian Walker added: "For a few days we have clung to the hope that we could just about ride the southwesterly wind east and connect with the westerly flow round the Azores High that would deliver us to Lisbon. It was a dream scenario – a very direct and downwind route that avoided the ice gates to the north. Sadly reality is now being faced by the fleet as we gybe north one by one. Ahead of us we face a very light wind high pressure zone to cross, a day of upwind sailing, much colder temperatures and a few more days at sea. At least it will feel like a 'real' Atlantic crossing. I suspect we could see a real shake up in the standings with some big gains and losses. After getting ourselves into a good position thus far our priority is to put ourselves in as safe a position as we can relative to the others."
Unfortunately the next couple of day are going to be very tricky for the boats as the band of favourable southwesterlies shrinks away to the east. As Walker states reaching them now appears to be a pipe dream. In 24 hours time the southwesterlies are forecast to be 400 miles ENE of the present position of the most easterly boats. So they have now got out of phase with the weather. The high currently over Nova Scotia is forecast to move southeast over the next 48 hours as a shallow depression (ie little pressure) forms directly to their east. It seems like the boats will have no choice other than to head north and punch through the decidedly unfavourable northeasterlies to the south of the high - on the wind yet again... The movement of the high isn't fast enough to allow the boats to slip around its northerly side - and in any case they would be prevented from doing this by the ice exclusion zone.
Come the weekend the race could have a very different complexion.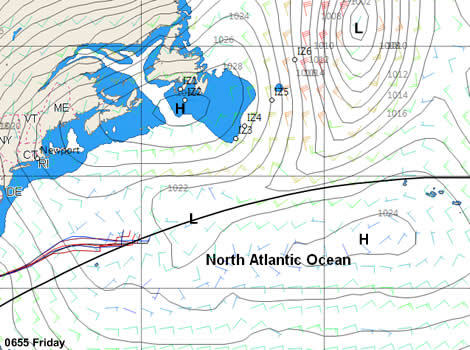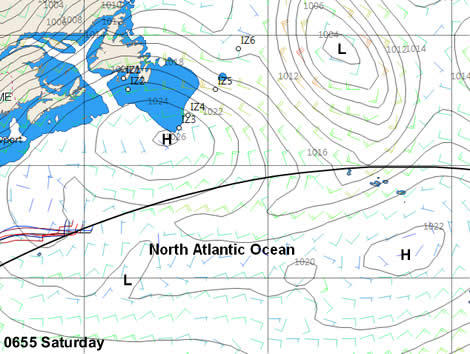 Back to top
Back to top