Luna Rossa and her British helmsmen
Wednesday May 23rd 2012, Author:
James Boyd
, Location: none selected
In the absence of a TeamOrigin, over the next months British America's Cup fans will have to get behind the Italian team, where Chris Draper and Paul Campbell-James are helmsmen on Luna Rossa's two respective AC45s, Piranha and Swordfish.
"I am still asking myself why I did that?!" quips Luna Rossa skipper Max Sirena of the choice to go British with his helmsman. "When Patricio Bertelli decided to do the Extreme 40, I asked 'how do we want to do this season? Start from zero or to start from a good level?' In the end it was an easy choice. I just opened the Extreme Sailing Series website and I checked who won the season the previous year and it was him [he points to Paul C-J] and before it was him [Chris Draper]."
While match racer, turned 49er Olympic sailor turned catamaran sailor Paul Campbell-James campaigned the 2010 Extreme Sailing Series-winning The Wave, Muscat, Chris Draper won the series the previous year with another Oman Sail team, Oman Sail Masirah. With Sirena as skipper, Paul C-J subsequently helmed the Luna Rossa X40 to victory in the 2011 Extreme Sailing Series, once again with Alister Richardson on tactics (who has also moved to Luna Rossa), while Draper was called in to help coach.
Draper, the bronze 49er medallist from Athens, otherwise spent last year helming the AC45 for Team Korea and was contacted to join the Italian team late last year, when the Koreans were uncertain (as they still are) over whether they would find funding for their AC72 campaign.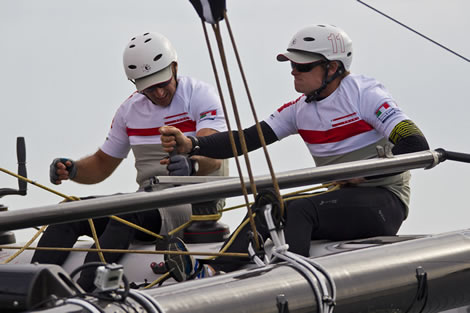 Language is potentially an issue on board, for while they come from the UK, Paul C-J and Draper mainly speak Hampshire combined with catamaran shorthand. As Draper's tactician, Italian legend Francesco Bruni says of them: "They use weird English! They use a lot of slang words and I have not sailed with English a lot. I am used to Americans and Kiwis, so it something new – it is a bit of an effort, but I am learning new stuff." Hopefully the right stuff.
Launching the Luna Rossa campaign with two America's Cup World Series regattas in Italy was also an eye-opener. Following the events in Naples and Venice, both enjoyed huge spectator turn-out with fans keen to support their home team. Italian interest in the America's Cup remains as fever pitch as it always has been and in Venice both skippers being hounded for autographs.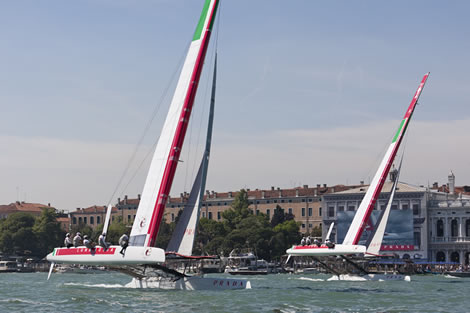 Top of the pile

So Draper and Paul C-J have now reached the pinnacle of the sport, landing themselves top jobs at the sharp end of one of the big Cup teams. "It is amazing. I grew wanting to be one of these big team and here we are," says C-J.
Draper adds: "I wanted to get involved in the Cup, but didn't think I'd be steering. The fact that it has changed to this kind of boat is a great opportunity for me. We have got one of the fastest looking boats on the water, with one of the best sail designers in the world [Luna Rossa has signed up Mike Schreiber, most recently with Alinghi] and I am sat next to one of the best tacticians in the world – you can't argue with that."
A question mark remains over which of the two Brits will helm their AC72 when it is launched. Luna Rossa, while a fully Italian team, is no stranger to having a foreign helmsman – one James Spithill steered for them in 2007. "We haven't taken the Oracle approach where it is in-house battling," says Draper. "It is more about working together to become as strong as possible as a team. It is not like when I learn something or C-J learns something we keep it to ourselves – we share it immediately."
"It is funny coming from the whole Olympic scene where it is more secretive," adds C-J. Secrets? Between the British 49er squad? Surely it's supposed to be transparent, more of a team approach? "I think that is what they hope it is like, but possibly that hasn't been working," says Draper, who was part of that squad up until Skandia Sail for Gold last year.
Working for a large Cup team does bear parallels to working for a company and Draper says it is a pleasure to have the sole responsibility of steering the boat fast and learning as much as he can. CJ adds: "With the Olympic stuff half the time you are sorting out accommodation and new boats, and different designs and what sails we should put up. Our program is to sort out what we're doing on the water and go sailing and try and compete with the other teams."
Luna Rossa/Prada is no stranger to the Cup, team principle Italian fashion magnate Patricio Bertelli having mounted his first campaign for the 2000 America's Cup back in 1997.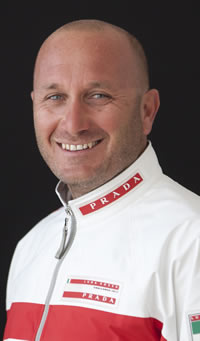 Luna Rossa's skipper Max Sirena himself has been with the team through all three of Bertelli's campaigns, but left with Jimmy Spithill to go to BMW Oracle Racing for the 33rd America's Cup. Over the years he has worked his way back from the bow in 2000 to the runners in 2007 and now has the top job on board. While having a helmsman who is not the skipper may seem odd, in fact it is an approach which has worked successfully in the past with other Cup teams (for example Brad Butterworth was nominally skipper of Alinghi in 2007 when Ed Baird steered) while those who have attempted to combine the helmsman/skipper roles have occasionally come to grief (Chris Dickson).
Sirena says: "When Patricio decided to do the Cup again and he asked me to do this job, I said I was happy to do it, because obviously I am probably one of the non-pedigree skippers because I am not a helmsman, so it is a little bit unusual. I cannot do everything and the only way to work well in the team is to share and to give responsibility to the other guys."
Some legacy

Ostensibly Luna Rossa seems to be a new team, but this is only partially true. Sirena reckons about 60% of the 60-65 people they will have on the payroll over the next months in the build-up to San Francisco next year are new. "My goal is to try and create a new atmosphere, a hungry team. So far I am really happy. Everyone is pushing really hard. Even the guys normally sitting behind the desk are helping to move the boat, etc. It is a big machine and everyone needs to help everyone to move forward." Sirena adds that Bertelli's plans are long term, so then they may well go again for the 35th.
Among the old hands in addition to Sirena are on the sailing team Pierluigi de Felice, Manuel Modena and Emanuele Marino, while Sailing Team Co-ordinator Stevie Erickson while handing the 'AC72 operations' is former navigator Matteo Plazzi who has been with Luna Rossa since the start, while returns on the nav team, and their legal council is Spanish lawyer Luis Saenz and Marco Mercuriali their rules adviser having previously coached the team since the 1990s.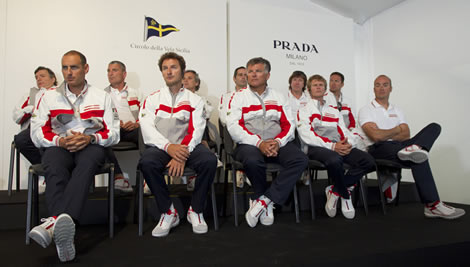 Design package

Most ground breaking about Luna Rossa's fourth America's Cup campaign is that because they were late starting, in an America's Cup first they negotiated a deal with Emirates Team New Zealand to buy their design package.
"We have our own design team too, but with the short amount of time we have we can't reinvent the wheel," admits Sirena. "So we are focussing on some details like foils and wings. So far it is working really well. The main goal for us is to try and learn as much as possible off them because they have been working for more than three years, so it is an opportunity for us."
While the rest of the teams will be two boat affairs, Luna Rossa (in the absence of any additional challengers) will be the sole one boat team. To comply with the America's Cup Deed of Gift their hulls are being built in Italy (in Bergamo) and these will then be shipped to New Zealand where they be fitted to the rest of the boat that is being built there. According to Sirena they are looking at a launch date of September/October in Auckland. They will train there until the boat is shipped to San Francisco, presumably around the same time as the Kiwi and Oracle teams' AC72s.
One advantage of launching late is that they will have time to assess what the three other teams are doing with their first generation boats. This is also less of an issue with this Cup due to the limited time teams are permitted to sail their AC72s in 2012.
Sirena confirms that while the hulls of their AC72 will be the same those on Emirates Team New Zealand's first boat, the foils and wing design will not and we suspect the team will have some of their own ideas too when it comes to the all-important sail handing set-up.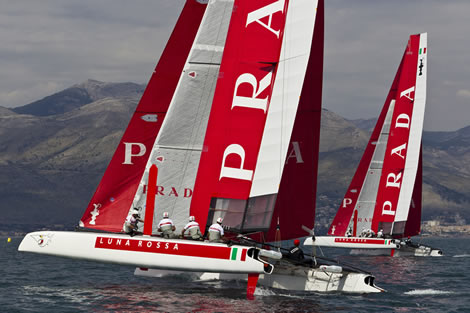 Swordfish and Piranha

In the shorter term the sailing team will keep sharpening their skills aboard their AC45s with the America's Cup World Series now moving on to Newport, RI where the 2011-12 championship will conclude, before the 2012-13 season starts up in San Francisco with two events after the Games with other further venues due to be announced shortly.
While Chris Draper did half a year on the Korean AC45, C-J was new to the wingsail speedster this year but winning two of the seven races in Venice (although he also finished last in one and had a DNF in another) over the weekend seems to have taken to it well.
"Boat handling is a huge step on with these boats," says C-J. "You look around and think 'God, we're not doing that very well' but then you watch the videos and you see no one is doing it particularly well, because they are such hard boats to sail. In over 20 knots of breeze no one sailing them at over 80% more like 50-80%. That is a pretty clear indication that if you have a boat that you sail well or is easy to sail then you'll be in good shape [referencing their AC72]."
Draper adds: "You could never score yourself more than 9/10 for boat handling with these boats. They are hard boats to sail, which is a nice challenge and it means that you can never really get good enough at boat handling."
Wings

For C-J, the wing has been a new thing for him this year. "What is fascinating about it – tiny adjustments make a really big difference. Where on the Extreme 40s you are playing with perhaps a foot of traveller to get the thing on the groove – with this you are playing 3in and if you are in the wrong 3in you are low and fast or high and slow."
Also, particularly in the light it is hard to tell when the wing is stalling. The solution should be tell tales, but according to Draper they don't really help because the flow over the wing remains attached so well that they just stream all the time! "You only make them stall when you've gone way too far. So you have to do it a lot on feel and we've found a few places where tell tales are quite valuable. When we all started the wings were just covered in the things and now there are hardly any on the wings."
Draper adds that, in terms of the wing maintaining flow, the 45 wings are quite forgiving, compared to the ones we can expect to see on the 72s will be much harder to trim, although one imagines they will have better instrumentation and sensor to tell them what is going on.
Getting used to the race format

While the Extreme Sailing Series pioneered catamaran short course racing, the America's Cup is taking its own slant on this with reaching starts and course boundaries, the latter taken to a new extreme on Sunday's finale race in Venice.
"I was pleasantly surprised," says C-J of the reaching start. "I thought it was just going to be a bit disappointing and samey, but in reality I really like them. I would recommend them to any new series because they are spectacular, all the boats are really close, the first mark is always awesome and the first run is pretty good as well."
So is there any technique to starting? "There is a fair bit," C-J advises. "It's interesting to see Phil Robertson [China Team helmsman] – he has a kind of match racing technique where he sails up the starboard layline from the top end and really owns that position. Then a few people hit the line going full speed: Loick [Peyron] is classic - he'll stay back pretty late and try and find a gap quite last minute. It usually works for him, but sometimes it doesn't. There is a good mix between tactics."
C-J himself seems to favour starting at the committee boat end. "The good thing about starting there is that you can get a bad start and you'll still be fourth or fifth, whereas if you get a bad start at the bottom [pin] you'll come last because you'll get rolled by the whole fleet. Obviously if you get a good start at the bottom and you get around the mark, you'll be first. It is just a slightly safer start style at the top we find."
Wind speed is also critical: In strong breeze 120°TWA is the fastest point of sail and this favours the boat end, whereas in light conditions it is fastest at 90°TWA, favouring the pin.
C-J says he is getting to grips with the course boundaries. "It is quite beneficial for the leader because he comes around [the leeward gate] and goes into a high mode and hits the boundary and the guys behind have to go early, otherwise they are sitting in dirt for the whole next time, so it means that the lead boat can usually do one less tack than everyone else up the beat. If you tack early on a nice shift then you can possibly gain on it. Spithill is normally pretty good at biding his time as to when to go early and when to hit boundary, because a lot of the time you are just going from one boundary to the next and there isn't a huge amount of tactics in it."
Meanwhile Draper, who has more time in the AC45 than C-J, has some views on the new wing extensions that were fitted this season that aim to increase the AC45's performance in the light winds expected at the ACWS events this season. He believes that the wing extension at times causes the boat go up to 1.5 knots slower... The reason it seems is because the wing extensions are made out of Kevlar (and not carbon fibre) in order to be transparent to the vital radio comms gear fitted at the top of the original wing and are therefore not stiff enough.
"When the wing is on its side if you just push it it bends like nobody's business - how is that going to help lift the hull?" he says. "I wonder whether you wouldn't be better off accepting that there will be no flow through the slot and just tape up the gap and have it like a sail at the top?"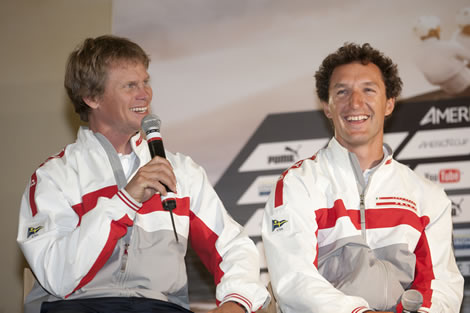 AC72s

Looking forwards both skippers agree with the generally held view that the AC72s are going to be beasts to sail, particularly in the confines of San Francisco harbour. "Max gave us the statistic that the 72 will be 100x more powerful than an Extreme 40. So that should be interesting," enthuses C-J.
"It is going to be pretty full on the racing for sure," adds Draper. "The people for whom it will be most full on are the ones providing the horsepower on the boat. It will be excessive - they will be grinding from start to finish and a bit before the start. It is going to be interesting to see how scrappy the handling will be and whether people can get to a level where the handling is good.
"There are a few rumours out there that Artemis who have been testing their big wing have been caught out a few times in breeze and are a bit nervous. I guess as we will all get used to it and it will become the norm. It is just a case of building it up so that it becomes the norm."
As to who will end up skipper – will it be the younger hotshot C-J, or the more experienced and no less potent Draper? I wouldn't bet against either.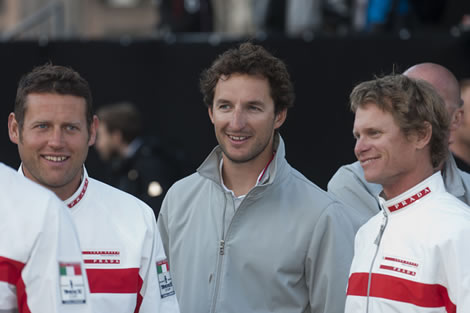 Back to top
Back to top