Class one goes to countback
There was a nail-biting finale to Antigua Sailing Week in CSA 1A after Geoff Hill's Santa Cruz 70 Antipodes won the last race of the day to secure class victory on countback.
Geoff Hill spoke dockside in Falmouth Harbour: "This is the first time we have raced the yacht and to be honest we could have done with another week to get her ready for racing, we have been tuning her up as we raced and the team have done a great job. I have been to Antigua Sailing Week before but not for about seven years and I have to say we have received a very friendly welcome from the race organisers and all of the Antipodes team are looking forward to tonight's prize giving."

Peter Harrison's Farr 115 ketch Sojana could only manage a third today leaving them on equal points with Antipodes. But on countback Sojana could only count three first places to Antipode's four it was that close. Jan Rupert's Tripp 75 Blackbird finished the regatta with a second place in the last race to secure third.

In CSA 1B, Stefan Lehnert's Tripp 56 Passion 4C won the last race by a handsome margin to secure not the division title. Lenhert's team has been racing in the Caribbean all season. Antigua Sailing Week did not start well for Lehnert when his son went overboard in the first race, but the German Admiral's Cup winner has had a great week, as Lehnert explained: "When Richard Matthews and Zig Zag picked up Phillip, I was so relieved, I thanked him by giving them a crate of champagne and it has been champagne sailing since then! I must also congratulate the organisers of this regatta. It has a great atmosphere and I especially enjoyed the daily prize giving, which gives you a chance to meet other sailors during the week, I am sure Passion 4C will be back in Antigua."

The winner of CSA 2 was already decided before today's race. Ulrich Rohde's Swan 53 Dragon Fly Plus had an unassailable lead, but that didn't stop Ross Applebey's Oyster 48 Scarlet Oyster from going for it today with Yachting World Editor, David Glenn on board. The vintage Oyster corrected out to win by just 25 seconds from Christian Reynolds Swan 51 Northern Child posting their best result of the regatta. In today's race Andy Middleton's First 47.7 came third. Chris Brand's Swan 53 Merel Four could only manage a sixth today, but the team from the Royal Thames Yacht Club maintained their position as third overall.

In CSA 3, Richard's Wesslund's J/120 El Ocaso made it a perfect seven with their win today. Boat Captain, Mike Caldwell spoke dockside after racing: "It may look like we ran away with the victory but many of the races were won by a few seconds. Every single member of the El Ocaso team has made a significant contribution, we all had our moments when the bow, the trim, the driver all needed to step up and be counted and that is what they did and I am very proud of them. We have been partying together all week and I am sure we will enjoy the English Harbour rum tonight!"

Second place in the class went to Nick Burn's First 40 Lancelot II. His Royal Hong Kong Yacht Club team have been battling all week with Maurio Martinez's Brazilian team racing First 40 Smile and Wave.

In CSA 4, Calvin Reed's First 40.7 Elandra won the last race of the series by a significant margin to win their class for the second year in a row. Sir Hugh Bailey's Beneteau 456 Hugo B was second today. The team from Falmouth, Antigua have shown incredible consistency. Throughout the week, Hugo B has only been off the podium on one occasion and that was a fourth. However Elandra has been unstoppable and the team are class winners in consecutive regattas. Jonty Layfield's J/39 Sleeper was third overall.

In CSA 5, Geoffrey Pidduck's Six Metre Biwi Magic came out on top in the last race of the series to win the class: "The decisive moment today was the start. Blue Peter was lee-bowing High Tide and I was taking the lee-bow off Blue Peter, but because we can point much higher than both of them, Biwi Magic got right over the top of them and we made the top mark first. High Tide should have caught up downwind, but they chose to go inshore and got caught up in traffic, whilst we stayed in clear air pointing directly at the mark and that as that really. It has been a fantastic week of racing but I have to say I was kicking myself yesterday when I rounded a mark the wrong way and had to go back, we could have thrown away the win there and then. It is great to win and I am sure I will be enjoying an English Harbour rum very shortly at the Antigua Yacht Club."

Steve Carson, owner of runner-up High Tide, was in good spirits despite losing out on the last race: " I helped build that boat (Biwi Magic) before it crossed the Atlantic and I suppose it has come back to bight me!"

In CSA 6, Resting Goose were already secure of the class win before today's race. Owner David Chatterton talked about his experience at Antigua Sailing Week: "It has just been fantastic, well organised, friendly, a real joy to be here and we are delighted with our win. We are just a bunch of boys from the east coast of England, here to have some fun and all of the yachts in our class have been a delight to sail against and party with. It has been a very special week, a big thank you to everybody involved in Antigua Sailing Week."

In today's race, Vince White's O'Day 35 Seal saved the best to last, winning their first race of the series but a country mile. Beneteau Oceanis 473 Ormeau was second with Philip Eynon's prestine Swan 36 Arc Angel third.

In the Bareboat Class, three yachts from KH+P had a tremendous battle, as they have done all week. Alexander Pfeiffer's L'Oiseau des Iles won today's race putting pressure on class leader, Horst Schultze's Sea You Later. However Sea You Later corrected out to take second place in the last race by a solitary second from Andreas Kadelbach's Cayenne. After a six race series, Sea You Later won the class by the narrowest of margins.

In Bareboat 2, KH+P Sapphire Dancer took a convincing victory. In second place was Stewart Reed's Dilligaff. The Swiss Team Carondimonio racing Balaou were third.

Tonight the Antigua Sailing Week Final Awards Party will take place on the water side of the Copper and Lumber Store in the historic setting of Nelson's Dockyard. Once the silverware has been distributed the dancing will begin. The whole place will be jumping to live music from Rico and the 4 Play Band and music from Choice FM & Grown n' Sexy featuring Dave VJ.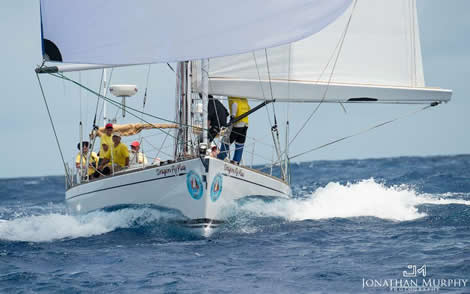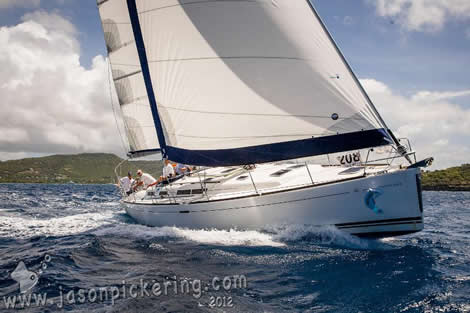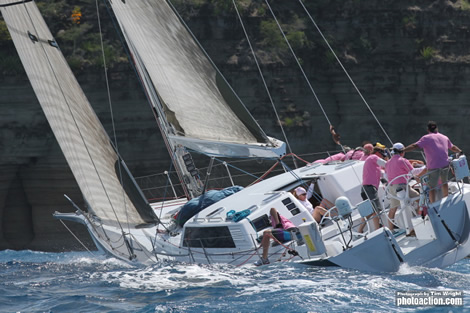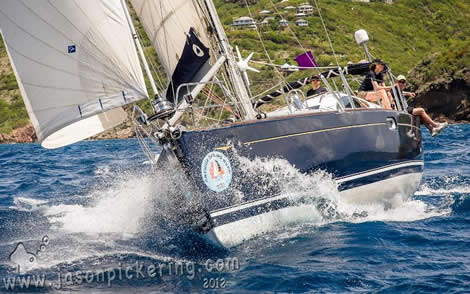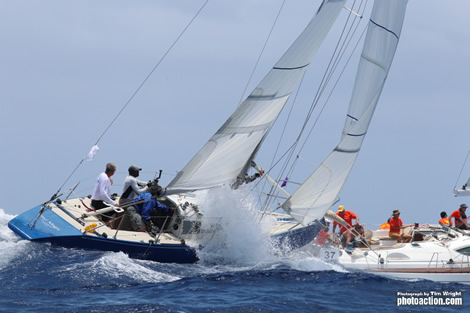 Back to top
Back to top