Antigua Sailing Week Class 1 prang
It was yet another day of drama at Antigua Sailing Week with start line incidents aplenty and a major collision on the first upwind leg of the day in the big boat class. With just one final race tomorrow, nearly all of the classes are yet to be decided.
In CSA 1A, Stefan Lehnert's Tripp 56 Passion 4C won both of today's races, virtually assuring the German team of winning the division. Richard Matthews' Oyster 82, Zig Zag retired from the first race of the day, dropping Zig Zag down to third overall. Hector Velarde's NM92, Locura sailed with great precision today posting two second places and lifting the team to second overall.
However, the first race of the day saw a serious collision between Oyster 82, Starry Night of the Caribbean and On Deck's Farr 65 Spirit of Isis, which resulted in a large part of the Farr 65's transom being smashed in. Luckily only very minor injuries were sustained and once safely on shore, the skipper and owner of Starry Night were quick to apologise for the collision showing good sportsmanship.

Skipper of Spirit of Isis, Vicky Blunt explained: "The regatta was going really well and a fantastic performance has been put in by the team who are charter guests of mixed sailing ability. We were looking forward to another good race vying for a podium position. Whilst we were on starboard tack there was an unfortunate incident involving Starry Night which came at us on port tack, ending our regatta in dramatic fashion. Thankfully everyone on board responded well and rallied together to bring the boat and crew safely back alongside. Many thanks to ABSAR and the Coastguard for their speedy response and assistance in this incident."

In CSA 1B, Geoff Hill's Santa Cruz 72 Antipodes scored two bullets to pull the Australian yacht up to within one point of overall division leader, Peter Harrison's Farr 115 ketch Sojana. Both of today's races were on tight courses with plenty of traffic from other yachts. Although Sojana got a great start in the first race of the day, she chose to stay offshore to avoid tacking through the congested waters inshore, but this made for more current and less breeze offshore.
Also in the first race of the day, Jan Rupert's Tripp 75 Blackbird had a problem on their first spinnaker hoist, as the chute's bag became entangled in the clew. A crewmember was put into a harness to carry out a spectacular 'zip wire' retrieval. The second race start did not go well for Blackbird and Sojana, as Antipodes expertly shut out both yachts at the pin end. Two outstanding protests between Antipodes and Sojana needed to be settled after today's racing and both were dismissed.

In CSA 2, both races were won by Ulrich Rohde's Swan 53 Dragon Fly Plus, but only just. In the fifth race of the series, Chris Brand's Swan 53 Merel Four took line honours, but could only watch with despair as Dragon Fly Plus crossed the line 21 seconds later to take the win on corrected time. Andy Middleton's First 47.7 Global Yacht Racing was extremely fast downwind today, to take third place in Race 5. The last race of the day was an even closer affair with Ross Applebey's Oyster 48 Scarlet Oyster just missing out on a win. Christian Reynolds' Swan 51 Northern Child got an excellent start to the last race hitting the line with full pace, ultimately taking third.

In CSA 3, Richard Wesslund's J/120 El Ocaso kept up its perfect score line with two more bullets, to make it six straight wins. However, the two First 40s in the class were just seconds behind Wesslund's Florida-based team. Nick Burns' Royal Hong Kong YC team racing Lancelot II had to retire yesterday due to a spinnaker pole problem, but came back to take a second in the first race today and move up to third overall. Mario Martinez's Smile and Wave was second overall but just one point ahead of Lancelot II.
Don Payan's Farr 40 Rigel was forced out at the pin end in the last race of the day, resulting in the team from USA dropping to fourth overall.

In CSA 4, Calvin Reed's First 40.7 Elandra won both of today's races, but this is a very competitive class and the first race of the day saw Elandra get pinned out at the start by Patrick Holloran's First 40.7 Caipirinha. Holloran's team was very aggressive on the start line today and in the last race of the day, Caipirinha forced Sir Hugh Bailey's Beneteau 456 Hugo B into a premature start. Hugo B had a long way to go back to restart but the local Antiguan boat staged a sensational comeback, to take second place by just five seconds on corrected time.
The last race of the day also saw a rare tie. After time correction, Jonty Layfield's J/39 Sleeper and Carlo Falcone's Caccia alla Volpe could not be separated and were both awarded third place. Caccia alla Volpe also completed the last race having badly torn its headsail just after the start. Elandra has won the class with a race to spare and Hugo B is assured of second overall, but Caccia alla Volpe and Sleeper are tied for third place overall and tomorrow's last race will decide the last podium position.

It looks like it is going to the wire in CSA 5. Stephen Carson's Dehler 34 Hightide scored bullets in both of today's races just ahead of Geoffrey Pidduck's Six Metre Biwi Magic, which is currently just a single point ahead overall. However, tomorrow's scheduled race will mean a discard kicks in. Effectively, these two local yachts will decide the winner of the class on the last day of the regatta - expect sparks to fly tomorrow! Tanner Jones' J/30 Blue Peter had another consistent day to hold off the challenge for third overall from Rick Gormley's First 38 Elethea.

In CSA 6, David Chatterton's Jeanneau 49 Resting Goose has won the class with a race to spare scoring their fifth consecutive win of the regatta. Eduardo Lentz's Sun Odyssey 44 Voilactus was second in today's race and lies second overall. Vincent White's O'Day 35 Seal is on the same points as Vollactus and lies third.

In the Bareboat Class, the struggle between three German yachts from KH+P continues. The Race Committee elected to send the Bareboats on a long three hour course offshore to Standfast. Horst Schulze's team on Sea You Later leads the class overall and won today's race by just 34 seconds from Alexander Pfeiffer's L'Oiseau des Iles. Andreas Kadelbach's Cayenne was third. All three of these yachts have occupied the top three places so far in the six race series.

Tomorrow is the last day of Antigua Sailing Week and the last race will decide many of the class titles, however the weather forecast for tomorrow is looking light, which should make for some very tricky conditions. This has been an action-packed Antigua Sailing Week but you never know, tomorrow might just top the lot! The Volvo Ocean Race fleet is due to pass Antigua tomorrow and maybe, just maybe, the Volvo 70s may pop in to see what's going on...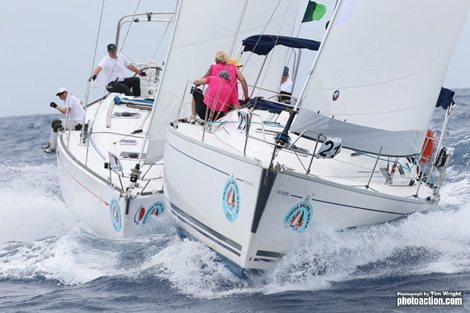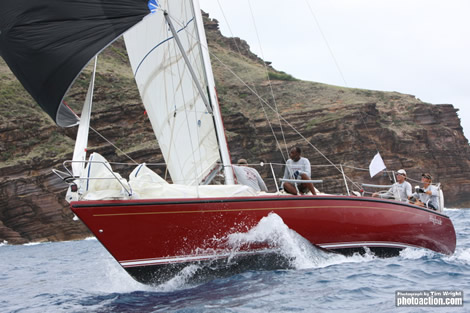 Back to top
Back to top