Antipodes to the fore
After two days of big breeze, day three of Antigua Sailing Week saw similar conditions for the competitors.
The sizeable yachts in CSA 1 were an awesome sight today, smashing through the start line and to windward through the Caribbean surf and after coming off the wind, the yachts speared off downwind, bow up, accelerating off big waves to surf at speeds of 20+ knots.

In CSA 1A, Geoff Hill's Santa Cruz 72 Antipodes scored her first win of the regatta. Hill has been to Antigua Sailing Week many times before but, surprisingly, but this is the first visit to the Caribbean's longest running regatta for a true Australian sailing legend. At 85 years of age, Syd Fischer is probably the oldest competitor at Antigua Sailing Week, having competed in five America's Cup challenges and won just about every classic yacht race going, including the Rolex Fastnet and the Sydney Hobart Races, the latter in which Fischer has competed 40 times.

'It's a long flight to get here from Australia, but I have to say it has been worth it, great conditions similar to Hawaii when I used to compete there in the Kenwood Cup," said Fischer. "This is my first visit to Antigua, but I have enjoyed the sailing so far and it was great to get a win today. We have only had the boat for a very short time and it always takes a bit to get a new yacht up to speed.'

Antipodes beat Peter Harrison's Sojana in today's race by less than a minute. However Sojana has a virtually unassailable lead in the division. Jan Rupert's Tripp 75 Blackbird is third.

In CSA 1B, Stefan Lenhert's Tripp 56 Passion 4C had an outstanding protest dismissed last night and came out for today's race meaning business to take the race by over two minutes on corrected time from Peruvian NM92 Locura, skippered by Hector Velarde. The result means that Passion 4C now leads the division. However, the win for Passion 4C was not straight forward. Approaching the bottom mark for the first time, Passion 4C's genoa halyard parted company from the sail, sending it into the water. The crew quickly gathered the sail while still flying their spinnaker and perfected a last minute manoeuvre to avoid losing any time. Slick crew work definitely won Passion 4C's race today. Locura is second overall, but Richards Matthews' Oyster 82 Zig Zag could only manage a third today, knocking her off the podium overall.

In CSA 2, Dragon Fly Plus is the new leader after winning today's race. The Swan 53's boat captain is Frank Brown from Florida and he explains his boat's unique set up: "Dragon Fly has a daggerboard rather than a keel, which we can raise downwind to reduce drag. To accomplish this, the yacht has significant internal ballast, so today's deep water race was ideal for us as we go just fine in a sea state upwind."

Chris Brand's Swan 53 Merel Four was fourth today and remains in third position overall. However Christian Reynolds' Swan 51 Northern Child scored a third today and is tied with the same number of points.

In CSA 3, Richard Wesslund's J/120 El Ocaso was unstoppable today, taking its fourth straight bullet of the regatta by some distance. Don Payan's Farr 40 Rigel got a great start, but could not hold off El Ocaso and on corrected time also lost out to Mario Martinez's First 40 Smile and Wave.

In CSA 4, American Calvin Reed's First 40.7 Elandra, steered by John Linton, kept up her winning ways by taking the fourth race of the series by two minutes on corrected time. Sir Hugh Bailey's First 456 Hugo B could only manage a fourth place today, but the Antiguan local yacht remains second overall.

In CSA 5, Stephen Carson's Dehler 34 Hightide put in an impressive performance today, winning both races to put pressure on class leader Geoffrey Pidduck's Six Metre Biwi Magic. Hightide's Stephen Carson said of their racing: "I can't really pin down one area that brought us success today, but we started well and the crew work was excellent and if you don't make mistakes you often end up winning. But Biwi Magic was very quick today and it was very close, especially in the last race of the day, which we only won by half a minute."

In CSA 6, David Chatterton's Jeanneau 49 Resting Goose was once again the victor, scoring their third and fourth wins of the regatta. Last year's class winner, Seal, owned and steered by Vincent White had its best day so far scoring two third place finishes to lift them to second overall. Phil Munday's Great Escape of Southampton is third in class. However, Eduardo Lentz's Voilactus and Alex Johnstone's Blue Water Sailing Grenada are also very much in contention.

Among the Bareboat Classes a battle has developed in Bareboat 3 between three boats chartered by KH+P: Horst Schultze's Sea You Later is the current leader, but Alexander Pfeiffer's L'Oiseau des Iles won the last race of the day and is just a single point off the lead. Andreas Kadelbach's Cayenne is just two points behind the leader.

Tonight, Ky-Mani Marley will play to a full house in the historic setting of Nelson's Dockyard in English Harbour. Thousands of fans of the reggae artist are expected to pack out the Antigua Sailing Week venue for the live concert performed by Bob Marley's son. Tomorrow is Lay Day on Pigeon Beach beginning at 2:30 pm, so it could well be a late night for many of the competitors at Antigua Sailing Week.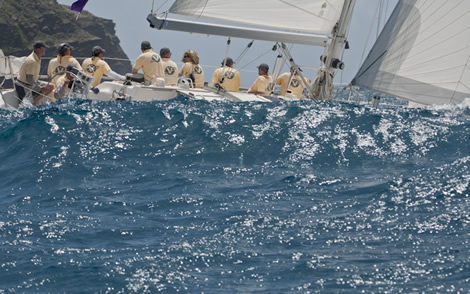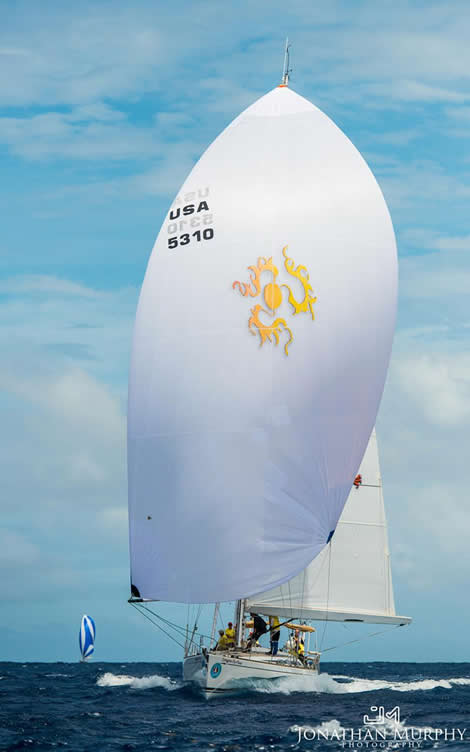 Back to top
Back to top