Spi Ouest: Codiam wins IRC One
12 races were sailed at the Spi Ouest-France Intermarché out of La Trinité-sur-Mer this weekend. The 448 competitors racing on the Baie de Quiberon were divided into five IRC classes with separate classes for several one designs including the Longtze, the M34 (Tour de France boat), First 31.7, J/111 and the Open 5.70 and 7.50.
In IRC 1 the stand-out boats were Nicolas Loday and Jean Claude Nicoleau's Grand Soleil 43 Codiam and Stephane Neve's TP52 Paprec. They finished with a substantial margin over the Grand Soleil 44RC Eleuthera and the familiar form of Peter Rutter in his Grand Soleil 43 Trustmarque. IRC2 was claimed by former Crepes Whoau! Multi50 skipper Franck-Yves Escoffier aboard his A35 Ame Hasle with Brit Mike West on his A35 Eaujet in fifth. JPK 1010s won the top two spots in IRC 3 with Jean-Pierre Kelbert's Leon being chased down by Noel Racine's Foggy Dew, last year's Rolex Fastnet Race Class 3 and Myth of Malham winner.
Among the J/111s J Lance 7 finished first, but was tied on points with David and Kirsty Apthorp's J-Dream. The Open 7.50s was dominated by IMOCA 60 skipper Marc Guillemot and his smaller Safran, finishing ahead of Atchoum, skippered by Nicolas Grouleau, builder of the Open 7.50.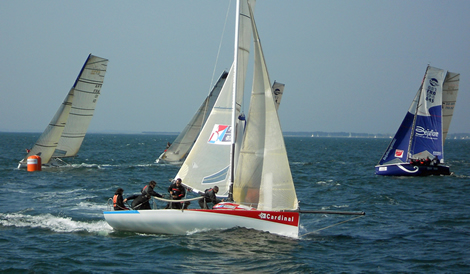 Christophe Gaumont, Chairman of Racing Committee said: "We wanted to increase the time devoted to racing versus the time that competitors spend on the water, and I believe we have fulfilled our objectives."
Double Solitaire du Figaro winner Nicolas Troussel finished fifth in the M34 class aboard his Bretagne-Crédit Mutuel Élite, winning two races out of 12.
"Obviously we're a little disappointed with fifth place," said Troussel. "We are slightly below our target of the podium. That said, the races were very tight and, the smallest things count on these bananas. For example, the first race today, Monday, we might well have won: we were in the lead until within 200m of the line... We're up anything against good players like Courrier Dunkerque and TPM, to name a few, who have sailed together for years and have been very successful. And we also made a strategic choice not to use our new sails until later in the season, while our competitors are sailing with now. Time will tell if this choice pays off, but it is clear that the spinnaker we had a small deficit in speed because of it."
The biggest fleet at Spi Ouest-France Intermarché were the Grand Surprises, where 44 boats were racing and the winner was Orotz Iturralde's Sailing Styl Competition Starvoiles. Finishing in sixth place was Julie Brossard's team on Prince du Bretagne, where double Route du Rhum winner Lionel Lemonchois raced on board for two days as tactician. Brossard and her crew usually compete in match racing aboard the Elliott 6.
"We are delighted with our results because the competition was really high quality," said Brossard, praising her crew's consistency and their ability to react. Lemonchois commented: "The atmosphere was really nice. The girls are very competent, very good racing sailors. The Grand Surprise was a discovery for me because I did not know this class. It was the first time I sailed this year because I'm busy with the refit of the 50ft trimaran Prince of Britain but especially by the construction of its big brother the 80ft maxi-trimaran which will be launched in late September."
Full results here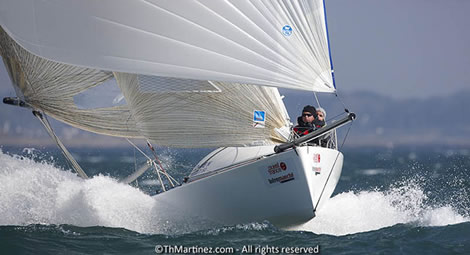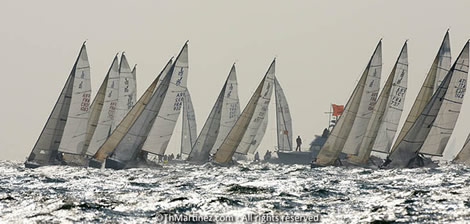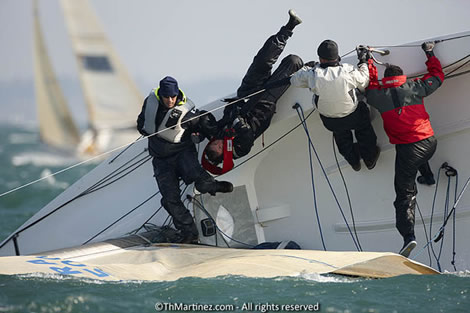 Back to top
Back to top