Magnum ahead on a light Sunday
The light conditions continued for the third week of the Warsash Spring Series on Sunday 1 April. With a forecast 7-8 knots northeasterly diminishing and veering southeasterly then southerly, the Black Group committee boat set up station at Flying Fish buoy.

The early breeze enabled the first three classes to go ahead without delay. IRC1 and IRC2 got clear away on time. For the J/109 class the wind started drifting right and the boats were bunched at the committee boat end. Red Arrow (RAFYC) started prematurely and had to return. The sequence was then halted briefly as the wind swung, the line was adjusted and a new windward mark plotted. After the turning point, all classes were taken to East Knoll, West Knoll and South Bramble. Into the second leg, the breeze turned very light and fickle with large patches of calm water. Andrew Pearce's Ker 40 Magnum III, the leading IRC1 boat, had built a good lead over second placed J-Dream, David and Kirsty Apthorp's J/111, but both used very different tactics for the run past the Brambles Bank. In fact, it seemed from the first two classes that every tactician had a different idea on the best route south.

For the smaller classes, the problems increased as the route to the windward mark at Fastnet Insurance became increasingly difficult. Robbie Robinson on board Hot Rats (IRC3) said that each time they tacked for the mark they seemed to be headed. First round was John Barrett helming Stiletto who managed to gybe early and escape, finding a better breeze further offshore to establish a good lead for what was now a close fetch back to West Knoll buoy. With conditions deteriorating, the decision was made to shorten course for four classes at Flying Fish, the next mark after South Bramble. The bigger boats went on to Prince Consort before shortening at Sunsail Racing. Peter Dessent's Archambault 31 Imadjinn managed to cut Stiletto's lead, but there was insufficient time before the finish to influence the final IRC3 result.
IRC4 had started on time from their separate line and the first three boats: Erik the Red (Bernard Fyans), Imptish (Barney Smith) and Prospero of Hamble (Allan Fraser) were in very close order on the run back to Williams Shipping buoy off Cowes. It was Fyans' decision to stay on starboard gybe going towards the Calshot shore that paid the best dividends and for the second week running he took line honours and was far enough ahead this time to keep the handicap win.

The introduction this year of a separate class for J/Sprit boats has enabled a mix of mainly J/92s and J/97s to enjoy some very close racing which has resulted in the only perfect score in the series so far. David Greenhalgh and John Taylor's J'Ronimo has won all three races, this week by an impressive margin of six minutes. Mike and Sarah Willis on Jahmali added a win to their two second places to edge ahead of David McLeman's Offbeat in the J/109 standings. A leading group of five Sigma 38s managed to break away at the top mark and in an extremely hard fought leg back to West Knoll, Kevin Sussmilch's Mefisto and Nick Gale's Zanzara sailed above the early leader John Rainger's Light to take the first two places. By the finish, Rob and Julie Lee's Kindred Spirit took third place just 14 seconds ahead of Light.

The sportsboats in White Group had set up stall near the entrance to Southampton Water and initially there was enough breeze to get both classes away on time. A significant wind shift on the first lap negated the windward/leeward design of the course and made for a somewhat processional race. Being closer inshore, the new SSEerly breeze took some time to reach the race course. However, the upside of this was that the sportsboats did not have to suffer the gradual shift in wind direction that had affected the Black Group. By 1230, the wind had steadied and strengthened sufficiently to allow both classes two more good races. David Cummins, having missed last week, made a clean sweep in Rumbleflurg. Rob Larke's J2X, with two wins this week, has opened up a small lead at the halfway stage in the J/80 class.

The Warsash Spring Series now takes a short break for the Easter holidays and resumes on Sunday 15 April.

Warsash Spring Series – Provisional results Sunday 1 April 2012:
| | | | |
| --- | --- | --- | --- |
| Class | Boat | Type | Skipper |
| IRC1 | Magnum III | Ker 40 | Andrew Pearce |
| IRC2 | Space Race | First 40.7 | Jonathan Blanshard |
| IRC3 | Stiletto | First 35 | John Barrett |
| IRC4 | Erik the Red | Mustang 30 | Bernard Fyans |
| J/Sprit | J'ronimo | J/92 | David Greenhalgh & John Taylor |
| J/109 | Jahmali | | Mike & Sarah Willis |
| Sigma 38 | Mefisto | | Kevin Sussmilch |
| | | | |
| J/80 Races 1 and 2 | J2X | | Rob Larke |
| J/80 Race 3 | Slightly Steamy | | Nick & Annie Haigh |
| Laser SB3 Races 1, 2 and 3 | Rumbleflurg | | David Cummins |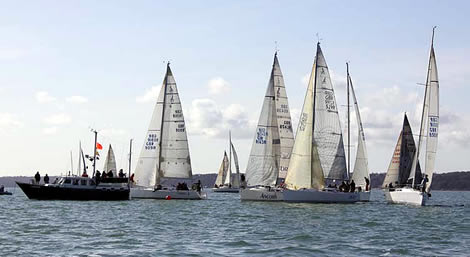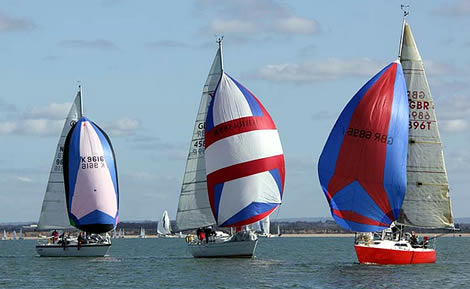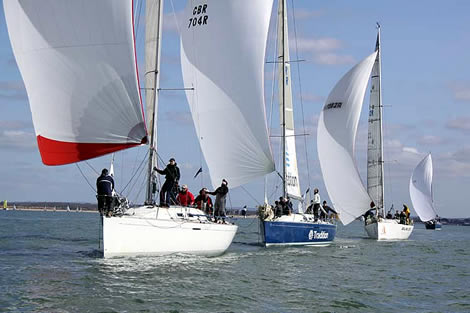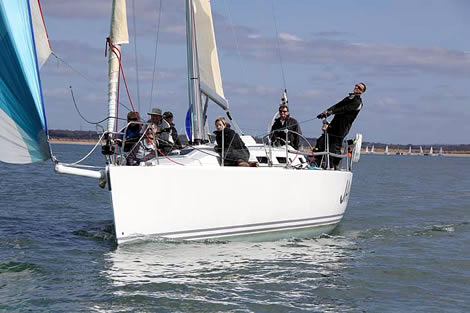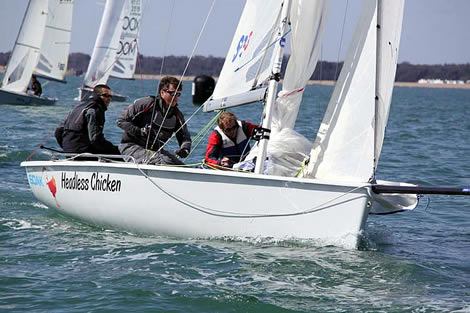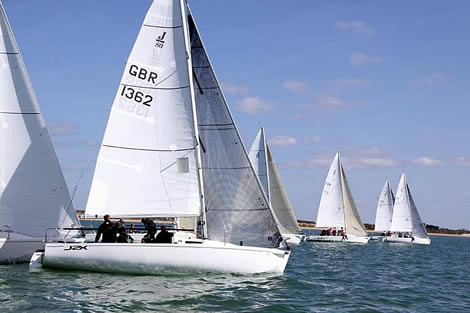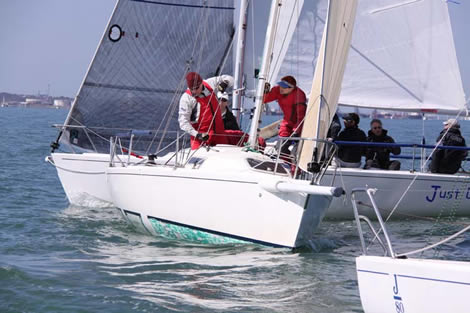 Back to top
Back to top