Narrow lead for Team Ceeref
A full-on day of racing in every sense saw four different winners from four races and a very compact fleet competing for every inch around the race course at the Cascais RC44 Cup 2012.
The steady easterly breeze averaged 15 knots throughout the day and produced some very close one-design racing. With 15 boats now competing on the RC44 Tour, all with very even boat speed, mark rounding's have become very congested. Picking the port lay-line can be a risky manoeuvre with the prospect of a 180m duck if you get it wrong. One who fell foul of this today was Portugal's Patrick de Barros and French match racer Mathieu Richard on Team Cascais. The local team found themselves having to duck the entire fleet at the first windward mark of race three after finding no space to squeeze into.
Igor Lah and his Slovenian team on Ceeref had the most consistent day, their worst result was a sixth, their best a win in the fourth and final race of the day. The team managed to stay incident free but it wasn't all as serene as it looked as owner owner Igor Lah explained: "Today was an excellent day, the conditions were fairly stable and anything could have happened at any moment. In one race we came from almost last up to second or third place. Every moment mattered today so you had to be very careful with how you performed, but Michele [Ivaldi] was calling very good tactics and the crew members were excellent, it really paid off."
Katusha helmed this week by American Farr 40 ace Steve Howe with Russell Coutts calling the shots finished the day one point off the lead with a 3,7,1,4 score-line. Steve Howe's reaction to the racing: "Thank god for comebacks! Today's racing was so close."
Chris Bake and Cameron Appleton had an up and down day by their own high standards. They started with an eighth and bounced straight back to win the next. Despite having their wind instruments ripped off the top of their mast by Team Cascais in race three, they slotted in a third followed by a ninth leaving their Team Aqua third overall, seven points off the lead.
Synergy Russian Sailing Team started where they left off yesterday winning the opening race of the day, however a port-starboard incident with the Italians on AFX Capital saw the team lose their crash box. Valentin Zavadnikov with Ed Baird calling the shots finished the day in fourth overall – 10 points off the lead.
New to the fleet is Britain's Brian Benjamin and his Aegir team, who are more used to Mini-Maxis. After two days racing in the RC44 Benjamin gave his thoughts on the new venture. "Today was fantastic, we had an easier run of it today compared to yesterday, we got beat up a bit in the match racing! We had some really good races, the conditions were great it wasn't quite as windy as yesterday. Compared to the maxis I'm pretty surprised by how close the boats are. It's not quite like the Maxi races, it's a lot more aggressive and there are a lot more boats, probably a lot more fun as well."
The wind is due to ease slightly tomorrow for the second day of fleet racing at the Cascais RC44 Cup 2012 racing concludes on 1 April.
RC44 Cascais Cup Results (After four races)
1 RC44 Team CEEREF - 5 2 6 1 – 14
2 Katusha - 3 7 1 4 – 15
3 Team Aqua - 8 1 3 9 – 21
4 Synergy Russian Sailing Team - 1 10 7 5 – 23
5 Team Cascais - 2 5 12 3 (2) – 24
6 No Way Back - 6 4 4 11 – 25
7 Artemis Racing - 7 3 8 13 – 31
8 Puerto Calero - 10 9 9 6 – 34
9 RUS-7 Sail Racing Team powered by AnyWayAnyDay.com - 9 11 13 2 – 35
10 Ironbound - 14 15 2 7 – 38
11 Aegir - 11 6 14 8 – 39
12 Team Nika - 13 8 10 10 – 41
13 Peninsula Petroleum Sailing Team - 4 13 11 14 – 42
14 AEZ Sailing Team - 12 14 5 12 – 43
15 AFX Capital Racing Team - 15 12 15 15 (3) – 60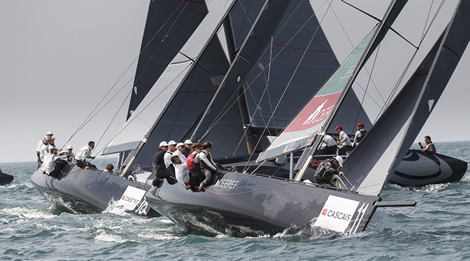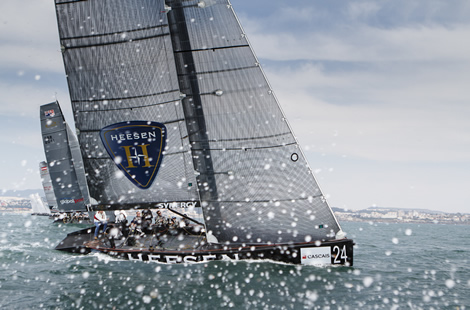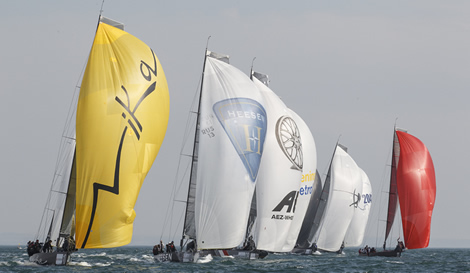 Back to top
Back to top