Comfortable win for PowerPlay
It came down to the wire on the last day for winners in three of six classes at the International Rolex Regatta, which began Friday and hosted 68 boats and over 500 sailors representing the U.S., Great Britain, Puerto Rico, Canada, The Netherlands, Russia, Italy, Sweden, Monaco and multiple Caribbean islands.
Today's tactically demanding Pillsbury Sound races, with courses that wound through the cays of St Thomas and St John, decided winners in one IRC and three CSA classes as well as a Beach Cat class, while one-design IC 24s completed six short-course races in Jersey Bay to determine that class's victor. The races were sailed in perfect conditions, with plenty of sunshine and 15 knots, which made the overcast skies and intermittent rain showers that prevailed over the last two days a distant memory.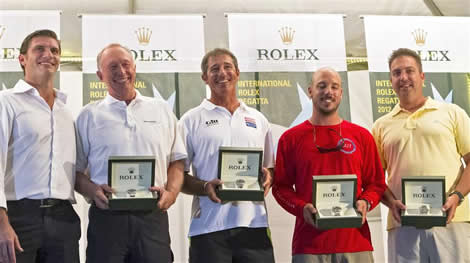 Peter Cunningham's 52foot PowerPlay took overall victory in IRC, where nine boats were competing, and won a Rolex Oyster Perpetual Submariner Chronometer as a prize for its excellent performance. The team's main competition was Dutchman Willem Wester's Grand Soleil 46 Antilope (steered by Belgian Olympian Philippe Bergmans) and Canadian Ashley Wolfe's IRC 52 Mayhem, which finished second and third, respectively.
"We were head-to-head with Mayhem the whole regatta, which made it exciting," said Cunningham, noting that Mayhem's disqualification in the second race of the series (for a pre-start infraction) and the dismasting of Highland Fling XII were unfortunate. "We lost the first race today by one second to Mayhem and Antilope (who corrected out equally and posted 1.5 points each) to finished third. The sailing is so interesting here; you can't relax even one second or it's the difference between first and second."
Volvo Ocean Race veteran Bouwe Bekking, tactician aboard Antilope, was pleased with second, especially since Antilope is a heavier displacement boat than the others, and he conceded that the story might have been different had Mayhem not shown a DSQ in her score line. "They would have had a second in that race, so you can count back and see that they would have done that much better," said Bekking, "but that's yacht racing."
The competition today was unusually close in CSA 1, where Andrea Scarabelli's Melges 24 Budget Marine/GILL managed to maintain the lead she had established on day one and kept yesterday. It was by a mere half point in final regatta standings, however, that the team prevailed over Magnitude 400, a Farr 400 owned and skippered by Californian Doug Baker. The battle of the 40 footers, of which there were four in this class, had been billed as one to watch, but it quickly became clear that the Melges 24 came prepared to win.
The first day, Budget Marine/Gill posted two victories in the "town races" that featured plenty of downwind sailing. "This was good for us," said the team's tactician Christopher Marshall, "but the second day had lots of upwind sailing and that's when it paid off for the bigger boats (Magnitude 400 won both races.). Then today was a mixed bag."
The half-point difference in the final scores was a result of Budget Marine/GILL's third-place finish in today's first race with the exact same corrected time as a second Farr 400 from California, Blade, so each boat was given 3.5 points as an average for third and fourth places (per the racing rules). "In the first start we were over early, so we had to come back and lost at least 30 seconds," said Scarabelli, who drove. "Everyone was in a bit of a bad mood after that, because if it had not been for that, we would have probably been in second (for that race). We knew we had to do our best in the next race and maybe it would be impossible to win - that we could lose the Rolex regatta because of a half a point." The team posted a third in the second race to Magnitude 400's fifth, and that proved to be the combination that would give Budget Marine/GILL the final say and the coveted Rolex watch as prize.
Also winning by a mere half point today in CSA 2 was Jonathan Lipuscek's Puerto Rican J/105 Dark Star. Lipuscek had gone into today's races with a half-point advantage on the merit of two bullets posted yesterday, and he posted a 2-3 today to prevail over Jaime Torres's Beneteau First 40 Smile and Wave, also winning the a Rolex watch for his performance. Making it a triumvirate of Puerto Rican teams on the podium was Sergio Sagramoso's J/122 Lazy Dog, in third, also with only a half point separating it from Smile and Wave. The three teams had been locked in battle for the entire regatta.
"We simply tried to minimise errors and do everything with patience," said Lipuscek at the Rolex Awards party, which was held on the St Thomas Yacht Club's beach and featured a giant stage built out over the water. "It's incredible that we've won the watch; I didn't believe it until now."
Puerto Rican teams also finished top-three in IC 24s, which sported the largest fleet here with 15 boats. Dominating was Puerto Rico's Fraito Lugo, onboard Orion, who counts this as his ninth time to win a Rolex watch here. He passed the watch on to his foredeck crew Pablo Mendez and said that a full rotation has now been made as far as his crew getting to proudly share in the spoils of victory. "It's experience in the boat," said Fraito when asked what his secret to success was. "Pablo has been sailing with me since 2002, and my tactician and trimmer have been with me 18 years. It feels so good to win; we lost this regatta last year, so we came back this year very aggressive."
Defending Beach Cat class winner Jorge Ramos, aboard his Hobie 16 Universal, swapped wins for two days with John Holmberg, also sailing a Hobie 16 named Time Out with 13-year-old Naomi Laing, but today he won the class's single race to finally take overall victory. Going into today, the two were tied on point scores after eight races, and the final tally showed Ramos 19, Holmberg 21.
In CSA non-spinnaker class, the J/36 Cayennita Grande won with its crew of St Croix's Central High School students led by their band teacher Stan Jones, who recently bought the boat from Tony Sanpere, a past winner who was also aboard. "We did better with each race," said Jones, who has had five second-place finishes here with "his kids" before. "Tony and I drove. It's one thing to just give them a boat, have them sail and loose and another to coach them and help them be on a winning boat."
Results

IC 24 (One Design - 14 Boats)
1. Orion, IC 24, Fraito Lugo, Ponce, PR, USA - 1, 4, 4, 1, 5, 6, 10, 1, 2, 1, 4, 1, 3, 4, 1, ; 48
2. Cachondo, IC 24, Marco Teixidor, San Juan, PUR - 5, 2, 2, 11, 6, 4, 1, 6, 10, 2, 5, 4, 4, 3, 5, ; 70
3. Team Coors Light, IC 24, Frits Bus/ Chuck Pessler, St. Thomas, USVI, USA - 15/OCS, 6, 8, 3, 2, 1, 3, 2, 1, 6, 2, 5, 6, 7, 8, ; 75
CSA 1 (CSA - 9 Boats)
1. Budget Marine/GILL, Melges 24, Andrea Scarabelli, Cole Bay, St. Maarten, AHO - 1, 1, 2, 4, 3.5, 3, ; 14.5
2. Magnitude 400, Farr 400, Doug Baker, Long Beach, CA, USA - 5, 2, 1, 1, 1, 5, ; 15
3. Fire Water, Melges 24, Henry Leonnig, Nanny Cay, Tortola, BVI - 2, 3, 5, 5, 5, 2, ; 22
CSA 2 (CSA - 13 Boats)
1. Dark Star, J 105, Jonathan Lipuscek, San Juan, Puerto Rico, USA - 1, 6, 1, 1, 2, 3, ; 14
2. Smile and Wave, Beneteau First 40, Jaime Torres, San Juan, PR, USA - 2, 1, 4.5, 2, 4, 1, ; 14.5
3. Lazy Dog, J 122, Sergio Sagramoso, San Juan, PR, USA - 3, 2, 2, 3, 1, 4, ; 15
CSA Non-Spinnaker (CSA - 7 Boats)
1. Cayennita Grande, J 36, Antonio Sanpere, Christiansted, VI, USA - 3, 1, 1, 1, 1, ; 7
2. Affinity, Swan 48, Jack Desmond, Marion, MA, USA - 1, 2, 3, 4, 2, ; 12
3. Shamrock VII, J 95, Thomas Mullen, Campton, NH, USA - 4, 3, 2, 3, 3, ; 15
IRC 1 (IRC - 9 Boats)
1. PowerPlay, TP 52, Peter Cunningham, George Town, CAY - 1, 2, 1, 2, 2, 3, ; 11
2. Antilope, Grand Soleil 46, Willem Wester, Breskens, Zeeland, NED - 3, 1, 4, 4, 3, 1.5, ; 16.5
3. Mayhem, TP 52, Ashley Wolfe, Calgary, AB, CAN - 5, 10/DSQ, 2, 1, 1, 1.5, ; 20.5
Beach Cats (Portsmouth - 10 Boats)
1. Universal, Hobie 16, Jorge Ramos, San Juan, PR, USA - 2, 1, 2, 6, 1, 1, 1, 4, 1, ; 19
2. Time Out, Hobie 16, John Holmberg, St. Thomas, VI, USA - 1, 2, 3, 1, 2, 3, 3, 3, 3, ; 21
3. Island Sol, Hobie 16, Paul Stoken, St Thomas, VI, USA - 3, 5, 1, 3, 3, 4, 2, 2, 2, ; 25
Back to top
Back to top