Ernesto Bertarelli interview
Last week Ernesto Bertarelli made his first foray back onto the international yachting stage in two years, taking the helm of his 40ft Alinghi catamaran, for the Extreme Sailing Series in Muscat.
As a team Alinghi has been sporadically involved in the Extreme Sailing Series since 2008 when, in preparation for the 33rd America's Cup, Ed Baird steered the Swiss catamaran to overall victory. Last season Alinghi returned to the circuit, at the same time as Bertarelli personally became one of OC Thirdpole's shareholders in the circuit, during a refinancing round.
While Yann Guichard helmed the Alinghi catamaran last season, this season Bertarelli has himself taken over helming duties.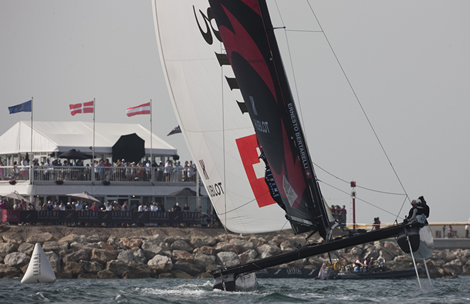 So why this year rather than last year or next? "It is quite demanding," Bertarelli told thedailysail.com. "I am not a professional and this is not the only thing I do with my life. I have to run my business and other interests, so it is the time commitment. I have spent a lot of time on the water these last 10-15 years and these last two years I wanted to give it a bit of a break. This year I want to do a bit more. I'm not sure I want to do every event, but this one [in Muscat] is nice because of the conditions. These guys are at it all the time and it is a good challenge for me to try and match them."
While Bertarelli is best known for the success of his Alinghi team winning and then successfully defending the America's Cup, less well publicised is the fact that Bertarelli has been helming catamarans in his native Switzerland with considerable success for almost 20 years now.
His first multihull was originally Stephen Fein's Full Pelt Formula 40 trimaran, which he acquired in 1993, before trading this in for a Gino Morrelli-designed trimaran aboard which, in 1997, he won Switzerland's premier regatta, the Bol d'Or, for the first time. This ultimately led to his commissioning the all-conquering catamaran latterly known as Le Black – a 41footer that weighs less than an Etchells - built to a design by Jo Richards and Sebastien Schmidt. Aboard this, Bertarelli won the Bol d'Or for four consecutive years.
Throughout his tenure in the America's Cup, Bertarelli kept his hand in racing catamarans on Lake Geneva, participating in the Decision 35s from the outset of this one design catamaran class in 2004. Then of course there was the 33rd America's Cup and the giant Alinghi 5 catamaran which he helmed during the all-too-short series in Valencia in 2010.
Despite his lengthy background racing catamarans, Bertarelli is still relatively green when it comes to the Extreme 40. He says he sailed his team's first boat for a couple of days while training in Valencia back in 2007 and again while last year's team, led by Tanguy Cariou, were training in Oman. Apart from this, his time on board the Extreme 40 has been confined to a few days prior to the start of last week's regatta in Muscat.
"I think it has moved on a long way," says Bertarelli of how the Extreme Sailing Series has developed. "It is different - the organisation, the way they set the courses and what they ask of the teams and the level... they are all good, gold medallists, etc."
In the Extreme Sailing Series 2012 opener, Bertarelli ended up in seventh place completing the 29 race event with a scorecard that included two wins, but also quite a few places at the bottom of the field.
However in 2012 Bertarelli says that his principle focus will be on the D35, which, after its brief holiday on the Mediterranean at the end of last season, will this year remain solely in its natural habitat of Lake Geneva. Having won the Bol d'Or Mirabaud once again last year, during which he set a new course record time for D35s, he has a title to defend.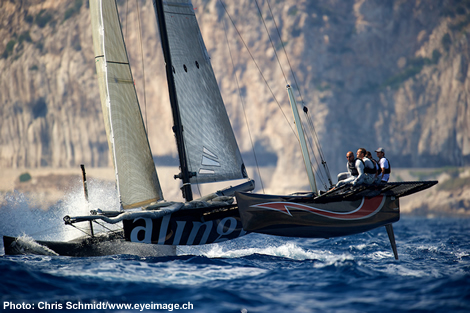 Compared to the Extreme 40, the D35 may be shorter, but it has a more grunty sail plan designed to make the most of the light conditions generally found on Lake Geneva. "The level is a bit higher here and the boats [Extreme 40s] are a little less responsive, so you have to change a few things. I am enjoying myself. It is platform I enjoy. I find the boat quite good considering that it needs to sail in breeze and in waves and in harbour and there is close contact – it has to do a lot. But I need to learn the boat and the team needs to learn how to sail together."
As he says, Bertarelli is uncertain of how many Extreme Sailing Series events he will be able to do this year. After Muscat he reckons that Trapani and Nice are on the cards and adds that he is "intrigued by Brazil", where the 2012 stadium sailing circuit concludes. "I have a conflict with Istanbul because we are racing the D35 the same weekend and then there is a business conflict with Qingdao. I don't know about Porto and Cardiff..."
For 2012 the Extreme Sailing Series has a new requirement of a '5th man' being on board – they must be either under 23, a woman or an 'amateur' (in the eyes of the ISAF Sailor Classification). With Bertarelli and YouZou owner Eric Maris falling into the amateur category, this means that as they helm they can have four pros on board. In Alinghi's case Bertarelli is joined by old hands Tanguy Cariou, Nils Frei, Yves Detrey and Pierre Yves Jorand.
"It would be nice if more owner-drivers came," says Bertarelli. "I think it would be good. The Farr 40, when I used to sail in it, was at a very, very high level." At their peak in the mid-2000s the Farr 40s used to get 35-40 boats at World Championships – Bertarelli won the World Championship when it was held in the Solent in 2001. "The professionals were being pushed as hard as the amateurs and I see here [in the Extreme 40s] that it is everybody, not just me, who has to get their level up. So I think it is a good format. I don't think it is impossible for a female or for an amateur to be competitive at this level."
Another reason for Bertarelli coming into the Extreme Sailing Series this year is that he wants to take a break from 'the Lake' (Lake Geneva). "I want some breeze and waves! The Lake is great. At times we have fantastic conditions, but we also have a lot of light wind."
Obviously Bertarelli remains best known for his writing a significant chapter in the history of the America's Cup. Unquestionably two years on from the 33rd, there is still something of a bitter taste in his mouth following the prolonged legal dispute with Larry Ellison/Oracle Racing in the New York Supreme Court over the 33rd America's Cup in Valencia and ultimately Alinghi 5's defeat to the Ellison-backed BMW Oracle Racing trimaran, USA17.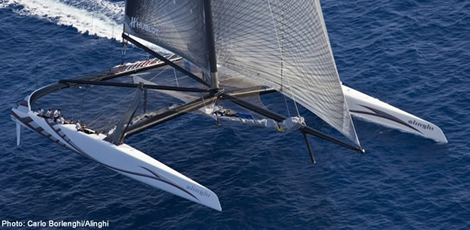 Since then Alinghi 5 has been packed away in the commercial port in Valencia and Bertarelli seems at a loss as to what to do with it. He has offered it to the city/municipality of Valencia to have on display. But he doesn't know where this stands and if that option doesn't come to pass then he says he is going to have to do something else with the giant catamaran. "One of my secret dreams is to sail the boat again, but it is so complicated. It was fantastic boat to sail, so much fun, that was the best time... I would love to sail that boat again, but for the moment there is no plan for that."
Unfortunately, as Alinghi 5 was built for America's Cup Deed of Gift courses in flat water, the 90ft catamaran tailor-made for this function only, the prospects of her being used for anything else are slim. Although the boat initially sailed on Lake Geneva, in reality the lake isn't big enough for the giant cat. About the only possibility is that the boat's structure is beefed up enough to enable her to sail slightly offshore. Even so, there would be no one to race against, leaving tackling records as the boat's sole competitive option. Alinghi 5 also represents a lot of boat potentially to go wrong.
Bertarelli admits he misses the 'Alinghi family' and the 70-80 people who were part of the team for their lengthy tenure in the America's Cup. "I get a lot of contact from ex-Alinghi people who are all spread around the world doing other things. But the 10 years we spent together meant something to everyone. We really had a team culture, we had a spirit. A couple of evenings before the San Diego AC45 regatta, I received a phone call in the middle of the night, I won't say who from, saying 'Ernesto – I wanted to give you a call. We are in a bar, we are having an Alinghi party'. There were 20 people there..."
So might we ever see Bertarelli back in the America's Cup? "I just don't see what we could be doing now. I think the AC45 circuit is a very nice circuit. It is great racing and great boats and is very well financed...by one man. You just have to make sure you please him and apparently you can't criticise the organisation... But it is not the America's Cup - it is a bit of a smokescreen for the America's Cup. And the AC45 is not very different to the Extreme 40 - it is a copy cat with Larry's money. It would be better if all that energy was spent designing boats, because there are only three teams designing America's Cup boats and that is not enough in my view. I think they pitched too high – too expensive and too difficult and not enough of a chance to win. So I am happy not to be in it. You don't go if you don't have a chance of winning - there are other things you can do in life."
Bertarelli points out that Team New Zealand don't have a choice other than to challenge, for the option is the dole queue and he believes that Artemis Racing's Torbjorn Tornqvist is beginning to understand that challenging isn't as good as he first figured it might be. "And the fact that Prada [Luna Rossa] can use Team New Zealand's design is a first. There are a lot of weird things like that..."
Bertarelli also points out that at present the teams don't know what time of day racing is likely to start when America's Cup racing takes place next year. He recalls when Alinghi and BMW Oracle Racing lined up in San Francisco for the Moet Cup in 2003. "They told us we were going to start racing at 1100, so we brought all our light wind gear and the regatta started at 3pm in 25 knots! So how can you design a boat for San Francisco if you don't have a time of start, when there is no wind and then the sea breeze comes in at 25 knots?"
While there are aspects of the America's Cup he certainly misses - the team, the sailing, etc – there are other aspects, such as these manoeuvrings and one-upmanship, that he doesn't.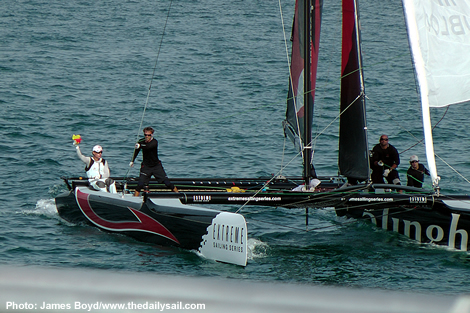 Another aspect of how Bertarelli wants to sail in the future may also have a bearing on the classes and competition he decides to involve himself in. A common feature of his sailing in the last few years – from the D35, to Alinghi 5 to chartering Dan Meyers' Mini Maxi Numbers for the Maxi Yacht Rolex Cup, and now the Extreme 40 - is that he wants to drive.
As he puts it: "I am 46. I have done a lot of grinding for many years. I can't grind anymore! My body won't take it. I think I have a few years left on multihulls sitting down, because my back won't take it. I have to work out a lot and warm up and stretch and stay fit. So I am really trying to enjoy every minute I can. It is hard work."
Only when he physically can't sail multihulls any more will be consider going back to monohulls. "If I have to choose today between this [the Extreme 40] versus sailing maxis, I choose this because it is a bigger challenge. Maxis are nice - a lot more peaceful than this. But this is exciting..."
Back to top
Back to top