Bertrand to attempt to clinch third consecutive title
Defending Etchells National Champion, John Bertrand, faces a tough four-day regatta in the Zhik International Etchells 2012 Australian Championship with World Championship level racing expected.

Racing commences tomorrow with 61 yachts confirmed to be on the split start line on the offshore course under the direction of Royal Prince Alfred Yacht Club's Principal Race Officer, Stephen Merrington.

In among that fleet are a handful of very strong contenders. While several of them claim they will be using the event to test out sails and rig set-up prior to the Etchells Worlds in Sydney, it is highly likely that testing will quickly take a back seat to the lure of hard racing.

Leading the top title contenders is John Bertrand. He goes into the Zhik National Championship looking for a third consecutive national title. Bertrand has been preparing his campaign with absolute attention to detail including recruiting his 2010 World Championship winning crew, Tom Slingsby and Andrew Palfrey. However, the loss of bowman Palfrey, who had to withdraw from the program due to his Artemis America's Cup commitments, left Bertrand to quickly find another top-level third man.

A chance conversation between Bertrand and David Giles at the ISAF Sailing World Championships in Perth late last year, where Giles was racing with Mark Bradford in the Star World Championship, led to Giles, a four-time Olympian and two-time Etchells World Champion, jumping on board the Triad team. While Bertrand has never sailed with Giles, the strength of skills and experience across these two sailors complimented by Tom Slingsby, will produce top results.

Giles has had minimal time in Etchells since his days racing them with Colin Beashel. His commitment to the Star Olympic campaign and his work with Pegasus Racing has kept him away from the class, except for a small dabble with them preparing to race the Pegasus entry in San Diego last year. That break will make little difference to Giles' ability to fit in to Bertrand's program.
The self-confessed silent partner of the Bertrand Triad team will still use his previous Etchells experience to play a vital role in the action. "I actually started sailing them with Nev Wittey back when the Worlds (1984) were in Sydney and Iain Murray won... After the 1987 America's Cup I sailed with Phil Thompson at the Pittwater Worlds. We finished third. Then I sailed with Ian Brown for a while and we won a lot of stuff dominating the class pretty strongly for a while." After that Giles joined Beashel in his Etchells and Star programs and the rest is history.

Bertrand hasn't sailed with Slingsby since winning the 2010 Etchells World Championship; not that this will make a great deal of difference to the team. He is very confident of 2008 and 2011 Laser World Champion Slingsby's ability to slide comfortably back into Etchells racing. "Tommy is at the top of his game. He will bring enormous value to the team and is keen to give it another shot, which is terrific. He brings a wealth of natural ability and knowledge to the boat," Bertrand said.

But, right now, the team out on the water for their third training day, "getting our communications sorted out".

Working hard in the background on the hardstand with his North Sails Menace team is 2000 Etchells World Champion, Vince Brun. Suffering a little bit of jet lag and a hard, early morning session in the gym to work up some sweat and work off some weight, Brun is still enthusiastic about the coming four race days and the World Championship level competition. "If you look at history, there are a lot of World Champions that come from this area and so I think you are going to see nothing less than a superb regatta. The level is very high even though we don't have some of the Americans like Bill Hardesty. I think they will get replaced by a lot of other people."

American Brun hasn't raced with either Michael Coxon or Paul Westlake, at least not that he remember as he struggles with his jet lag, but he has known them for a very long time and worked with Coxon on various North Sails Etchells tuning guide projects.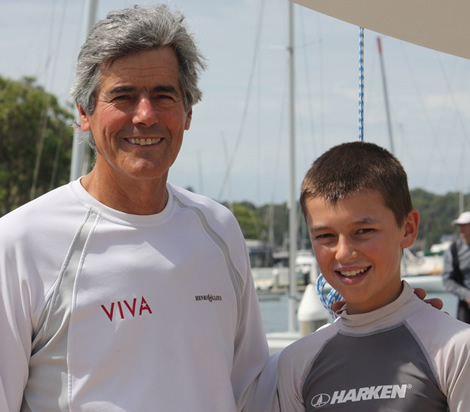 Joining this talented team is the youngest competitor in the fleet, 12-year-old Harry Smith from Southport Yacht Club. Still an Optimist sailor, this chance to race with what he considers are sailing legends and to be mentored by them through the Zhik Nationals and then the World Championship is a once in a lifetime opportunity.

It was all about right place, right time that opened up this opportunity for an excited Smith. "I was down in Sydney about a month ago with dad and I was sailing Wild Oats. Flipper (Westlake) was on the main and he just thought I could be a good fourth man for the Etchells.

Brun is skeptical that his team will be up front from the start of racing. "I think we are going to be working ourselves hopefully up to good spot (overall). It is going to be an uphill battle. This is a new boat for me. Michael Coxon) has done a whole bunch of changes on it. The keel was a bit asymmetrical and so there has been a lot of fixing on the boat.

"We are going to do our best. We have plenty of talent in the boat, we have potential," Brun said. Before that potential can reached though, a long hard training session on the water today has been scheduled.

Another American Etchells World Champion returning to Australia's shores is Jud Smith. Smith skippered Roulette with Mark Johnson and Nik Burfoot in the NSW State Championship in November last year to finish second. Johnson said that event was particularly useful for them as they tested their second mast, which they discovered is why it is their second. They have now gone back to their preferred mast and will concentrate during this event on the last part of their sail testing program.

While these top contenders continue to mildly talk down their expectations for the Zhik National Championship still citing crew changes and sail and rig testing as possible distractions, they are all fierce competitors. When the five minute gun goes, the huffing and puffing will be forgotten and the serious business of winning the national championship will really begin.

As Bertrand aptly states; "It will be a red hot regatta. There are some fabulous sailors with very well-developed programs. It will just be a matter of getting our act together and giving it our best shot. Even though the international entries are down, obviously because of the GFC and the strength of the Australian dollar, the level of competition will be absolutely fantastic just looking at the teams that have been put together."

The International Etchells 2012 Australian Championship is sponsored by Zhik, North Sails, Pacesetter Yachts, Protector Yachts and Wetton Signage Group.
Back to top
Back to top