Voiles de St Barth - strong cast for 2012
The Les Voiles de Saint-Barth is just three years young and scheduled for its third annual running over 2-7 April. Held on the fashionable French island in the northeastern Caribbean, the regatta continues to show signs of healthy growth and popularity with a roster that promises not only to expand by almost a third over last years 47 entrants but also to showcase top sailing talent as well as some of sailings most phenomenal racing machines.
With more entries, we are able to have more classes, making the racing tighter in each, said LVSB Competition Manager Annelisa Gee, who pointed out that robust numbers in spinnaker racing have already allowed for a split into two classes for that division. The event also will be appending its Notice of Race to accommodate IRC racing for a class of 52 footers that will include Peter Cunningham's Powerplay, Jim Swartz's Vesper, Irvine Laidlaw's new Highland Fling, and Ashley Wolfe's Mayhem.
"The news of the collapse of the Audi MedCup is bad for the grand prix corporate-sponsored end of the sport, but okay for the rest of us," said Powerplay project manager and crew member Tony Rey, a three-time Americas Cup veteran, as all the existing TP52s will race together under IRC in 2012 at several fantastic Mediterranean venues. With eight IRC 52s, including Powerplay, currently competing in Key West, Rey knows that having four already signed up for Les Voiles de Saint Barth insures yet another worthy contest right before the boat is scheduled to ship overseas.
"We've had a great year developing the Powerplay team," said Rey, explaining that Powerplay Racing was founded in 2011 even before Cunningham's acquisition of the TP52 (formerly Synergy), which has been admirably representing the Cayman Islands in regattas mostly on the East and West Coasts of the U.S. "Peter is really excited to get back down to the Caribbean with this boat."
Not the least of Powerplay's worries, Vesper will be sporting much of the same crew that helped Jim Swartz win Les Voiles de Saint-Barth last year and has been sailing with him since he took the boat over from Quantum Racing about a year ago. While Swartz drives, Gavin Brady will call tactics and Francesco Mongelli will navigate. Mongelli navigated the TP52 Quantum Racing to a TP52 Worlds victory in 2011.
Sailing under CSA (Caribbean Sailing Association) measurement rules will be additional classes for maxi yachts (75 feet/22.86 meters and longer), racing yachts (spinnaker and non-spinnaker), classic yachts and multihulls.
Peter Harrison's Sojana, the 115ft Farr designed ketch that has been participating for years in grand prix racing events around the world, will serve as the events flagship, of sorts, as Harrison has been tapped as the 2012 events ceremonial Godfather, a distinction that last year was bestowed upon singer Jimmy Buffet. Though Harrison is not expected to perform on the music stage, the famous philanthropist will no doubt aspire to make the awards platform after sailing against such other power house entries in the maxi class as the 112ft Baltic Nilaya, the Swan 112 Highland Breeze, the F-class Firefly and George David's Reichel-Pugh 90 Rambler.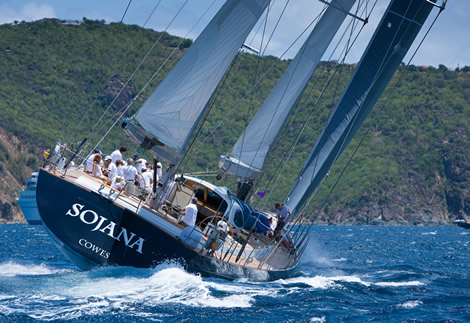 "This is obviously a very strong competitor group and it will be difficult for Sojana and crew to retain or improve on its third (finish) position in 2011," said Harrison, who counts this as his third time competing in the Les Voiles de Saint-Barth and senses that it is his strong sense of adventure and competitiveness that helped gain him the honor of being named its Godfather. Among the reasons Harrison gives for the regattas success are its location...the impressive organisation... the strength and quality of the competitiors, and of course the concomitant social and fun part of meeting the other crew.
Nilaya is a relatively new boat, which in its first year won the Super Yacht Cup in Palma and the Super Maxi division in the Maxi Yacht Rolex Cup in Sardinia. "We have a great team, which has been sailing together for several years on the owner's (Filip Balcaen) previous boats," said Bouwe Bekking, who will serve as tactician after having competed last year here aboard Highland Breeze. The crew is predominantly from Belgium and Holland and the owner will drive.
Speaking to the competition he expects, Bekking explained, "we are a cruiser/racer, with all the luxuries you can have onboard, but we will sail flat out. Sojana and Highland Breeze are the real competition, as it is apples to oranges to compare us to Rambler and Firefly. They are flat-out racers with no interiors, but we might be in for a surprise, as we have beaten many racers during the Les Voiles de Saint-Tropez."
While last year Highland Breeze's owner Ben Kolff hosted his employees on board for a chance to experience the exciting and - in this location, anyway - exotic world of grand prix sailboat racing, this year he has a crew of "hard core yachties". Bekking noted, however, that the crew is comprised predominantly of amateur sailors in combination with a few professionals.
Rambler is quite the opposite with a largely professional crew. It won the inaugural Les Voiles de Saint-Barth with George David steering, and last year, David won again at the helm of Rambler 100. The latter boat lost its keel and capsized, however, in the 2011 Rolex Fastnet Race and was deemed unrecoverable for racing purposes. Reverting back to his 90-footer for the 2012 season, David has already won the Ft Lauderdale to Key West Race and plans to defend his 2011 RORC Caribbean 600 title (where he broke the monohull race record) before heading to Saint-Barth.
With a Tuesday through Saturday schedule that includes four days of intense racing, the Les Voiles de Saint-Barth will kick off on Monday, 2 April, with opening ceremonies and cocktails at the festive Race Village on the Quai General de Gaulle overlooking Gustavia Harbor, where the event is headquartered. One lay day has been reserved for competitors and friends to discover this quaint little collectivity of France, with events planned at Nikki Beach that include lunch and a surprise sporting challenge for all crews. Evening activities include off-site parties as well as post-racing bands and entertainment in the Race Village.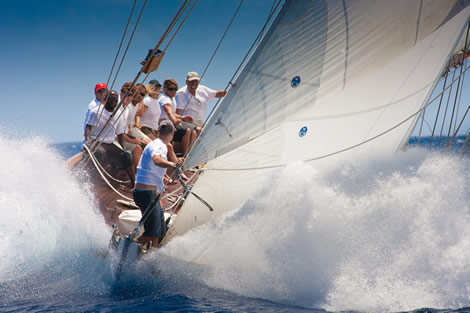 Back to top
Back to top