First points on the board at Key West
Photo gallery at the bottom of this article...
Quantum Key West 2012 got off to a fine start today with two races helds in 15-20 knot northeasterly winds and a lumpy seas providing challenging conditions for the 112 boats racing in 12 classes.

On the big boat course Niklas Zennström's J-V 72 Rán blitzed the strong Mini Maxi class taking two bullets. Tactician Adrian Stead said this is the team's fourth season sailing the boat and the crew work was flawless: "The boat was going really well upwind and downwind. We had it really sorted. The last couple of days practicing in breeze really helped us nail it. We were very confident in our boat handling today – good sets, good gybes, we were able to throw it around. Niklas drove the boat really precisely. It got a little choppy out on the right side of the course and he really locked into it. We are particularly pleased about how we are going downwind."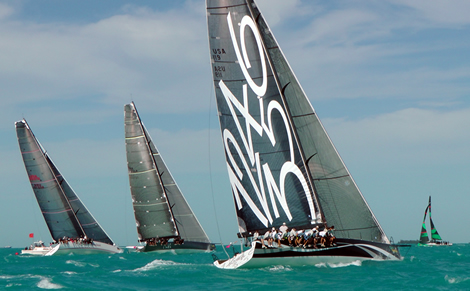 With the breeze going lighter mid-week, then conditions may favour George Sakellaris' Reichel Pugh 72, Shockwave. Stead also points out that Dan Meyers's J-V 66 Numbers, the original Mini Maxi, will be one to watch with her all-star crew led by Brad Butterworth. "It is the first time we have raced against her and she has never lost a regatta, so I think we'll see her improve as the week goes on."
Members of the Rán shore crew who were on the water in a support boat were the true heroes of the day as there was a scary incident during Race 2. Keith Glynn, bowman on Jim Richardson's Farr 40 Barking Mad, was thrown overboard when the boat got rocking in lumpy seas. Glynn knocked his head on a stanchion on the way over the side and was woozy in the water.

Troy Kennedy was piloting the Rán support boat and was in the vicinity near the downwind mark when word came over the radio about a man overboard. Teammate Barney Depledge spotted Glynn in the water just in time as the Irishman had been struggling and started going under. Depledge did not hesitate and dove into rescue the young man, who was taken to a medical center in Key West for observation.

"Glynn was exhausted and had swallowed a lot of water. If Barney hadn't jumped in he may not have made it," Kennedy said. "It was a pretty close call, but (Glynn) recovered on the way back to port and was in pretty good spirits."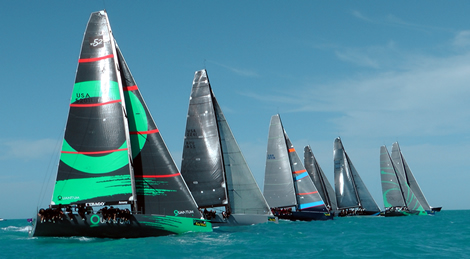 In the competitive eight boat 52 foot class, the day belonged to race sponsor Quantum Racing, with their Audi MedCup winning TP52 claiming both races. On board the crew line-up is mostly the same as the MedCup only that Doug DeVos is driving with Artemis Racing skipper Terry Hutchinson back on board calling tactics with Michele Ivaldi on tactics, Don Cowie on main trim and Phil Jameson offside trimmer and Chris Brittle (now part of Artemis Racing) grinding.
Since Hutchinson's departure to Artemis Racing and a new life on two hulls, this is in fact the first time he has been on the team's new Botin and Partners boat. "I think it is impressive to see the evolution of Marcelino's boat from 2008 through to this current generation. It is a very nice easy boat to sail and generally an easy boat to sail is a fast boat."
Hutchinson points out that while Quantum Racing is in MedCup TP52 trim, most of the competition is in IRC trim with more stability and bigger kites. It was particularly good to see Quantum Racing alongside Jim Swartz' Vesper, formerly Hutchinson's Audi MedCup winner and still bearing some Quantum turquoise in her paintjob.
"What I learned today was that we had a couple of good things go our way and we are going to have our hands full with the guys who are configured in IRC," said Hutchinson. "The second race in particular down the last run we were in third around the top mark and beat the guys in front of us to the gybe and then had a nice sweet lane and Doug did a nice work driving the boat through that longer port gybe and we managed to get bow to bow with Mayhem at the bottom and we got the left gate off of them and the right side was pretty strong from there."
In addition to Vesper, Hutchinson says that Powerplay and Mayhem were going well today and while Austin and Gwen Fragomen's Interlodge (a new IRCed Botin & Partners sistership to Quantum Racing) suffered a broken forestay today, they are probably the fastest of the 52 footer on the race course here at Key West.
"You are just going along, sitting there watching and it is like 'we are racing the MedCup right now'. That first race we would have led Vesper by a minute around the top mark and we only beat them by five seconds and we owed them three seconds in the race..." Hutchinson admits he is still coming to terms with racing the 52s under IRC rather than boat for boat.
In IRC 3 Dutch skipper Willem Wester as usual has Volvo Ocean Race veteran Bouwe Bekking aboard his new Grand Soleil 46 as tactician and the two combined to sail Antilope to victory in both races. Meanwhile, British skipper Joe Woods and his Red team got the gun twice to take the early lead in five boat Farr 400 class, making its debut at Quantum Key West 2012.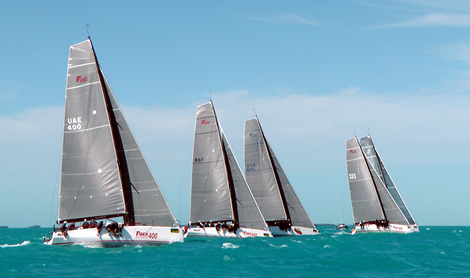 Woods is sailing the 400 with his Melges 32 crew including Laser Gold medallist Paul Goodison but with added talent in the form of North Sails' Simon Fry. Their Farr 400 is hull no1 and has been chartered for the week as Torquay-based Woods contemplates whether he wants to make the leap up to the class from his beloved 32.
The crew only got to sail their new steed in anger for the first time on Sunday after there was some substantial leaking from the keel bolts when they first launched it here. So their two bullets today were impressive.
"It is everyone's first regatta, so it is a level playing field," said Woods. "It is the biggest sailing boat I've ever sailed. It is all good fun."
Paul Goodison attributed their success today to: "We had reasonable starts and reasonable speed and didn't make quite as many mistakes as some of the other boats. No one has really got a grip on these yet. It is the first time I've even seen one!"
The Groovedercis - the Farr 40 skippered by John Demourkas, and the Farr 30, skippered by able wife Deneen - both won their respective classes today. But husband Demourkas' Farr 40 was named Nautica Watches Boat of the Day. She overcame some problems to finish fourth in Race 1 then got the gun in Race 2 and leads by virtue of tiebreaker over the Wolfgang Schaefer's Struntje Light.
"We had issues in the first race," said Demourkas. "I did a double tack and then we fouled the Turkish boat and had to do a 720. We were way, way back, but I had the best downwind run of my life and we rebounded to finish fourth, which really saved the day. Fortunately, I got over the jitters and sailed much better in the second race."

In the four boat High Performance class Pat Eudy's Lutra 42 Big Booty leads. The low profile black streak that is Rob and Sandy Butler's new McConaghy 38 Carbonado won the first race and were set back in race two when they 'shrimped' their kite.
One of the most impressive sights today was the Melges 32s hurtling around the race track in 20+ knot winds and lumpy wind against current in shallow water conditions. Here Jim Kilroy's Samba Pa Ti has been dominating, winning both today's races with Italian one design ace Lorenzo Bressani on tactics.
"It was a classic Key West day - beautiful weather with breeze on," said Kilroy. "These are the type of sailing conditions we all come down here for. We'd love to have a few more days like this."

The California entry got a great start and led wire-to-wire in Race 1 then won a great battle with Hedgehog and Pisces in Race 2.

"We seem to have real good speed and our crew is sailing the boat well," said Kilroy. "The second race was a real fight and we had a kite wrap that cost us some boats, but we were able to use our speed to come back."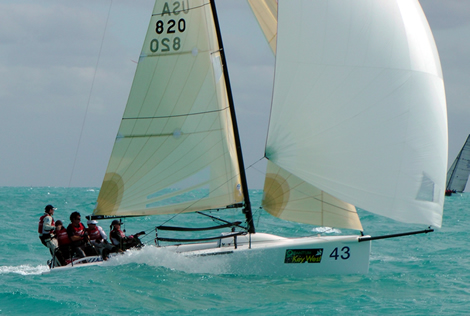 Racing on the same course, the Melges 24 double winner today was West Marine Rigging/New England Ropes skippered by former Moth World Champion, Bora Gulari. While Gulari is best known for his high-riding antics in the foiler class, he admits that he has been racing Melges 24s for at least ten years and has been skippering them for the last three.
"We were very fast downwind which helped us out in the first race," Gulari said. "It was very challenging. There was a lot of gear changing that happened – travelled up, super twisty to traveller down and tight leech, moving through a lot of rope and we got good starts and got a little lucky.
"The 32s jacked up the race track a lot. It was very lumpy following them around. It was a lot of fun downwind. We were launching off waves. We saw at least 20 knots today. There has to have been current against wind at some point because there were a lot of square waves. It was fun. I'm sure half of my boat was out of the water at some point."
The wind is forecast to drop slightly for tomorrow when the organisers are hoping to complete three races.
Full results
Mini Maxi (IRC 1) (IRC - 3 Boats)
1. Rán, GBR7236R, Niklas Zennstrom - 1, 1, ; 2
2. Numbers, USA119, Daniel Meyers - 3, 2, ; 5
3. Shockwave, USA60272, George Sakellaris - 2, 3, ; 5
52 Class (IRC 2) (IRC - 8 Boats)
1. Quantum Racing, USA52011, Doug DeVos - 1, 1, ; 2
2. PowerPlay, CAY52, Peter Cunningham - 3, 2, ; 5
3. Vesper, USA52007, Jim Swartz - 2, 6, ; 8
4. TeamOrigin 1851/ Team Bella Mente, GBR1851N, Hap Fauth - 4, 4, ; 8
5. Mayhem, USA2241, Ashley Wolfe - 6, 3, ; 9
6. Anema & Core, USA38008, Ennio Staffini - 5, 5, ; 10
7. Highland Fling XII, MON888, Irvine Laidlaw - 7, 9/DNF, ; 16
8. Interlodge, USA5210, Austin and Gwen Fragomen - 8, 9/DNS, ; 17
IRC 3 (Shared start with High Performance) (IRC - 5 Boats)
1. Antilope, GBR46N, Willem Wester - 1, 1, ; 2
2. Cool Breeze, USA60432, John Cooper - 3, 2, ; 5
3. Sarah, USA52756, Greg Manning - 2, 4, ; 6
4. White Gold, USA4994, James D. Bishop Sr. - 4, 3, ; 7
5. Vitesse, USA4240, Jon Halbert - 5, 6/DNF, ; 11
Farr 40 (One Design - 7 Boats)
1. Groovederci, USA7289, John Demourkas - 4, 1, ; 5
2. Struntje light, GER40, Wolfgang Schaefer - 2, 3, ; 5
3. Flash Gordon, USA60002, Helmut Jahn - 1, 5, ; 6
4. Enfant Terrible, ITA29141, Rossi Alberto - 7, 2, ; 9
5. Charisma, MON69, Nico Poons - 5, 4, ; 9
6. Barking Mad, USA50955, James Richardson - 3, 8/DNF, ; 11
7. Provezza 8, TUR1211, Ergin Imre - 6, 6, ; 12
Farr 400 (One Design - 5 Boats)
1. Red, UAE400, Joe Woods - 1, 1, ; 2
2. Team Premier NorCal, USA403, H. Blackett & S. Shapiro - 3, 2, ; 5
3. Meridian X, USA404, W.S. Shelhorse - 2, 3, ; 5
4. Spaceman Spiff, USA406, Rob Ruhlman - 5, 4, ; 9
5. BLADE, USA407, Mick Shlens - 4, 5, ; 9
High Performance (Shared start with IRC 3) (ToT - 4 Boats)
1. Big Booty, USA60208, Pat Eudy - 2, 1, ; 3
2. Carbonado, CAN5, Rob & Sandy Butler - 1, 3, ; 4
3. Stray Dog, USA8668, Charles Engh - 3, 2, ; 5
4. XS, USA41204, Douglas Fisher - 4, 5/DNS, ; 9
Melges 32 (One Design - 19 Boats)
1. Samba Pa Ti, USA13131, John Kilroy, Jr. - 1, 1, ; 2
2. Hedgehog, BER1, Alec Cutler - 4, 2, ; 6
3. Mascalzone Latino, ITA2121, Vincenzo Onorato - 2, 4, ; 6
4. Pisces, USA230, Benjamin Schwartz - 3, 3, ; 6
5. Catapult, USA134, Joel Ronning - 5, 6, ; 11
6. Warpath, USA32917, Stephen Howe - 12, 5, ; 17
7. Sicktrix32, USA178, Geoffrey Pierini - 9, 8, ; 17
8. Mojo, USA157, Steve Rhyne - 6, 12, ; 18
9. Celeritas, USA208, Malcolm Gefter - 8, 10, ; 18
10. Swing, JPN233, Keisuke Suzuki - 11, 9, ; 20
11. Robertissima 1, AUT1, Roberto Tomasini Grinover - 7, 14, ; 21
12. Heartbreaker , USA201, Robert Hughes - 10, 13, ; 23
13. Intac, IVB007, Mark Plaxton - 18, 7, ; 25
14. SLED, JPN5095, Takashi Okura - 14, 11, ; 25
15. Arethusa, USA211, Phil Lotz - 13, 18, ; 31
16. Flat Stanley, USA126, T. Sheehan / T. McSweeney - 15, 16, ; 31
17. Dark N'Stormy, USA151, Edward Tillinghast - 17, 15, ; 32
18. Esmeralda, JPN218, Makoto Uematsu - 16, 19, ; 35
19. Roxanne, USA77, Dario Galvão - 19, 17, ; 36
Melges 24 (One Design - 15 Boats)
1. West Marine Rigging/New England Ropes, USA820, Bora Gulari - 1, 1, ; 2
2. WTF, USA811, Alan Field - 3, 2, ; 5
3. Blu Moon, SUI825, Franco Rossini - 2, 3, ; 5
4. Monsoon, USA747, Bruce Ayres - 5, 4, ; 9
5. Battle Rhythm, USA786, Guy Mossman - 4, 7, ; 11
6. Convexity, USA619, Don Wilson - 6, 5, ; 11
7. Navega Racing, USA829, Kurt Winkelmann - 8, 6, ; 14
8. Party Girl, NOR800, Jens Altern Wathne - 7, 8, ; 15
9. Hot Mess, USA118, Rob Britts - 10, 9, ; 19
10. Black Seal, GBR830, Richard Thompson - 9, 12, ; 21
11. Tramp, USA708, Thomas Ritter - 11, 10, ; 21
12. Zingara, CAN629, Richard Reid - 13, 11, ; 24
13. Mojito, USA12, Catharine Evans - 12, 13, ; 25
14. Shockwave, USA312, Steven Boho - 14, 14, ; 28
15. Bologney Blowout!, USA106, Nate Duer - 15, 16/DNS, ; 31
Farr 30 (One Design - 7 Boats)
1. Groovederci, USA706, Deneen Demourkas - 1, 1, ; 2
2. Theend, USA316, Richard Goransson - 2, 2, ; 4
3. Gotcha, USA32, Nate Tower - 3, 3, ; 6
4. Mummbles, USA704, Brad Kauffman - 4, 4, ; 8
5. Rhumb Punch, USA41, John and Linda Edwards - 5, 5, ; 10
6. Just Plain Nutz, USA21, Norm Dean - 6, 6, ; 12
7. Farr 2 Tangley, CAN29, Ron Switzer - 8/DNC, 8/DNC, ; 16
J/80 (One Design - 18 Boats)
1. Le Tigre, USA1152, Darden Hillard - 1, 2, ; 3
2. BAB - Team Gringo, USA1328, Ryan Glaze - 2, 3, ; 5
3. Rocad Racing, SWE243, Mikael Lindqvist - 8, 1, ; 9
4. Bob Dylan, USA176, Mike Sudofsky - 3, 6, ; 9
5. Vayu 2, USA156, Ron Buzil - 5, 4, ; 9
6. Savasana, USA1123, Brian Keane - 4, 5, ; 9
7. Rumor, USA19, John Storck Jr - 7, 7, ; 14
8. Tiamo, USA554, Bruno Pasquinelli - 6, 11, ; 17
9. Church Key, USA59, Chris & Liz Chadwick - 9, 8, ; 17
10. CoolJ, USA1150, Alexander Kraus - 11, 9, ; 20
11. Andale, USA336, Al Poindexter - 10, 10, ; 20
12. Courageous, USA1313, Gary Panariello - 13, 12, ; 25
13. USA 11, USA11, Bert Carp - 12, 13, ; 25
14. Blind Faith, USA153, Kristen Berry - 17, 14, ; 31
15. Confederate Ram, USA120, Joe Corriher - 14, 17, ; 31
16. Bear Instinct, USA152 , Dave Manheimer - 16, 15, ; 31
17. Willy T, USA182, Jeff Jordan - 15, 16, ; 31
18. Frivolous, USA294, Daniel Goldberg - 18, 19/DNS, ; 37
PHRF 1 (ToD) (PHRF - 10 Boats)
1. Teamwork, USA52939, Robin Team - 2, 1, ; 3
2. Tres Hombres, USA35029, Kitterman, Tyer, Ghormley - 1, 3, ; 4
3. Mental, USA022, Paul Stahlberg - 3, 2, ; 5
4. Wicked 2.0, USA30, Douglas Curtiss - 4, 4, ; 8
5. Rush, USA51, Bill Sweetser - 5, 5, ; 10
6. Revolution, USA35037, Prelle, Buckner, Womack - 6, 6, ; 12
7. Hot Ticket, USA25328, Mike Kirkman - 7, 8, ; 15
8. GameChanger, CAN35006, Marcie & Dave Smith - 9, 7, ; 16
9. Warlock, USA37, Tom Hickey - 8, 11/DNF, ; 19
10. Heat Wave, USA144, Gary Weisberg - 10, 9, ; 19
PHRF 2 (ToD) (PHRF - 11 Boats)
1. Tangent, USA53328, Gerry Taylor - 2, 1, ; 3
2. L'Outrage, USA73456, Bruce Gardner - 1, 2, ; 3
3. Max Power, USA90, Gerrit Schulze - 4, 3, ; 7
4. Kalevala II, USA52439, Tapio Saavalainen - 3, 4, ; 7
5. Island Flyer, USA96, Denny Manrique - 6, 5, ; 11
6. Renegade, USA69329, Jim & Julia Graham - 5, 6, ; 11
7. Still Crazy, USA18, Ed Palm - 7, 7, ; 14
8. Waco Kid, USA60121, Martin Grow - 10, 8, ; 18
9. Bond ...James Bond, USA1007, Dave Whealon - 8, 10, ; 18
10. Caribbean Soul 2, USA30157, David McAleer - 9, 11, ; 20
11. Nanuq, USA93555, Glenn Doncaster - 12/DNF, 9, ; 21
J Boats Subclass (ToT) (ToT - 7 Boats)
1. Teamwork (J), USA52939, Robin Team - 1, 1, ; 2
2. Mental (J), USA022, Paul Stahlberg - 2, 2, ; 4
3. Wicked 2.0 (J), USA30, Douglas Curtiss - 3, 3, ; 6
4. Rush (J), USA51, Bill Sweetser - 4, 4, ; 8
5. Hot Ticket (J), USA25328, Mike Kirkman - 5, 5, ; 10
6. Heat Wave (J), USA144, Gary Weisberg - 7, 6, ; 13
7. Warlock (J), USA37, Tom Hickey - 6, 8/DNF, ; 14
Back to top
Back to top