World Yacht Racing Forum - day two
The fourth World Yacht Racing Forum closed its doors this evening following two days of presentations, constructive debates and networking sessions. Over 200 delegates and 50 speakers from all over the world attended the different presentations, shared ideas and business cards whilst hearing insights from some of the sport's major events including the Volvo Ocean Race, World Match Racing Tour and America's Cup.
"Imagine a round the world race where nothing happens: it would be a hard sell", said Volvo Ocean Race CEO Knut Frostad, introducing his event with sound and appropriate advice: "Drama is an integral part of the sport; it sells and opens up the doors of the biggest media, TV or print."
Frostad then called Damian Foxall from the stage live onboard Groupama while sailing at over 20 knots, allowing the audience to briefly share the life of a round the world sailor. "The sport's main asset is its sailors", Frostad continued after the call. "Sailors are usually well spoken, intelligent and interesting people. They are also very accessible."
Frostad finally spoke about the economic situation; a subject that was of great interest for the audience. "Our main difficulty for the moment is city funding. There are a lot of people and projects around, and we need to fight hard for the money. Basically, there are four main sources of revenues for sports events: merchandising, media deals, ticketing and sponsorship revenue. Sailing only benefits from the last one and therefore needs to offer a great quality product." Asked whether he had managed to reduce the costs of a Volvo Ocean Race campaign, he recognised partial failure: "It's not about how much it costs but about how much is available. The teams will spend whatever is available even if it doesn't provide a tangible competitive advantage."
Jérôme Pels, ISAF Secretary General of ISAF spoke from a different perspective: "We sold 6500 tickets / day for the Olympic Games, which is more than 65,000 tickets over the duration of the event. It's a world first for the sport of sailing."
Pels then outlined ISAF's plans for the future: "We want the ISAF World Cup to reach more countries, and will therefore have fewer events in Europe; only Palma and Hyères will be kept. We also need to reduce our costs and complexity, and will achieve this by reducing the number of officials, the measurement procedures etc. We will on the other hand invest more in new technologies such as live tracking." Pels finally reminded the audience that there will be a new President next year, as Göran Petersson's mandate expires in 2012.
The America's Cup session concluded the Forum. Richard Worth, President of America's Cup Event Authority outlined the progress made in the last year: "We have developed in one year a Series that can stand the comparison against any sport", he said. "We are very proud of what we have achieved. However, we have tried to achieve an awful lot in a very short time. We will now have to concentrate on the basics."
When asked how many teams would actually compete in the qualifications for the Cup, Worth said: "We currently have eight boats and we would be delighted with five or six in the Louis Vuitton Cup."
Meanwhile, day 2 of the Yacht Racing Design & Technology Symposium, running parallel to the Forum, carried forward with moderator Dobbs Davis re-introducing themes started yesterday on having analytical methods applied towards the critical areas of the modern performance yacht: composite structures of hulls and decks; the unique challenges of designing, building and sailing record-breaking offshore multihulls; and the increased vertical integration of sail design and production technology.
The software tools to evaluate important structural parameters, like slamming loads in offshore keelboats and multihulls, have reached high levels of accuracy and sophistication, but panelists Paolo Manganelli from Gurit, Mark Summerville from Persico and Nicholas Baral from CDK agreed that more data is needed to validate these tools. This is important to enhance the efficiency of not only design, but production as well, as the marine composites field is now able to make contributions to enhancing the efficiency of modern aerospace composites fabricated in non-autoclave applications.
The team of Vincent Prevost and Xavier Guibaud from VPLP then took the stage again, joined by Yann Penfornis from Multiplast in a round-table chat about the explosive progression of offshore multihull design and fabrication, where performance gains of some 40% have been realized over the past 20 years. To help convey the extraordinary excitement generated by these ocean greyhounds, a new video taken only yesterday was shown of Loïck Peyron's Banque Populaire hurdling through the Southern Ocean at the breakneck speed of 38 knots, yet everyone on board remaining dry and comfortable.
Lastly, Jesper Bank from Elvstrom, Dave Flynn from Quantum Sail Design, and Chris Williams from North Sails explained the latest use of their tools to not just characterize sail shape data taken in real time, but to integrate this information back towards VPP validation schemes. Production strategies were also discussed on optimizing the latest features of automated assembly and the trickle-down effect of Grand Prix designs into the mainstream product line.
Summing up the two-day conference, Event Director James Pleasance commented: "The Forum engaged with some fascinating discussions this year including topics which have not been covered before such as the role of women in sailing, and also the role of yacht clubs in the sport. Clearly these are difficult times for the yachting industry however the Forum agreed that the sport still has a wealth of opportunities to capitalise on as we move into 2012."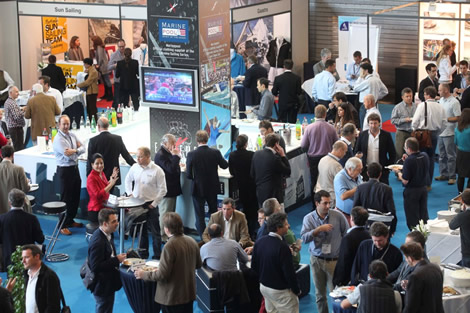 Back to top
Back to top