Team Premier hangs on
The competition in the IRC Zero Class at the Phuket King's Cup remains hot, intense and it looks like the winner may be crowned in the protest room. After Neil Pryde's Hi Fi requested redress from the International Jury for a moving mark on the course, and won, they were looking set to take the class title to the final day against Team Premier. However, the hearing was re-opened on the request of others in the class and the outcome of the re-opening saw the previous decision quashed and the original results stand.

With one day to go, Hannes Weimer's Team Premier leads the series by five points after scoring a second and first today. Hi Fi trail by five points after a first and second today leaving them needing to pull something out of the bag tomorrow.

Pryde said: "We've won four times already and we really want to make it five ahead of others. We've not really changed our strategy but the results are improving; we've come back from the dead before! It's pretty hard to win here, but all the racing has been close."

Yasuo Nanamori and team Karasu maintained their superb run in IRC1 with a first and second place on Day Four sponsored by AIA Thailand and Centara Grand Beach Resort Phuket. This is the best performance so far of any Japanese team in the Regatta. They currently have a seven point lead over their nearest IRC1 competitor, Steve Manning's Walawala 2, going into the last day tomorrow. Mako Usui of the Karasu crew explained, "We've come here with a regular crew of nine, and being able to race in the Phuket King's Cup Regatta is the boat owner's Christmas present to us for winning the Japan Cup. We competed here last year on a boat called Babe. On the first day, we recorded the fastest time in our class. The next day, the boat was beached and we could not race. The team loves Thailand because the people are so warm and we enjoy the lively entertainment at night after the racing."

Wiwat Poonpat's team triumphed again on Royal Thai Navy 1. The team have enjoyed good results throughout the Regatta, adding first and second places today. They lead the class by four points, ahead of Singapore entry Foxy Lady 5, skippered by Bill Bremner. Wiwat said: "Foxy Lady is our nearest competitor, and I believe they may have made a mistake today when running downwind, which gave us the space to take a relatively easy victory. We have won in this class for four years running, although Peter Dyer's team were winners last year. I'm fairly confident we can win the overall honours, let's say maybe 80% confident. Our strong form is down to training, teamwork and discipline."

Hans Rahmann's Thai-registered Voodoo took the daily double today in the Firefly 850 Sports Class, breaking a strong run by Roger Kingdon's Moto Inzi. The class series is set for an exciting final day as Voodoo is now just a single point behind their rival.

In the Multihull Class, Alan Carwadine's Sidewinder was unmatched as they took another two wins. The Australian outfit look relatively uncontested after scoring six wins from a eight with one day to go.

Baby Tonga Strongbow skippered by Peter Sorrenson enjoyed the favourable wind conditions as it took a first and second today in the Premier Class, scoring slightly better than Titania of Cowes, which has looked excellent all week. They now tail the British team by four points going into the closing day of racing.

It was a day to remember today for the Australian team on Venture, led by Mark Crisp, in the Bareboat Charter Class, with two wins from two. Finishing only fifth and sixth today, Sail Plane looks to have handed the series win to Venture.

Modern Classics Class completed one race today which was won by Nicholas Smith's Free Wind , which is fourth in the overall standings. Bo Standergaard's Patrice III leads the class by two points from Peter Wood's Windstar.

In the Cruising Class, Odin, manned by the Aquacraft Asia team, could only manage a third place in their race today, having taken three wins from the previous three. It was Thailand's Astraeus, skippered by William Sax, which took class honours today from Jack Cristensen's Linda in third. Odin still leads the table, and looks like to emerge class winner after tomorrow's final racing.

Sponsors of the 2011 Phuket King's Cup Regatta include Kata Group Resorts Thailand, PTT Group, Siam Winery, Singha Corporation, AIA Thailand, PTT Global Chemical, PTTEP, Thaioil, Centara Grand Beach Resort Phuket, Boathouse and Sunsail. Media Partners include 91.5FM, Helm Superyacht Asia Pacific, The Nation, Phuket Best Group, Phuket Gazette, Phuket Magazine, Sail-World.com, SEA Yachting and YachtStyle Asia.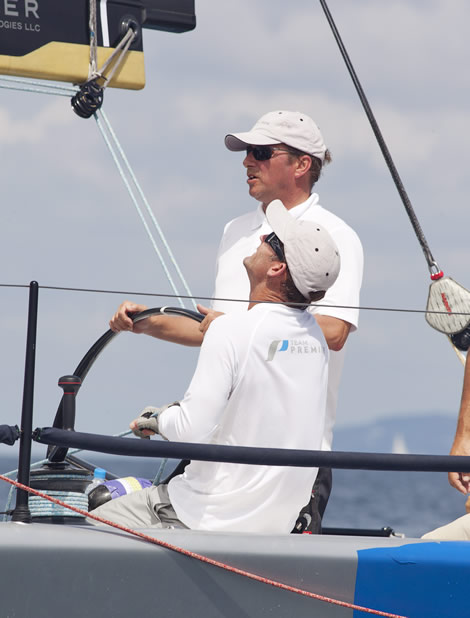 Back to top
Back to top