Frank Pong in the chocolates
The second day of racing at the Phuket King's Cup, sponsored by Singha Corporation and Haadthip PLC., experienced good winds at the start easing off towards the end of the Round-The-Island course set for today.

Yesterday's two races affirmed a close fight is to be expected in the IRC Zero Class. Today, Frank Pong's Jelik II rebounded strongly from her two fourth place finishes to win race three. Hannes Weimer's Team Premier surged to the top of the standings leading the class on five points after today's race. Hong Kong's Sam Chan and Neil Pryde are equal on eight points in the series. Hong Kong's Frank Pong, who has participated in the event since 1998, said: "My team performed better today because the course was longer than the first day. If the wind was stronger, it would have been better because this vessel is simply much bigger than the rest. Wind was only about 10 knots. It is not enough. I am not sure yet if we can win the class because every team has a chance."

In the highly competitive IRC 1 Class, three-time defending champion Matt Allen of Ichi Ban continued his poor run of form, finishing eighth in Race Three. With 22 points, the Australian is down to eighth place in the 13-team table. Allen has won the regatta every year since his debut in 2008. Japan's Yasuo Nanamori and Karasu overtook EFG Bank Mandrake to lead the standings with nine points following his second place finish today. Singapore's Steve Manning steered his Sydney GTS 43 to victory in Race Three and currently solidifies his fourth place in the series so far. Phuket King's Cup President Kevin Whitcraft's Won Ma Rang struggled today with only a seventh place.

Defending champion Peter Dyer's Team Kata Rocks took a lead on the opening day and today finished a solid third to hold on the series lead ahead of Bill Bremner's Ker 32 Foxy Lady 5. Wiwat Poonpat of the Royal Thai Navy1 team came in fourth on Race Three and is well positioned in third overall on 10 points. Despite trailing the leader by four points, Wiwat believes he is still in contention for the title; "We led through the middle of the race, only to fade when the wind dropped,'' Wiwat said. "It was not too bad a performance, and there is a long way to go yet. We are confident we have an opportunity to move up the rankings when the shorter courses are used." The Royal Thai Navy has landed five IRC 2 titles since the class was contested in 2003.

Boosted by two victories on the first day, Roger Kingdon's Moto Inzi scored a hat-trick of wins to leave defending champion Hans Rahmann's Voodo in its wake in the Firefly 850 Sports class. Kingdon hopes to repeat his win of five years ago after as he tops the table on three points, with Rahmann on.

In the Cruising Class, Aquacraft Asia's Hanse 545 won her second straight win for two points, three ahead of William Sax's Astraeus. American Jack Christensen aboard Linda, which came third in last year's competition, stayed third in his Bavaria 49 Cruiser after coming second in today's race.

In Premier Class, Titania of Cowes, skippered by Richard Bobbs, stormed to a second win in a row for two points. Australian Peter Sorrenson's team holds second place overall on five points, after their third finish today. The stunning 82ft Swan, named Chao Ren Plus One and skippered by Wang Bin, struggled with a fourth place finish today leaving her on seven points for the series.

In the Multihull Class, David Liddell's Miss Saigon team, which didn't deliver on expectations on the opening day, fought back well with a win in race three. She now leads and is on equal six points with Mick Coleman's Da Vinci, which today finished second. Meanwhile, Race Two winner Alan Carwardine struggled with a ninth place finish for 12 points in total.

In the Modern Classic Class, Bo Sondergaard's team in an S&S 47 Custom won Race Two to move up and stay just two points behind Peter Wood's Windstar, which came in second.

A surprise win of the day was in the Bareboat Charter where Oliver Heer's Sail Plane came from nowhere to win race two and stay atop on three points. "We set up a team only on the opening day,'' said 23-year-old Oliver, whose 13-person team from six nations came second in Race One. "It is a big boost for us for the rest of the week. We were lucky today, but the team did everything right." Six points behind in second place is Mike Crisp's Venture which won Race One but struggled with an eighth place finish yesterday.

Sponsors of the 2011 Phuket King's Cup Regatta include Kata Group Resorts Thailand, PTT Group, Siam Winery, Singha Corporation, AIA Thailand, PTT Global Chemical, PTTEP, Thai Oil, Centara Grand Beach Resort Phuket, Boathouse and Sunsail. Media Partners include 91.5FM, Helm Superyacht Asia Pacific, The Nation, Phuket Best Group, Phuket Gazette, Phuket Magazine, Sail-World.com, SEA Yachting and YachtStyle Asia.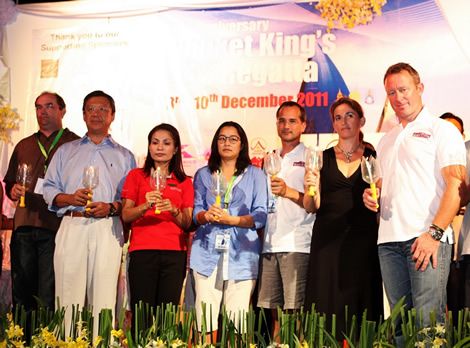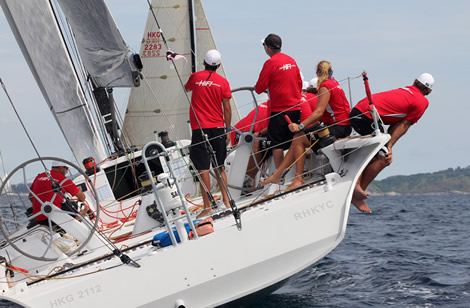 Back to top
Back to top