Artemis steals Aleph's glory
Artemis Racing has advanced into the Semi Final of the AC World Series Match Racing Championship in San Diego, beating a red-hot Aleph team to join the final four. The last match of the day was a cat and mouse affair, the result in doubt until the very end, but finally, Artemis Racing prevailed.
"It was never over, until it was over," said a relieved Terry Hutchinson, the skipper of the Swedish boat after racing. "It was dicey out there… We had to hang tough. It's a testament to the team that we were able to get through."
Artemis tactician Iain Percy agreed: "We did a good job in both starts, had a nice lead, but it really didn't count for much. You don't always get dealt a good hand."
The day dawned with a thick fog enveloping San Diego Bay but it had burned off by mid-morning, allowing a light 7-10 knot sea breeze to build. By early afternoon however, the fog settled in again, dropping the temperature and keeping the wind light and shifty in the bay.
Aleph's new skipper Pierre Pennec led his crew into battle five times today (although only four counted), bullying his way through the fleet from the lowest seeded pair. After dispatching China Team, Team Korea and Oracle Racing Coutts, Aleph ran out of magic in the match against Terry Hutchinson and Artemis.
The final result was heartbreaking for Aleph, which saw the first attempt at the match against Artemis Racing abandoned just as Pennec and crew had overcome an early penalty to take the lead. An external technical issue had caused the race course boundaries to disappear, affecting the race on the water and giving the Race Committee no choice but to abandon the contest.
In the second start sequence for the match, Hutchinson and crew were again able to put a penalty on to Aleph in the pre-start, gaining an early advantage they would need to fight to protect all the way around the course. The final race was sailed in extremely light, variable and shifty winds, meaning the early lead Artemis Racing had built was never safe. In fact, on the final upwind, Aleph drew even during one cross, passing just inches behind, but Hutchinson held his nerve, and protected his narrow advantage to the finish.
"We were leading in the first match before it was abandoned," said an exhausted Pennec, after completing his full dance card of races. "In the second start we had a penalty, but we did well with the windshifts to match them right up to the last mark, so it was a good day for us. I really wanted to beat Artemis, but it's normal (they're a strong team, higher ranked)."
By losing the opening match to Aleph, China Team finishes in ninth place. The other teams to fall today, Green Comm Racing, Team Korea, Oracle Racing Coutts and Aleph will race again on Saturday for places eight through five. On Friday, the four Semi Finalists will race in 'best of three' matches.
Oracle Racing Coutts lost to Aleph. Holding a 10-second lead early in the race, the American team, with Darren Bundock on the helm, misjudged the optimum course to the leeward gate and were forced to perform an extra manoeuvre which allowed Aleph to gain the lead and extend to an unassailable advantage.
"We're a little disappointed with that race," said Bundock, skippering his first ACWS event. "We got off the start line well and were going well but got stuck at the bottom mark. We didn't quite lay it properly and Aleph had the inside and we had to gybe away."
Tactician Tom Slingsby also competing in his first ACWS regatta agreed: "Unfortunately we gybed too early on the layline. That opened up the right-hand gate to those guys. They took it and forced us left and it was tough coming back."
The loss followed a solid performance in the crew's first race of the day versus Green Comm Racing. Oracle Racing Coutts gained the early lead in that race as well and although Green Comm made a comeback halfway through, Bundock extended on the downwind legs to win by 48 seconds.
"We were very happy with that first race," said Bundock. "Downwind we feel very strong and solid."
"It's awesome. It's a huge show," said Slingsby, the world No. 1-ranked Laser sailor. "It's great competition. It doesn't get any better. Every time you make a mistake you pay for it. I love it."
Team Korea's scalp was also claimed by Aleph. With the team starring at Aleph's 'derriere' for much of the race, on the final beat, the 'White Tiger' began closing fast, and as Draper was heard to say over the TV Microphone, 'we are higher and faster', so by the final windward gate Aleph were within their sights and Korea were ready to pounce. Draper called for a 'tack deploy' and split away from the French who rounded the left hand gate, and Draper looked to have called it right as Korea sailed straight into a decent puff which saw them tear off down the right side track.

Those watching were transfixed as the TV graphics showed the gap closing faster and faster, and suddenly Korea were leading, but still had to tack at least once more to the leeward gate. Pennec saw this and gybed back to catch the same gust coming through, and they were literally neck and neck, but Pennec had the better lay-line, and the final gybe that Draper called was perhaps just a moment too early, effectively handing the race to the French Team for what many considered a surprise victory.

Draper said afterwards: "I'm not disappointed with how we sailed, but disappointed that I went for the final early gybe when I should have perhaps gone to the boundary and kept going. It was a tough call to know if we could gybe and try and get the overlap at the final mark, and it didn't quite work, but they sailed well and full credit to them."
Results – San Diego Match Racing Championship – Qualifying Matches
Q1. Aleph beat China Team
Q2. ORACLE Racing Coutts beat Green Comm Racing
Q3. Aleph beat Team Korea
Q4. Aleph beat ORACLE Racing Coutts
Q5. Artemis Racing beat Aleph
Artemis Racing qualifies for the Semi Finals joining Energy Team, Emirates Team New Zealand, and Oracle Racing Spithill each of whom previously qualified via the seeding races on Wednesday.
Friday's Semi Final Matches (first to two)
SF1. Emirates Team New Zealand vs. ORACLE Racing Spithill
SF2. Energy Team vs. Artemis Racing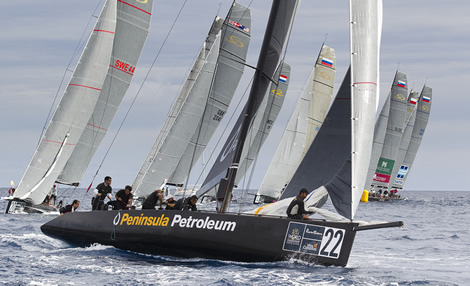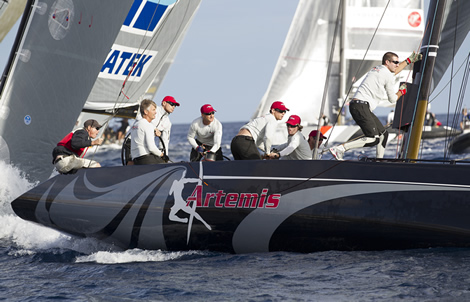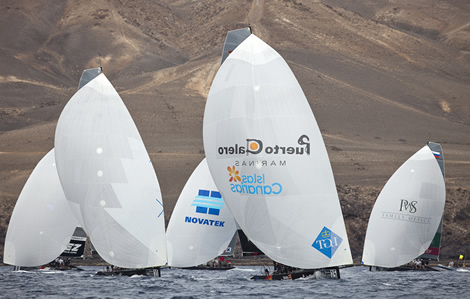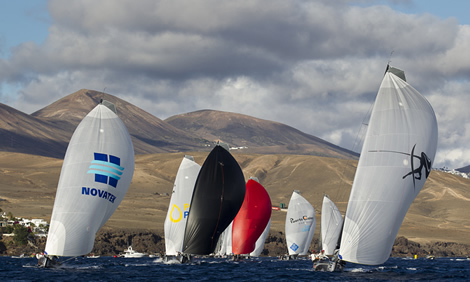 Back to top
Back to top