Team Aqua attempt the treble
With the 2011 RC44 Championship Tour safely in the bag for Team Aqua, there was one more series title to be won, the RC44 Match Race title. Having lead the match race rankings since Austria, Cameron Appleton and the team made sure they did enough to make 2011 a double celebration, at the final destination in this year's RC44 Championship Tour and one familiar to the fleet, Puerto Calero in Lanzarote.
But their day did not go completely to plan. Team Aqua lost its first match to Artemis Racing who, with owner Torbjorn Tornqvist at the helm, was on a mission to climb onto the podium. Team Aqua conceded two further races to the Russian duo Team Nika and RUS 7 powered by anywayanyday.com.
But their three wins were enough to fend off Katusha by one point and lift the trophy for the second year in a row as Team Aqua's match race helm and tactician Cameron Appleton explained after racing. "Today was challenging, some of the other teams were doing a better job and we knew that Katusha was sailing well today and they were trying to close that gap."
With the class trialling a new match race format, one lap, a two minute start sequence coupled with big fluctuations in velocity of the NE breeze, mistakes cost dearly. "It's a quick fast race, so one mistake seemed extra costly out there, it's good, it's high intensity and keeps your wits about you. The shorter racing is a different concept, its evolving and it's a lot of fun," added Appleton.
With Paul Cayard, Katusha's regular match race helm and tactician, in San Diego for the America's Cup World Series, Francesco Bruni (ITA) was drafted in and he showed why he is the current ISAF World ranked number one match racing skipper winning six out of their seven matches. The team retired from the final match of the day to effect repairs to their mast ahead of the start of tomorrow's RC44 World Championships.
Their six wins were enough to lift Katusha into second place overall. "I'm really excited to be back in an RC44 and to have such a good day. It's a fantastic class; they're good boats with a good class of sailor. We jumped two places today, so it's good to be on the podium, it's what we were looking for." A clearly happy Francesco Bruni enthused after racing.
Third place went down to the final race of the series, with Team Ceeref having to win their final race of the day against AEZ RC44 Sailing Team to secure third and avoid a count back with Artemis Racing. Owner Igor Lah only started sailing in 2008, with his first boat an RC44. Today at the helm against some of the best match racers Lah explained their day. "Today we had pretty tough starts in the first two races but then we got in to the groove and finished well."
Having finished eighth in last year's match race rankings, Lah is pleased with the team's rise through the rankings. "We are really satisfied with third position and the season was extremely successful, the team worked really well and Michele (Ivaldi) did a great job as tactician on the boat. For this season we are almost completely the same team, we tried to keep a consistent team and that has for sure helped us."
The improver prize in the match racing has to go to one of the two new Russian entrants, Team Nika. Having missed the first event the in San Diego, the team joined the Tour in Austria. Owner Vladimir Prosikhin was ecstatic in Austria to win two out of their four match races sailed, however they have improved significantly throughout the season, winning six out of their seven matches today, moving up to sixth overall in the overall match race rankings.
The RC44 World Championships hosted by Puerto Calero in Lanzarote start on Thursday 17th November, with racing due to start at 12.30 GMT. Will Team Aqua be able to pull off the treble?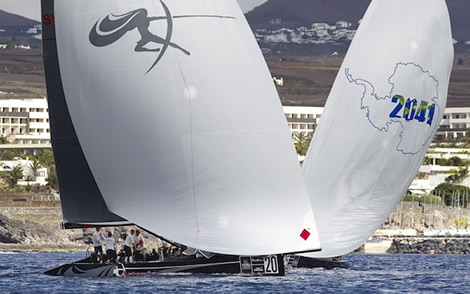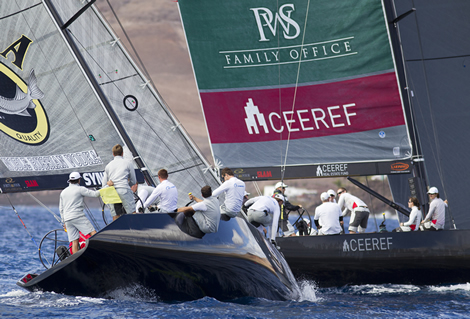 Back to top
Back to top