AC World Series San Diego starts today
The America's Cup World Series in San Diego sets sail today. The port in southern California is no newcomer to wingsail multihulls having been used by Dennis Conner's Stars & Stripes team in their preparation for the 1988 America's Cup and also as a training base for Oracle Racing prior to the 33rd America's Cup.
The line-up of teams remains the same as in Plymouth in August, however there have been some significant crew changes. On the French Aleph Equipe de France for this regatta the core crew will be that of the Extreme 40 Groupe Edmond de Rothschild with skipper Pierre Pennec helming, plus Thierry Fouchier and Christophe Espagnon. From the old crew is Swiss Moth sailor Arnaud Psarofaghis and they will be joined by Nicholas Heintz.
Artemis Racing's shore crew has been in San Diego for the last two weeks working on their boat. Following the severe collision with Greencomm in Plymouth the starboard hull has had to be replaced and the port hull and wing repaired. Her crew, led by Terry Hutchinson, will once again include Iain Percy on tactics. They will be joined by Rodney Ardern, Morgan Trubovich and Julien Cressant, with Sean Clarkson and Stu Bettany as reserve sailors.
On Energy Team, Loick Peyron has handed over the helm to Yann Guichard. Peyron is waiting for a suitable weather to set off non-stop around the world on the maxi-trimaran Banque Populaire.
A significant change will be Russell Coutts standing down for this regatta as helmsman of his Oracle Racing boat. Australian Tornado Olympic medallist Darren Bundock will take over helming duties. It remains unclear how Laser ace Tom Slingsby, who has also joined the defender, will fit in.
Six teams took part in the practice races yesterday. With racing taking place in a 6-9 knot southwesterly wind, they took advantage of the situation to practice their starts and close-quarters race manoeuvring. China Team had a strong day in the two races, posting a win and a second place finish to top the table ahead of Sweden's Artemis Racing.
"San Diego has a reputation for light airs but today was nice, up in the 8-10 knot range," said China Team skipper Charlie Ogletree. "We're strong in the light winds as our helmsman, Andreas Hagara, his specialty is light airs. He's won a world championship in similar conditions so he's got a good feel in the light. We're hoping for good results; we need to learn to race at the front, so we'll be looking to do as well as we can this weekend."
On Saturday and Sunday, the racing gets serious, with all nine America's Cup World Series crews scheduled to race in the Port Cities Challenge. Three fleet races are scheduled each day.
Representatives from the member cities will be aboard the race boats on Sunday. The event culminates with a public prize-giving ceremony at the AC Village following racing. The Port Cities Challenge trophy was designed by British artist Richard Vasey, who was inspired by the AC World Series coming to Plymouth in September. He donated the trophy to the local organizers of the San Diego event, who will present it to the winning team on Sunday.
Following two training days on Monday and Tuesday, the championship portion of the America's Cup World Series - San Diego runs from Wednesday, 16 November, through until Sunday, 20 November. The teams earn points from their final ranking in both the fleet and match racing events towards the 2011-2012 America's Cup World Series, currently led by Emirates Team New Zealand.
Racing at the America's Cup World Series - San Diego is scheduled to start with a warning signal at 1:05 pm each race day.
NB: For this regatta the live coverage will only run for the latter part of the regatta from Wednesday until Sunday.
The weather forecast indicates that big breeze is expected for the first day of racing today, and possibly for next Saturday but with precious little wind during the week.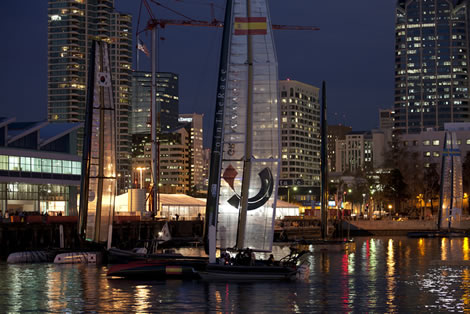 Back to top
Back to top