Top three tied
Patience may have been a key virtue around the Yacht Club Costa Smeralda as the early lack of breeze again imposed a delay to the start of the third racing day at the Audi TP52 World Championships, but defending world champions Quantum Racing lost no time in establishing themselves at the front of race 4, which they led from start to finish.
Their win, with Tony Langley's Gladiator taking second and Ignacio Triay's Paramount Park Murcia team stealing a third, leaves all three locked on the same 10 points aggregate. By virtue of their second race win in these very gentle conditions, consistently lighter than anything else experienced through the Audi MedCup season, Quantum Racing leads on tie-break, on track to defend the world title they won last year in Valencia, Spain.
"Our goal was to get through these light airs days leading the regatta, three of us are tied and we win the tie breaker right now, so we are pretty much where we want to be right now," confirmed Quantum Racing's Project Manager, Ed Reynolds. "Hopefully the averages kind of work out for us. That is our focus."
Again there was only one race sailed today. The race committee made a perfect call to take the race area to the north in the Secca dei Tre Monti, Bomb Alley's confines of the Arzachena Gulf, for the first time this regatta and were rewarded with the only race-able breeze to be found. It was something of a repetition of Wednesday's exacting race – reading and using the puffs and lanes of pressure better.
As Adrian Stead, Tactician on Quantum Racing described it: "It was very tricky out there today. There weas only two and a half hours of breeze in the whole Porto Cervo region today and we were racing up in Bomb Alley where it is quite narrow with the mountain on one side and the island on the other. We had quite a good start and it felt like the right would work. As soon as Gladiator tacked to the right we took the opportunity to get round her. The boat was going pretty well but there were certainly plenty of potholes out there to watch, as light as four knots at times and as much as seven knots. The finishing times at the end the front four boats were all within 30 seconds of each other, but the back markers were some minutes behind and so that shows just how extreme it was racing out there today.
"We have four races in light winds so far with big winds tomorrow- we might race, we might not, but Saturday is looking very sailable, but with a very lumpy, leftover sea. There is a lot more of this regatta left and if we got out there tomorrow, we would be really pleased. I think we will have a good two to three more races at this regatta, maybe even three races on Saturday so we might only be half way through this regatta. Gladiator and Paramount Park are both grandfathered boats with slightly smaller rudders and they are going well downwind, and upwind in fact, so we have been happy with how we have gone. Great work today, very pleased with the win."
After a lacklustre start Tony Langley's Gladiator showed good speed in the light, rising from sixth early on the first beat to round the top mark third. After the fleet all gybed set at the WW1 mark, Container chose to gybe back earlier on the run and lost wind pressure compared to Gladiator. Paramount Park Murcia, with Ross MacDonald calling tactics, improved to a third with a good final run, pipping Container on the final approach to the finish, so keeping them in the three way tie.
Chris Larson, Tactician on Gladiator gave his take on today's proceedings: "I gave the start up a little bit, trying to be a little too fancy with too many downspeed manoeuvres, and that cost us so we had to bale out get right by taking a few sterns, it was how to get there. We found a little lane to get us there and the boat is quick in this stuff and that helped us out. Our speed helps, we were too leeward of a couple of boats and by the time we got to the windward mark it started evening out. We hit a perfect layline, we tacked 15 degrees short of layline and got a shift, 15 degrees with a puff and that got us around, it was fantastic. Nacho (Postigo, navigator) and Tony (Langley, owner-helm) both did a great job and that helped us out from my bad start. It will be a different day tomorrow, we don't have to win the race we just need to make sure we have a decent finish."
After three days of benign, fluky breezes the Mistral is expected for Friday's racing with winds of over 30 knots anticipated, perhaps dropping to a difficult 10-15 knots with an awkward residual choppy sea for Saturday's final day of racing.
Results after 4 races
1. Quantum Racing (USA) 1+3+5+1= 10 points
2. Gladiator (GBR) 3+1+4+2= 10 points
3. Paramount Park Murcia (ESP) 4+2+1+3= 10 points
4. Container (GER) 2+7+3+4= 16 points
5. RÁN (SWE) 6+5+2+5= 18 points
6. Audi Azzurra Sailing Team (IT) 5+4+7+6= 22 points
7. Audi ALL4ONE (GER/FR) 7+6+6+7= 26 points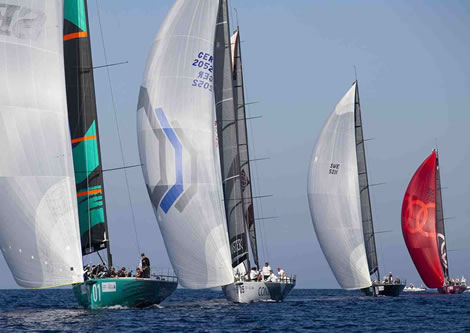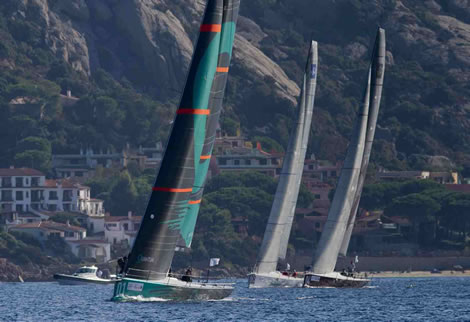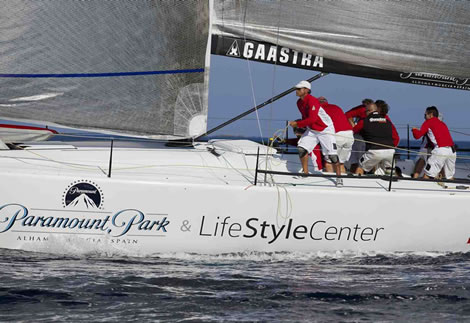 Back to top
Back to top