Britain's Gladiator takes the lead
Tony Langley and his crew of Gladiator, complemented this week by American tactician Chris Larson and Spanish navigator Nacho Postigo, bolted together two excellent races in very light, streaky winds to lead the Audi TP52 World Championship off Porto Cervo's Yacht Club Costa Smeralda, Sardinia on countback after the first day of racing ahead of defending world champions Quantum Racing.
Langley and his team never let the late season heat get to them, neither that extra warmth generated by the unseasonably fierce autumn sunshine, nor that applied by the very evenly matched, now highly optimised TP52 fleet.
Larson guided owner-driver Langley intelligently in the very gentle breezes, making two clean, clear air starts, sailing quick and keeping clear of the early, first beat traffic. Against the crop of 2011 launches, Gladiator, the 2009-built Vrolik-designed former Artemis, lacked nothing for light airs speed in spite of their compact sail programme winning the second race by nearly three minutes.
On Quantum Racing, Ed Baird's American team won the first race convincingly, but had the Spanish crew of Paramount Park Murcia, skippered by Gonzalo Araújo with Ross MacDonald calling tactics, slip away from them right on the finish line. The resulting third place relegated Quantum Racing to second overall.
Winds, from the northwest then east of north, never quite reached nine knots at any stage. In these exacting conditions clear starts were key, as was minimising interaction with other boats and reading the best lanes of wind pressure.
" We were delighted with the third and really were not expecting a bullet in the second," said Langley. "We had a very good start in the second race. It was so important today. The last race was get a good start, lead around the windward mark and then extend. I have not spent much time racing here, but have been here a bit. I daren't even think about wishing to win a race here, far less even considering winning a world championship, we take every race as it comes. We are okay in 10-15 knots but sub-10 knots is usually difficult for me."
"That is the best result we have had in a day and we have never lead any regatta at this level, so it feels really good. You hope all the work and effort we all put in over the season will pay off one day, and never really expect it to, but here we are. Chris was spotting shifts early and positioning us nicely when we were coming into traffic and for me that made all the difference. So I am very happy. But we wont be letting it got to our heads, there is a long way to go yet."
Nacho Postigo, navigator on Gladiator added: "I think we did three things very well. The first thing was starting with good speed and clear and on the line. The second one Chris was really inspired where to go, pretty much all the time, and then the third thing is we were fast which has a lot to do with the design of the boat and Tony is doing a very good job, in a straight line he has no deficit to the pro-helms and the trimmers are doing a very good job. So it is about that whole combination. It is only day 1 and things will surely change, but we are very happy with ourselves."
Quantum Racing were quickest off the start line of the Race 1 and were a steady leader by the first windward mark, ahead of Markus Wieser and the crew on Container. The German team proved slick in the light conditions, taking second, but they were over the start line in the second race. Having to restart left them to round the course in seventh.
Adrian Stead tactician on Quantum Racing summarised: "I think we saw eight knots at the most at one point. But as our coach Francesco de Angelis said it was like a road full of potholes. We had a reasonable first race which was good but the second race we had to fight hard off the start line, we were definitely on the back foot. But we got the top end of the first beat just right and that kept us in the money.
"We had a good lane to go across and that was enough to get us around Azzurra and Paramount Park. That was the key for us.
Francesco is very experienced racing here. I have raced against him a lot and he puts the science and experience of the venue to the team, he is a good addition. It is always disappointing to lose a point or a place on the line, there, but Paramount Park is a very slippery boat downwind in those light conditions, and we are not the most slippery – especially gybing. We lost a few metres, but came away with four points and so I am pretty pleased to be coming off the water after day 1 of the World Championship tied for the lead."
Second place in the second race leaves Paramount Park Murcia, the team led by Araújo, MacDonald and Ignacio Triay, lying third overall, two points off the best aggregate of Gladiator and Quantum Racing.
Ross MacDonald commented: "A very tricky day really with light winds and it was very difficult to see the wind on the water, so credit to the team on Gladiator, they did a really nice job and seemed to always be in the right spot. As for us, we're happy with how we went, it could've gone a little better. Tactically we made some mistakes in the first race but we'll see how we go tomorrow."
Audi TP52 World Championship - results after two races.
1. Gladiator (GBR) 3+1= 4 points
2. Quantum Racing (USA) 1+3= 4 points
3. Paramount Park Murcia (ESP) 4+2= 6 points
4. Container (GER) 2+7= 9 points
5. Audi Azzurra Sailing Team (IT) 5+4= 9 points
6. RÁN (SWE) 6+5= 11 points
7. Audi ALL4ONE (GER)= 13 points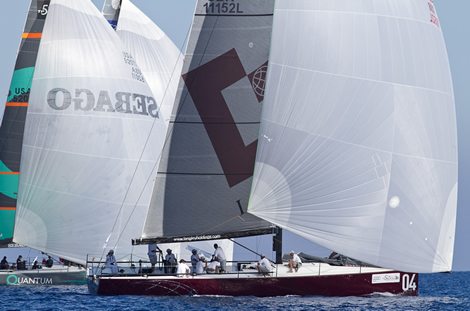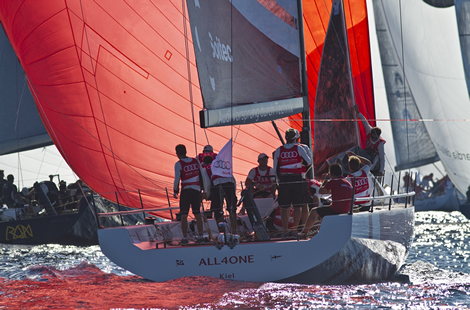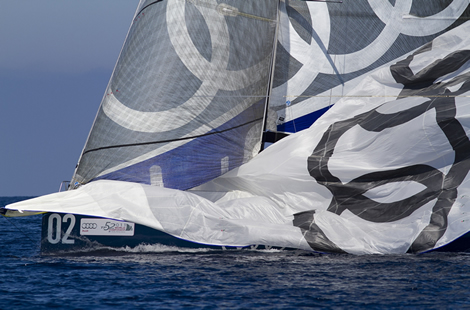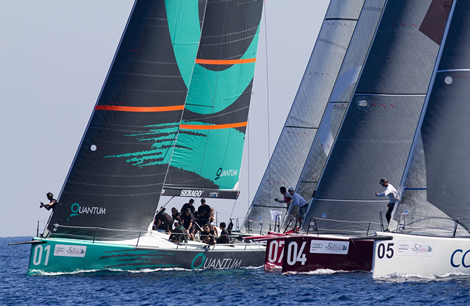 Back to top
Back to top