Practice race
Vasco Vascotto's usual beaming smile tells a story in itself. But the charismatic Italian tactician of Audi Azzurra Sailing Team's entry to this week's Audi TP52 World Championship representing the colours of the host club, the Yacht Club Smeralda, reaffirmed today that there is no more stress than usual, as they seek to win the world title on their boat's home waters.
Their record which speaks for itself - on the podium at four of the season's five regattas - the 'local' team recently finished third overall on the Audi MedCup Circuit but the iconic Azzurra team was still the only TP52 team to have contested the full season and not won a 2011 Trophy regatta.
"Do I look stressed?" shrugged Vascotto after today's light winds Audi TP52 World Championship practice race. "No, and that is the answer. Today was a perfect day to try to some different things in light winds. We came back to the dock satisfied with some aspects and not others but we spent our day in a good way. Tomorrow we will again have light winds but let us hope we have better conditions for us later in the week. But we are calm and focused. All we can try we have tried and so we will just have to see how it goes."
Vascotto is undoubtedly on his game, taking second place at the recent Melges 32 World Championship in Palma, but in the benign northwesterly breeze, which scarcely made seven knots for today's practice race, the Audi Azzurra Sailing Team struggled today with their powerful boat in what are known to be their weakest conditions.
According to current forecasts this fourth edition of the TP52 World Championship looks likely to be a regatta of very different winds – very light for the early races and very strong by Friday and Saturday.
"It is great here," says Ado Stead, who guided Quantum Racing to the world title in Valencia last year. "Everyone has a clean slate and I think everyone has a chance of winning it. And we are sailing at Porto Cervo at the end of the year, it feels very autumnal and anything can happen. It was a weak breeze today, but it will be a great regatta. If you look around all the boats there are a lot of very experienced sailors who have sailed here a lot, one designs, maxis, the whole lot. The local boat is very strong. The big thing is looking to the outlook for the week. Potentially it will be very breezy Friday-Saturday so people know you have to be in the lead or very close to it in the first couple of days because Day 4 and 5 might not even happen.
"We left Barcelona with a list of things to do. We have modified the mainsail and modified some spinnakers, there are few things we have been pushing along. With Francesco (Mongelli, new navigator) he is very used to sailing our sister-ship but just getting the communication going now, it is just as it is with anyone new joining a team."
Defending champions Quantum Racing won last year under Terry Hutchinson. Today, with helm Ed Baird at the controls the recently crowned Audi MedCup Circuit champions won the Practice Race with new Italian navigator Francesco Mongelli as a replacement for Kevin Hall.
In the light winds it was Container and Gladiator which were successive leaders on the water. Container jumped the start gun and were latterly disqualified, but the German team had decided it was more valuable to line up against the fleet rather than re-start.
As Markus Wieser, Container's skipper-helm, described it: "We had a good race, we were over the start line but did not want to go back because we have Don Cowie sailing with us now and so we wanted to see how we lined up with the boats. We were just slow in the second part of the Audi MedCup and so we had to do something. We felt we did not move forward. We were fed up and so we changed the whole set up, the rig and trim and we are sailing the boat really different now, a bit like Team New Zealand in the past. We are re-cutting some of our sails overnight, hopefully we will get into in the next couple of days. We were very frustrated these last two events. We were getting slower and slower, or boats got faster and faster and we did not step forwards. We said let us see for the next event, the worlds, and we are sailing with three Kiwis and wanted to get one of the best guys."
After a lacklustre finish to their Audi MedCup season, in their quest to improve speed they have brought the vastly experienced, twice Audi MedCup winning Kiwi mainsail trimmer Don Cowie on board. "Don came in this morning, just in time, and so we are using this week to see how we are to try and improve for next year. Every race is important and the owner always expects us to do as well as possible. We need to to be moving forwards, advancing and getting rid of our problems."
Tony Langley's Gladiator has two key changes and only lost out on the final run today Chris Larson, recent Melges 32-winning tactician, stepped into the team as tactician and Nacho Postigo is a late substitute for injured navigator Graham Sunderland.
Chris Larson commented: "I am sailing pretty well right now. I have sailed here a lot. This is one of my special places and I love it here with lots of good memories from the Maxi Worlds, Farr 40's, Sardinia Cup- we have won a couple of Sardinia Cups here – and so it is good to be back.
"It all went well today for me today with a new boat and new team. We are just trying to get off the start line well and have a good first beat. There are a couple of things for us with our owner-driver competing, and compared to some of the other boats what makes it difficult is the (steering) wheels. We have to deal with that and so try to deal with that and stay out of real tight situations. We are just here to try and have a good regatta, to try and post some good finishes. We are pretty realistic and so if we are not on the bottom of the list at the end of the regatta we will be really happy. We want to out and get some podium finishes."
Costa Smeralda has been a happy hunting ground for Niklas Zennstrom's Rán, winning back to back Mini Maxi world titles with their 72 footer, but this will be an acid test for the team which stood clear of the title scrapping to win last month in Barcelona.
Niklas Zennstrom, owner-helm of Rán commented: "The forecast looks like the first two days we'll have relatively light wind with more Mistral coming in towards the end of the week. I think we sailed well today. There was a lot of changing places today, you can see that all the boats are very similar in terms of speed and all the teams are very good so there is no favourite, anyone can win so everyone is going into this regatta thinking that they have the potential to win. It's going to be a good week."
Morgan Larson tactician on board said: "It will be a challenge this week with so many good teams but it will be difficult in this smaller fleet, I prefer sailing percentages in bigger fleets and trying to make the top half of the fleet and make that work over the series. Here there will be a lot of pressure to take some flyers.
"I think winning in Barcelona gives the team a lot of confidence here, but it will be a lot harder for use here with Quantum not trying to tack on Bribon and things like that, and on Azzurra and that will be a challenge. I love it here and hopefully we are going to get to sail up through the islands in among the rocks a bit and make the navigators work."
Five days of racing are planned including Thursday's 1.5 points premium coastal race into the beautiful islands to the north.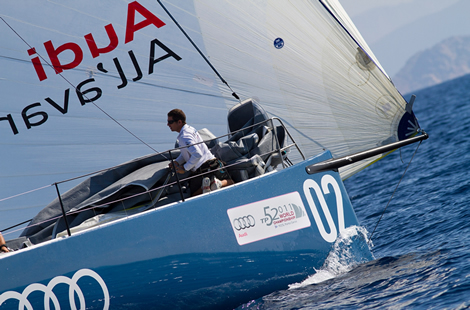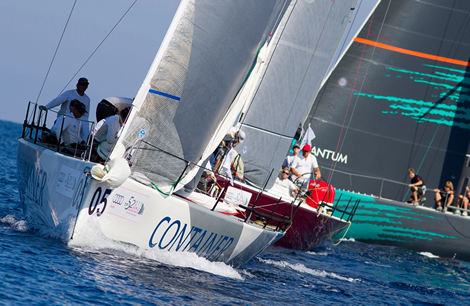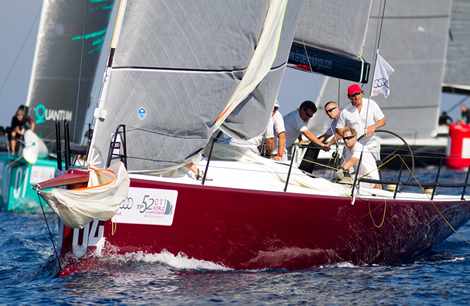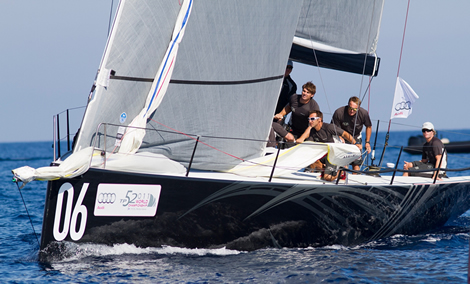 Back to top
Back to top