Game, set and match for Team Aqua
Going into the final day of the Adris RC44 Cup, Team Aqua was going for the double. They had within their sights a third event victory of the season and the prospect of being crowned 2011 RC44 Tour Champions with an event to spare.
As Team Aqua left the dock, they were not allowing any thoughts of a potential Championship win to enter their heads. With two more races to sail in the shifting 8-10 knot northwesterly sea breeze, and no discards allowed, a double figure finish could easily wipe out their 16 point cushion.
The first race didn't go to plan. The team rounded the windward mark in 13th. An early gybe got Team Aqua into a right hand shift moving the team up to 10th at the leeward gate. By the finish they had gained two more places to finish eighth.
With just one more race to sail they were 14 points clear. This meant that baring disqualification or breakage – they had done enough to win in Croatia and become 2011 RC44 Tour Champions.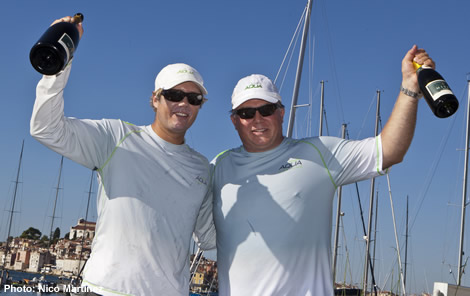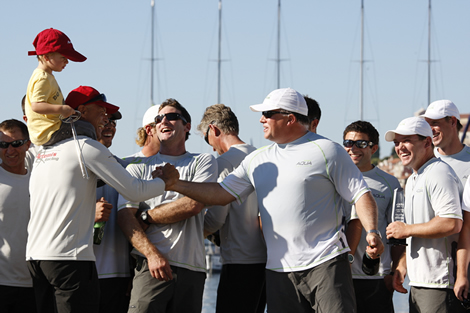 Behind Aqua the battle was fierce, any of the next five boats, Artemis Racing (SWE Torbjorn Tornqvist/Morgan Larson ), Team Ceeref (SLO Igor Lah/Michele Ivaldi), Aleph Sailing Team (FRA Hugues Lepic/Mathieu Richard) and Oracle Racing (USA Stuart Hebb/Russell Coutts), were in with a shot for second place.
In the opener Artemis reached the top mark third, but under-laid slowing right up and letting Oracle Racing roll over the top of them. But an early gybe paid dividends, rounding the leeward gate ahead of the early leader Peninsula Petroleum (GBR John Bassadone/Paolo Cian). From there on in they had a comfortable lead; the win moved them up to second overall. A seventh for Ceeref dropped them to third. Oracle Racing's fourth meant they were just two points off the Swedes. The French team fared worst, only managing a 10th, dropping them out of the medals into fifth.
In the finale Oracle Racing started at the pin, Artemis was late – an early tack onto port and they hit the right hand corner. At the top mark Katusha led from Artemis, Aqua had to duck both, rounding third. Artemis retained their position to the finish, securing second place at the Adris RC44 Cup.
In the battle for the final podium place, Ceeref had one of their worst days of the regatta so far, but did enough to stay ahead of Oracle Racing to take third overall, the American's 13th place dropped them to fifth behind Aleph.
Aqua's fourth place in the final race meant they had taken another emphatic victory in Croatia and the Championship Title. The on form team's worst result of the season was a third in San Diego back in March, they were runners up to Oracle Racing on Lake Traunsee in Austria and went on to win in Sardinia, Sweden and Croatia.
It was a season that owner Chris Bake described as "Our seasons been incredible! Hard to believe but the teams worked hard and Cameron has lead them really well, it been really huge, I'm very proud of everyone. It's always a combination of factors that lead to the success, obviously the new boat and the work that went in to it was pretty strong, but boat on boat they're are pretty evenly paced and so I think it comes down to the new boat plus the crew work, the sails, the training, the tactics and the driving it's a combination of everything and right now we seem to have balanced it out really well.
"I had hull Number Four for four and a half years and she's still really competitive but there were a few tweaks we wanted to do to it and there was someone interested in the old boat so we just decided to try again with a new boat, which allowed us to do a lot of the tweaking that has helped us along the way."
Oracle Racing stay second on the overall title standings, two points ahead of Ceeref who are in turn two point clear of Artemis Racing.
Torbjorn Tornqvist, owner/driver of Artemis Racing said: "I'm happy with today, it doesn't get much better than that. We had a shot at the second place and to make it was the best end to a regatta you can think of. Aqua was already so far ahead, they are so consistent. But I'm really happy with the way we handled the regatta. We have our ups and downs and I know when things work for us we do very well, we've had a few regattas where we didn't do well but we have a new team and hopefully we will have the same next year so hopefully we will get a bit more consistency."
The final event of the 2011 RC44 Championship Tour, which doubles as the RC44 World Championships, will take place in Puerto Calero, Lanzarote from 16-20th November. The event is hosted by the Calero family and the home team, Islas Canarias Puerto Calero, with newly married Daniel Calero at the helm will be looking break Team Aqua's dominance and win on home waters.
Previous RC44 Championship Tour winners
2007 Team Aqua – Chris Bake – (UAE 4)
2008 Banco Espirito Santo – Patrick de Barros (POR15)
2009 – No Way Back – Pieter Heerema – (NED18)
2010 – ORACLE Racing – Larry Ellison- (USA19)
2011 – Team Aqua – Chris Bake (GBR 2041)
Full results below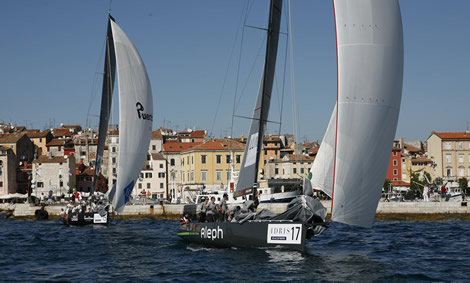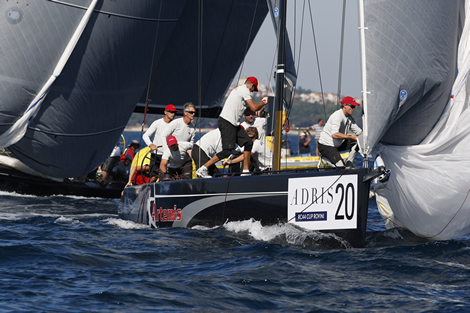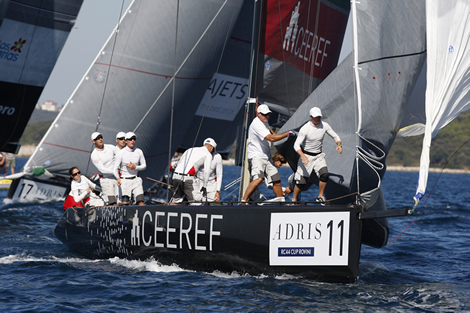 Back to top
Results:
| | | | | | | | | | | | | | | | | |
| --- | --- | --- | --- | --- | --- | --- | --- | --- | --- | --- | --- | --- | --- | --- | --- | --- |
| Pos | Team | Owner/tactician | R1 | R2 | R3 | R4 | R5 | R6 | R7 | R8 | R9 | R10 | R11 | R12 | R13 | Tot |
| 1 | Team Aqua (GBR 2041) | Chris Bake/Cameron Appleton | 13 | 2 | 6 | 1 | 2 | 4 | 1 | 1 | 1 | 3 | 3 | 8 | 4 | 49 |
| 2 | Artemis Racing (SWE44) | Torbjorn Tornqvist/Morgan Larson | 2 | 1 | 3 | 10 | 4 | 8 | 4 | 8 | 9 | 4 | 5 | 1 | 2 | 61 |
| 3 | RC44 TEAM CEEREF (SLO 11) | Igor Lah/Michele Ivaldi | 10 | 8 | 4 | 8 | 3 | 1 | 3 | 3 | 6 | 5 | 2 | 7 | 8 | 68 |
| 4 | Aleph Sailing Team (FRA17) | Hugues Lepic/Mathieu Richard | 4 | 9 | 11 | 7 | 1 | 2 | 12 | 4 | 5 | 1 | 1 | 10 | 6 | 73 |
| 5 | ORACLE Racing (USA 19) | Larry Ellison/Russell Coutts | 1 | 10 | 1 | 4 | 8 | 10 | 2 | 7 | 2 | 6 | 6 | 4 | 13 | 74 |
| 6 | Islas Canarias Puerto Calero (ESP 1) | Daniel Calero/Jose Maria Ponce | 3 | 7 | 2 | 5 | 6 | 3 | 5 | 6 | 11 | 7 | 9 | 13 | 7 | 84 |
| 7 | Team Nika (RUS 10) | Vladimir Prosikhin/Tomislav Basic | 12 | 3 | 8 | 11 | 10 | 11 | 6 | 5 | 7 | 2 | 7 | 6 | 3 | 91 |
| 8 | No Way Back (NED 18) | Pieter Heerema/Mark Mendelblatt | 5 | 6 | 9 | 3 | 5 | 6 | 13 | 9 | 3 | 9 | 11 | 3 | 10 | 92 |
| 9 | Katusha (RUS 007) | Gennadi Timchenko/Paul Cayard | 7 | 13 | 5 | 13 | 7 | 9 | 8 | 2 | 4 | 10 | 10 | 5 | 1 | 94 |
| 10 | Peninsula Petroleum Sailing Team (GBR 1) | John Bassadone/Paolo Cian | 6 | 11 | 7 | 6 | 11 | 12 | 9 | 10 | 8 | 8 | 12 | 2 | 5 | 107 |
| 11 | AEZ RC44 Sailing Team (AUT44) | Rene Mangold/Christian Binder | 9 | 4 | 13 | 9 | 12 | 5 | 11 | 13 | 10 | 12 | 4 | 11 | 12 | 125 |
| 12 | Ironbound (USA 1) | David Murphy/Peter Evans | 11 | 5 | 12 | 2 | 9 | 7 | 7 | 11 | 14 | 11 | 14 | 9 | 14 | 126 |
| 13 | Synergy Russian Sailing Team (RUS 13) | Valentin Zavadnikov/Evgeniy Neugodnikov | 8 | 12 | 10 | 12 | 13 | 14 | 14 | 12 | 12 | 13 | 8 | 12 | 9 | 151 |
| 14 | RUS-7 Sail Racing Team powered by AnyWayAnyDay.com (RUS7) | Kirill Podolsky/Ekaterina Skudina | 14 | 14 | 14 | 14 | 14 | 13 | 10 | 15 | 13 | 14 | 13 | 14 | 11 | 173 |
| 15 | MAG Racing (POL44) | Krzysztof Krempec/Piotr Przybylski | 16 | 16 | 16 | 16 | 16 | 16 | 16 | 16 | 16 | 16 | 16 | 16 | 16 | 208 |
Back to top