Team Aqua on the rise
The early sea breeze came in off the north Adriatic Sea this morning allowing the RC44 fleet to complete another four races at the Adris RC44 Cup. It was Team Aqua who put the pedal to the metal ending the day in a familiar place, at top of the leaderboard.
The wind started at a moderate 8 knots and reached 17 at its peak. There was always more wind at the top of the course, away from the Rovinj shore-line and surrounding Islands, making sail choices difficult for the 14 teams.
Team Aqua (GBR) started their ascent of the leaderboard in race one, finishing second. The next race didn't go completely to plan. They arrived at the windward mark on port, tried to squeeze in, only to be penalised. Luckily they had space to complete their penalty without losing any places, as a left hand shift had split the pack in two. Despite playing catch up Chris Bake and his team took two further places to finish fourth.
From there on in the British team didn't put a foot wrong, finishing with two race wins and a seven point cushion to second placed Islas Canarias Puerto Calero.
Cameron Appleton, Tactician on Team Aqua said: "The guys onboard have done a great job the last few days because there has been a lot of gear changing and tricky conditions but they've been all over the adjustments and the right timings for it. Chris (Bake) did a really good job today he steered the boat well, because we were really hard on him, so we're pleased to have a great finish today with two firsts. On the water it was certainly more challenging than yesterday, to stay ahead of the small oscillations and pressure differences from one side of the course to the other. You've got to get away clean at the start, which made the difference for us today, yesterday we had a couple of bad starts and you never quite know how you're going to shape up after that, but we put a lot of focus on it today, to get in a good lane off the line."
Team CEEREF (SLO) also seemed to master the conditions adding just ten points to their score-line in what owner Igor Lah called a "brilliant day, there were no mistakes, somehow everything worked perfectly.All the guys onboard did a perfect job so I hope we can continue like this. The conditions were the same as yesterday until the last race where it got a little shiftier but it was a really nice day and we enjoyed the sailing. Today's results put us in a good position for the regatta, which is what we were looking for." Their three thirds and a first moved them into fourth, on equal points with Torbjorn Tornqvist's Artemis Racing (SWE), who couldn't match their performance from yesterday scoring two fourth and eighth places.
For the French Aleph Sailing Team who joined the RC44 Tour in Austria this year "Everything seems to be coming together nicely, we had some decent starts and good boat speed, so it turned out ok," was owner Hugues Lepic summary of their performance. The won the opening race and followed up with a second. They couldn't quite match the same form for the final two races, but their 12th and fourth was enough to move them up to sixth overall, seven points adrift of overnight leaders Oracle Racing.
Russell Coutts and Stuart Hebb also struggled to find the form that had showed on the first two days. Oracle Racing's scoreline read 8, 10, 2, 7, one they will be looking to improve on tomorrow.
The fleet also welcomed 70 young school children from Rovinj today, who spent the morning testing their grinding skills on the RC44s and producing some fantastic sail murals to take back to their schools.
Racing continues at the Adris RC44 Cup until Sunday 2nd October with the first start at 11.30 CET daily.
Results:
| | | | | | | | | | | |
| --- | --- | --- | --- | --- | --- | --- | --- | --- | --- | --- |
| Pos | Team | R1 | R2 | R3 | R4 | R5 | R6 | R7 | R8 | Tot |
| 1 | Team Aqua (GBR 2041) | 13 | 2 | 6 | 1 | 2 | 4 | 1 | 1 | 30 |
| 2 | Islas Canarias Puerto Calero (ESP 1) | 3 | 7 | 2 | 5 | 6 | 3 | 5 | 6 | 37 |
| 3 | Artemis Racing (SWE44) | 2 | 1 | 3 | 10 | 4 | 8 | 4 | 8 | 40 |
| 4 | RC44 TEAM CEEREF (SLO 11) | 10 | 8 | 4 | 8 | 3 | 1 | 3 | 3 | 40 |
| 5 | ORACLE Racing (USA 19) | 1 | 10 | 1 | 4 | 8 | 10 | 2 | 7 | 43 |
| 6 | Aleph Sailing Team (FRA17) | 4 | 9 | 11 | 7 | 1 | 2 | 12 | 4 | 50 |
| 7 | No Way Back (NED 18) | 5 | 6 | 9 | 3 | 5 | 6 | 13 | 9 | 56 |
| 8 | Ironbound (USA 1) | 11 | 5 | 12 | 2 | 9 | 7 | 7 | 11 | 64 |
| 9 | Katusha (RUS 007) | 7 | 13 | 5 | 13 | 7 | 9 | 8 | 2 | 64 |
| 10 | Team Nika (RUS 10) | 12 | 3 | 8 | 11 | 10 | 11 | 6 | 5 | 66 |
| 11 | Peninsula Petroleum Sailing Team (GBR 1) | 6 | 11 | 7 | 6 | 11 | 12 | 9 | 10 | 72 |
| 12 | AEZ RC44 Sailing Team (AUT44) | 9 | 4 | 13 | 9 | 12 | 5 | 11 | 13 | 76 |
| 13 | Synergy Russian Sailing Team (RUS 13) | 8 | 12 | 10 | 12 | 13 | 14 | 14 | 12 | 97 |
| 14 | RUS-7 Sail Racing Team powered by AnyWayAnyDay.com (RUS7) | 14 | 14 | 14 | 14 | 14 | 13 | 10 | 15 | 108 |
| 15 | MAG Racing (POL44) | 16 | 16 | 16 | 16 | 16 | 16 | 16 | 16 | 128 |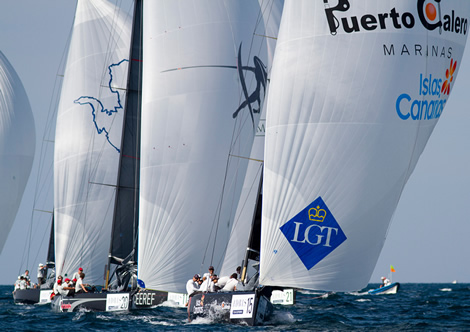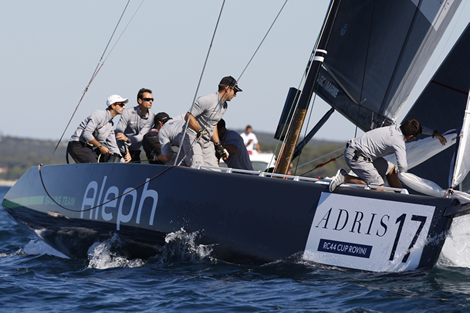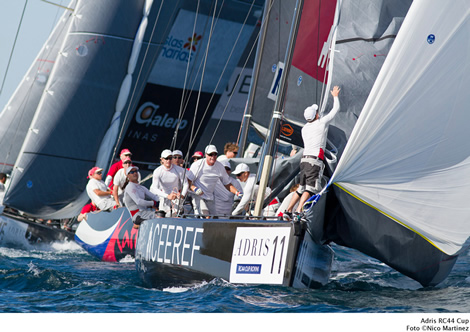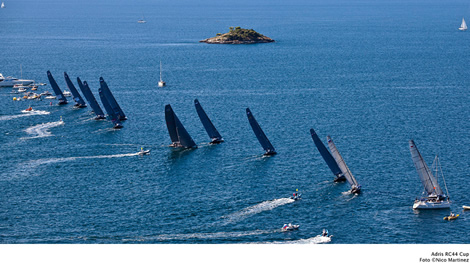 Back to top
Back to top