Migrating to the Melges 32
The name 'Kilroy' is one that has been a familiar feature in the sailing world for several decades now. American Jim Kilroy is of course famous for his series of Kialoa IOR boats. Spanning several decades, victories for the Kialoa team included the Admiral's Cup, Onion Patch, Bermuda Race, Transpac, Sardinia Cup, SORC, Kenwood Cup, San Francisco Big Boat Series and the Maxi World Championship, but they are perhaps best remembered for holding the Rolex Sydney-Hobart Race record for 25 years with Kialoa III.
The dynasty is now being continued by son John Kilroy, 62, also based in California, with his series of Samba Pa Tis (named after the Santana song). From having been a regular crew on his father's Kialoas in his youth, including one and two tonners, John Kilroy has had his own collection of boats over the years. In the last decade this has included Farr 40s and in particular a TP52. In this he cleaned up in the 2009 Transpac, being only the fifth boat in the then 103 year history of the race to come first on elapsed time in class, first in the fleet and to have the best corrected time in the fleet.
However his weapon of choice at present is the Melges 32. Kilroy competed at the World Championship in Palma last week, where his Samba Pa Ti led for the entire week until the penultimate day when her lead was usurped by William Douglass' Goombay Smash. Unfortunately the torrential rain through most of Saturday resulted in the final deciding races not being run, allowing Douglass to take home the trophy.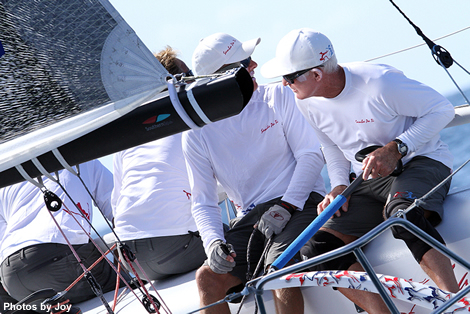 "We made a couple of bad choices at the starting line and we paid the price for it, but we were still looking good going and frankly for me I prefer to be a little bit behind going into the last day," said Kilroy of his performance at the end of the regatta. "It gives me an extra kind of hunger and it was unfortunate that we didn't have any breeze for the last day."
According to Kilroy one reason for their success was the crew changes they made after the Audi Melges 32 series event held at Malcesine on Lake Garda in July. Harry Melges himself stepped in to handle mainsheet duties while Italian legend Vasco Vascotto came on board to call tactics. "I hadn't sailed with Vasco or Harry before although I have sailed against them many times and I have great respect for them," says Kilroy.
In the warm-up to the Worlds Kilroy sailed with his new crew line-up at Copa del Rey where they finished second on the Melges 32 class. "We blew it on the first day, but we got a lot better and we had great momentum coming into the Worlds and we have done some things with the sails and I think sailing together as a team we have got a lot stronger."
Kilroy believes that obviously you have to have a good boat and good sails, but what is most important for success on the water is having good crew cohesion. "I've sailed for so long that the chemistry on board for me is the most important thing," he says. "Crews are about chemistry and we have great chemistry on the Samba programme."
His crew at the worlds was a mix of Americans, including himself, Harry Melges and Justin Smart, the rest of the crew being Italian in Vasco Vascotto, Federico Michetti, Martino Tortarolo, Luca Faravelli and Marco Carpinello.
At the Worlds three of the top seven teams were American and three were Italian and it is safe to say that these two nations at present dominate the Melges 32 class. "The US has a good-sized class, although spread out across the coasts and the interior, and Italy has a very strong class and some really terrific competitors," says Kilroy. "If there is anything I can say about this year, it has been a joy to sail against the European fleet and in particular the Italians, because four of the regattas were there. We did two regattas there last year and we loved it so much - we were so welcomed and we developed so many terrific friendships that this year we came back and we had some good results and had some tough results, but they are great competitors and I love it."
Following his time in the TP52, which since their Transpac success has been gifted to the US Naval Academy, Kilroy acquired his first Melges 32 in 2009, but admits he only started sailing the boat in anger last year. Now he has two 32s, one based in the US, the other in Europe. This year they sailed at Key West where they finished fourth, before moving on to the SORC, which they won. The Samba team then commuted to Italy where they competed on the Melges 32 circuit events in Naples and Malcesine.
Following the Worlds their European boat is now sold so they will be shipping their US boat to European and buying anew in the States. "I had strong reservations about selling this boat, for no other reason than I have a fortune on graphics on it!" says Kilroy. "But there was an individual who wanted to get into the class if he could buy this boat and I want to see everything we can do to enlarge the class."
So what is special about the Melges 32, other than that it is the smallest keelboat he has campaigned? "It took me a while to get used to this style of boat, but what is so special about this is that here we have 29 boats, they are exactly the same. We have 29 owners and crew who are all a little different and 29 sets of sails which are all pretty similar. So it is fantastic. It is the ultimate challenge I think to sail against people with the same equipment. Nobody has a bigger gun than the next guy, so it is really a mark of the teams and we have a fantastic team. I am a great believer that team work is everything and team spirit and camaraderie and rhythm are important. I am very proud of the team that we have on Samba."
The 32ft asymmetric sportsboat certainly offers performance, but Kilroy says that the exhilaration is still not what he experienced racing offshore. "There is nothing I like more than 40 knots with a kite up, sailing dead downwind in big surf - that is where my real strength is. It is not sailing these kind of boats, but around the buoys I would say that these are the most exhilarating because the competition is so fantastic and the friendships we've developed have just been wonderful. I think the Melges organisation and Federico [Michetti] with the Melges Europe organisation have done such a fantastic job - the combination of fantastic boats, which are really fun and a lot of energy, coupled with fantastic owners and teams and the competition, then the venues and the festivities - it all harmonises into this wonderful equation which equals fun for everyone."
While Kilroy was a keen Farr 40 owner, and the experience was similar with a lot of great owners from around the world, he says that the Melges 32es have now surpassed the 40, being a newer one design on the ascent. "They are much newer and vibrant. They are a little trickier to sail, they are more athletic and they are much faster. They are very powerful little boats."
Kilroy says that while he is very keen on the class, he still yearns for an equivalent experience offshore. "I do want to build another offshore boat, but I just don't want to build a boat and race with three or four others, which is why we donated the TP52 when it was at its peak last year. It is really important in my mind to have competition because that is what we feed on. Between racing against half a dozen boats and 30 boats, it is much more rewarding when you are sailing against a big fleet. It is much more challenging and you have to look into yourself and you have to be that much better to compete. So in the super hardcore racing [offshore], there just isn't that much which is exciting right now. There is some competition in the Med, but I prefer Sydney-Hobart, Transpac, the Pineapple Cup, the Coastal Cup and the Fastnet Race. If we had tremendous competition in a group that was dedicated to doing those events then I would very much like to build another offshore boat – although I wouldn't get rid of this, because it is fantastic."
So is there a third generation of Kilroys who are going to continue the family's long standing seaborn tradition? Kilroy has six children, three with his wife Catherine, who herself was captain of the sailing team at Brown University. His eldest three are all good sailors he says but are not that keen on sailing, while his younger three with Catherine are all showing promise. "Our son Liam, who just turned 8, is very coachable. He sails the 32 and gybes it with a spinnaker up in 16-20 knots of breeze and will be very talented as well and the nice thing is that with all the people we have sailed with over the years – so many Olympians, match racers and ocean racers - we have a lot of volunteers to coach them, so I am hopeful. Then we have our four year old dynamo Sadhbh, who could be the most amazing ever because she has something special about her."
From Palma, Kilroy and the Samba Pa Ti crew now moves on to the Melges 32 Gold Cup in Fort Lauderdale in November and after this the cycle starts again with Key West, SORC before moving back to Europe. However in 2012 he says he will concentrate on sailing in the USA, with the World Championship due to take place in Newport, Rhode Island in September.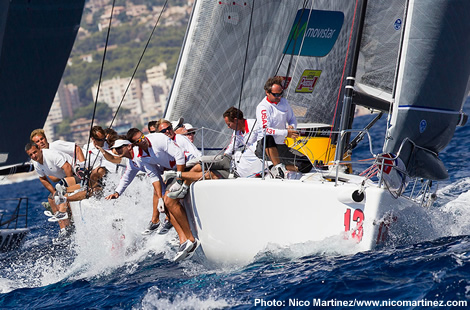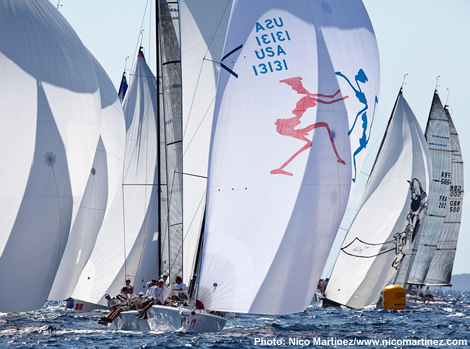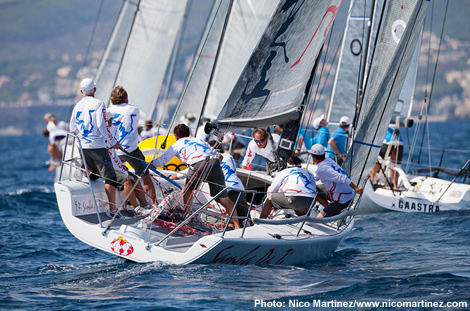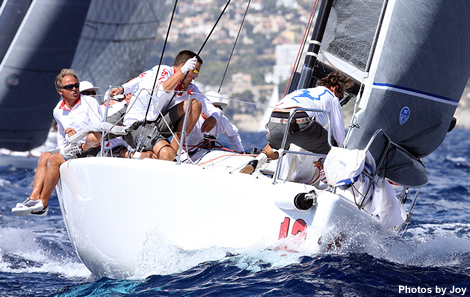 Back to top
Back to top