Fantastica up to second
Day two of the 2011 Melges 32 World Championship, hosted by Real Club Nautico de Palma, was filled with more warm sunshine, but less breeze making for an interesting day of performance sportboat racing. A complete shuffle in the results was in order, in particular the top five, with the exception of two - overnight leader John Kilroy on Samba Pa Ti and Jason Carroll's Argo, holding steadfast in fourth. All other positions shifted including, Lanfranco Cirillo and tactician Michele Paoletti on Fantastica, now in second, and Wolfgang Stolz with tactician Jesper Radich on Opus One, which moved up three notches to finish third. Vincenzo Onorato's Mascalzone Latino slipped back to fifth.
Race one of the day, commenced under 8-10 knots of breeze, slightly less than Day 1. It was a tough start for several of the teams being called OCS including 2009 Melges 32 World Champion Pieter Taselaar on Bliskem with Tom Slingsby on tactics and 2010 Miami Champion Jean-Francois Cruette on Teasing Machine with tactician Stephane Christidis. Yukihiro Ishida's Yasha Samurai with Hamish Pepper on tactics took the lead at the first mark, while Filippo Pacinotti and tactician Daniele Cassinari on Brontolo HH was hot on his heels. Pacinotti's drive to overtake the lead from Ishida was relentless. His perseverance paid off at the finish line. As the two gybed for the finish, Ishida faltered on filling the kite quickly, allowing Pacinotti room to advance and take a well-deserved win. Ishida settled for second, while Cirillo seized the opportunity to take third over Stolz.
"We had a nice fight with Yasha Samurai. They made some mistakes on the last gybe. It was super fun. Unfortunately, it lasted for only a short time," said Pacinotti post racing. "The second race was super difficult. Very tough sailing today."
Race two was a carbon copy of opening day as Kilroy poured on the speed while tactician Vasco Vascotto put him in all the right places, capitalising on the light and shifty conditions. With some nice, breezy conditions for the start, Kilroy got off the line with no problem then extended for the win. His massive lead at the bottom gate was an easy one minute ahead of the rest of the fleet. Back upwind he further separated from the pack, easily taking the victory ahead of Cirillo's Fantastica.
"The key to our success is to remain relaxed when we race, and realise that when something is not working, know how to fix it. We are lucky that we had a good comeback in race one today." said Vascotto. "The second race was obviously different. It was easier. We had a beautiful start, nice speed, and caught the shift. We have the right attitude on the boat right now. We work hard when we get behind. When we are in front, we work to be nice and smart. We don't feel as though we are really all that better than any of the other teams racing, we respect the other 28 boats around us and their potential."
More light air is in the forecast for Thursday. How light? That question remains to be answered. At this time, racing is expected to begin on schedule.
Results:
| | | | | | | | | | |
| --- | --- | --- | --- | --- | --- | --- | --- | --- | --- |
| Pos | Sail no | Yacht | Owner | Tactician | R1 | R2 | R3 | R4 | Tot |
| 1 | USA13131 | SAMBA PA TI | JOHN KILROY | VASCO VASCOTTO | 5 | 1 | 10 | 1 | 17 |
| 2 | ITA212 | FANTASTICA | LANFRANCO CIRILLO | MICHELE PAOLETTI | 10 | 9 | 3 | 2 | 24 |
| 3 | GER206 | OPUS ONE | WOLFGANG STOLZ | JESPER RADICH | 9 | 7 | 4 | 11 | 31 |
| 4 | USA128 | ARGO | JASON CARROLL | CAMERON APPLETON | 3 | 12 | 13 | 4 | 32 |
| 5 | ITA2121 | MASCALZONE LATINO | VINCENZO ONORATO | FRANCESCO BRUNI | 2 | 5 | 20 | 12 | 39 |
| 6 | JPN203 | YASHA SAMURAI | YUKIHIRO ISHIDA | HAMISH PEPPER | 1 | 24 | 2 | 13 | 40 |
| 7 | ITA667 | BRONTOLO HH | FILIPPO PACINOTTI | DANIELE CASSINARI | 13 | 11 | 1 | 17 | 42 |
| 8 | USA49 | FULL THROTTLE | JOHN PORTER | JONATHAN McKEE | 7 | 15 | 5 | 15 | 42 |
| 9 | USA178 | SHAKEDOWN | GEOFF PIERINI | STEVE HUNT | 12 | 4 | 8 | 20 | 44 |
| 10 | ITA487 | TORPYONE | EDOARDO LUPI | BRANKO BRCIN | 18 | 18 | 6 | 3 | 45 |
| 11 | GBR500 | RED | JOE WOODS | PAUL GOODISON | 15 | 10 | 15 | 8 | 48 |
| 12 | USA2 | GOOMBAY SMASH | WILLIAM DOUGLASS | CHRIS LARSON | 28 | 3 | 12 | 6 | 49 |
| 13 | USA32917 | WARPATH | STEPHEN HOWE | MORGAN LARSON | 4 | 14 | 23 | 9 | 50 |
| 14 | USA162 | ZETIANA | ALEXIS MICHAS | BRIAN LEDBETTER | 8 | 2 | 21 | 23 | 54 |
| 15 | FRA202 | TEASING MACHINE | JEAN FRANCOIS CRUETTE | STEPHANE CHRISTIDIS | 22 | 6 | 25 | 10 | 63 |
| 16 | ITA177 | CUERVO Y SOBRINOS | FERDINANDO BATTISTELLA | ANDREA CASALE | 21 | 13 | 11 | 21 | 66 |
| 17 | ESP226 | BRIBON - MOVISTAR | MARC DE ANTONIO ALTIMIRA | HUGO ROCHA | 14 | 26 | 22 | 5 | 67 |
| 18 | ITA1 | AUDI FRATELLI GIACOMEL | CLAUDIO RECCHI | RICCARDO SIMONESCHI | 11 | 16 | 19 | 22 | 68 |
| 19 | ITA187 | RUSH DILETTA | MAURO MOCCHEGIANI | MATTEO IVALDI | 26 | 20 | 16 | 7 | 69 |
| 20 | ITA23 | B-LIN SAILING.COM | LUCA LALLI | TIZIANO NAVA | 29 | 17 | 9 | 16 | 71 |
| 21 | GBR121 | HIGHLIFE | PETER ROGERS | RUAIRIDH SCOTT | 6 | 25 | 27 | 14 | 72 |
| 22 | NED209 | ROARK | KEES KAAN | GEERT DE KROM | 16 | 23 | 14 | 19 | 72 |
| 23 | USA169 | BLIKSEM | PIETER TASELAAR | TOM SLINGSBY | 20 | 8 | 18 | 27 | 73 |
| 24 | GBR40 | DAWN RAID | OSCAR STRUGSTAD | ANDY HORTON | 17 | 21 | 17 | 18 | 73 |
| 25 | GER225 | IMMAC FRAM | CHRISTIAN SOYKA | PETER BOLVIG HANSEN | 23 | 19 | 7 | 26 | 75 |
| 26 | ITA25021 | FRA MARTINA | EDOARDO PAVESIO | ENRICO FONDA | 19 | 27 | 30 | 24 | 100 |
| | | | | | | | DNF | | |
| 27 | ITA19 | ATLANTICA 19 | CARLO PERRONE | LORENZO BODINI | 25 | 22 | 26 | 28 | 101 |
| 28 | JPN199 | TEAM BROS | NAOFUMI KAMEI | KAN YAMADA | 24 | 28 | 28 | 25 | 105 |
| 29 | ESP9704 | TURISMO RIAS BAIXAS - CASALDOG | SANTIAGO ESTEVEZ | SANDRA AZON CANALDA | 27 | 29 | 24 | 29 | 109 |
From Nico Martinez/www.nicomartinez.com:

From Joy Dunigan/Photos by Joy: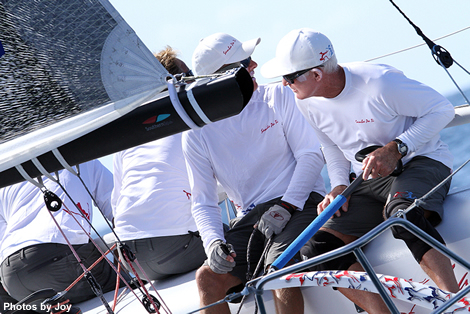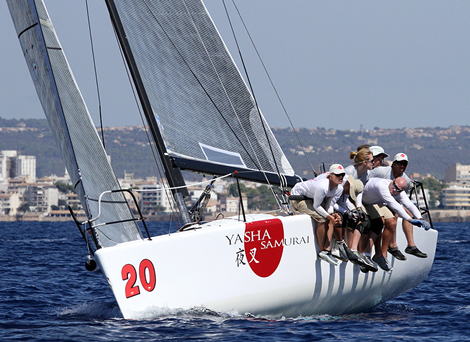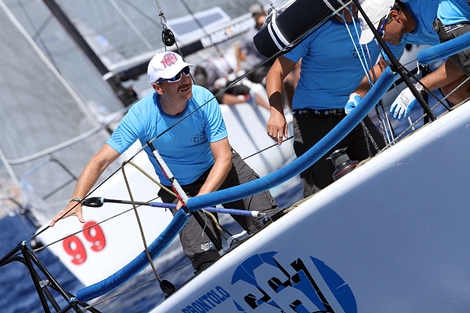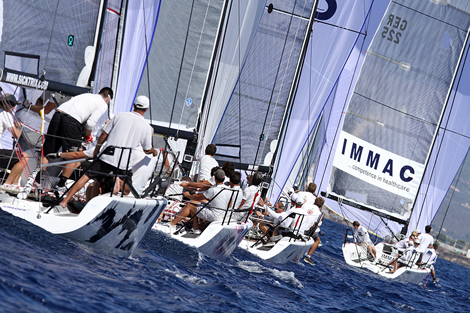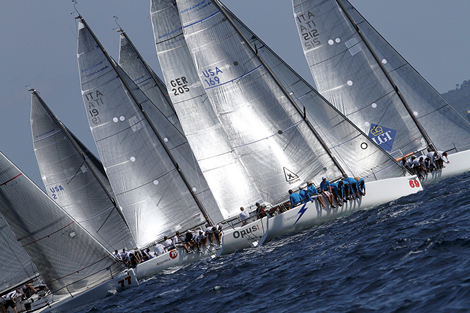 Back to top
Back to top