Moral victory for Quantum Racing
Circuit leaders Quantum Racing gave themselves the perfect platform on which to launch their final assault on the 2011 Audi MedCup Circuit title when they won the practice race for the five regatta series' final event, the Conde de Godo City of Barcelona Trophy.
If the American flagged team under skipper-helm Ed Baird, which have led the Circuit since winning in Cascais in May, have recently had a few shaky moments. Their win today was much more assured and confident.
Racing on the waters adjacent to the 1992 Olympic harbour in a decent Garbi sea breeze which topped 14 knots, Quantum Racing started smartly mid line, along with Bribon – which won the circuit's last regatta in Murcia.
The leading duo were well placed to catch the first wind shift from the left. Quantum led Bribon at the first windward mark and were able to maintain their lead across the finish, pursued by Niklas Zennström's Rán.
Although the conditions looked relatively straightforward, the awkward, contrary swell kicked up by the Mistral wind blowing to the northeast in the Gulf of Lyon made life a little more complex than it should have been, both upwind and downwind.
But this was only practise, and although a sharp reminder of Quantum Racing's potency – they have not won a windward-leeward race since Cagliari in July – it is only when points racing resumes Tuesday that the picture will be the truer one.
Ed Baird commented: "This is an interesting place because the sea breeze comes from a couple different directions. The one that we have today comes from the 200-220º directions and the other one is a little more Easterly, so we have to learn about it, it´s valuable information. There are a lot of things to look in order to see how the fleet sails in these conditions. That been said, the rest of the week is going to be different from haw we sailed today, with stronger conditions. We have to respect the lighter wind because it makes this a whole different game. Our guys had a good day today, everything worked well onboard, so we are happy for this starting point."
Their other main title contenders were not as slippery off the start. Audi Azzurra Sailing Team worked steadily, able to steal third behind Rán.
Rán navigator Steve Hayles said: "It was hard to tell really from that but it was good it was a pretty close race. It was very close at the top mark. We got a good start and there was a nice little left shift off the start line which we got, it had been there. But otherwise it was a nice, normal race and it was nice to get a half decent result."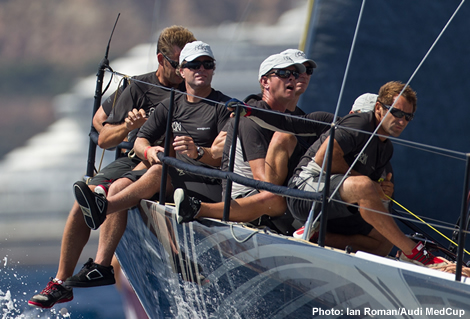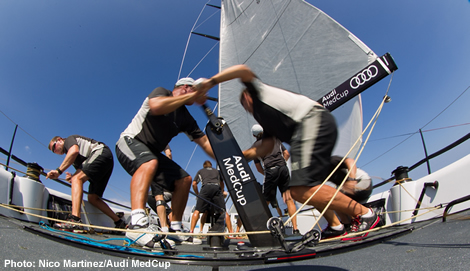 On the change of tactician from Gavin Brady to Morgan Larson, Hayles added: "Really truthfully there is little difference between Morgan and Gavin, Morgan only stepped on the boat this morning. He is not that well known to our guys, but I have sailed with him before. He is a very talented sailor, has a good feel and knows the fleet. In truth he was settling himself in today so we will how it goes tomorrow. He is well organised. My honest feeling is that Morgan will now benefit from Gavin's hard work, a lot of the things he has given us we are using, like the way we started the boat today is as much down to Gavin. At the moment we are benefiting from the good work he did.
"It was a little funny today because the swell comes in from the NE, overnight in the Gulf of Lyons, it looked sort of easy but really it was not. The waves are behind you which was not easy. Hopefully it will calm down because it also makes it a bit bouncy and bumpy downwind. I think the fleet compacted a bit on that last run."
Returning to the Audi MedCup Circuit after racing last in Marseille, Tony Langley's Gladiator, with Langley steering and Tomasso Chieffi calling tactics, were always in the mix after a good start and first beat. They rounded the top mark in fourth and only faded slightly in the later stages of the race.
Tony Langley commented: "We are quite happy. We had a little shake down yesterday and today it went quite well. It was good to be in the mix, fourth at the windward mark. The second beat was not so good but the straight lines were good and the corners were good, so it was okay. We sailed at the Copa del Rey with a slightly more amateur crew and we did okay. This week I guess we'll get slaughtered – that's what happens to Gladiators! But it is how we get slaughtered that counts! We have a couple of changes since Marseille. We have Tomasso Chieffi here as tactician and Guy Reid here as grinder. This year is all about having a look, dipping in and having a look but we have already made the call to do the full season, provided it is not in latitudes which are too northern."
Chieffi added: "It was really nice today, we have been chipping away. First time out for me was the Copa del Rey and of course you need to put yourself into shoes of the boat and understand how things work on the boat, so we made steady progress, stepping forwards in Palma and ended up winning the last race there. It was light wind race. And so we do come out of Palma with a very good feeling. We came here and today I was a little surprised to be right there in the pack. The start was good. Tony and I have been working on communication in the starts, and that is paramount in this fleet. If you don't have an even start at least then you are very soon washed out of the back of the fleet. We made a couple of mistakes here and there and lost a couple of places but all in all we were happy with the day. We come here as the underdogs, but in terms of expectation we are on the same page. And so that hopefully means we are not going to be underdogs for the whole week. Consistency will not be on our side, but we good have spikes here and there, but some good scores would make us happy, and put some big smiles on everybody's faces."
The six boat Soto 40 fleet have their practice race Tuesday with effectively two teams which are entirely new to the Circuit and one brand new boat.
Jesus Turro and his crew of VisitMalta.com are competing on Norberto Alvarez Vitale's Patagonia with Luis Martinez Doreste (ESP) as tactician, while Iberostar is the re-branded Noticia IV.
Only project manager Iñaki Castaner remains on board, but the crew is led by Olympic gold medallists Luis Doreste and Domingo Manrique – who won gold for Spain here in 1992.
And Alex Laplaza and Toni Guiu and their crew have been having their first sails with their brand new boat, hull number 27, www.cruiser-racer.com.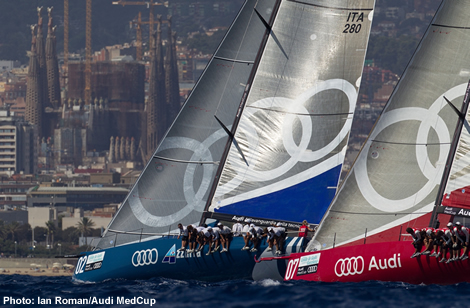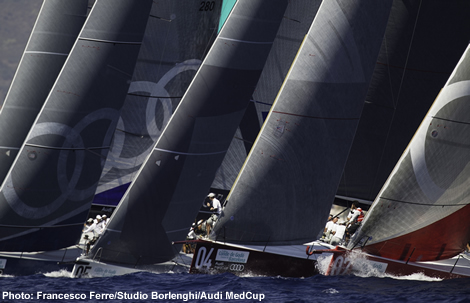 Back to top
Back to top