Green Comm join capsize club
The Spanish-flagged Green Comm Racing became today the latest member of the 'capsize club', when their AC45 flipped while out training on Plymouth Sound.
There were no crew injuries and the damage to the top of the wing is only minor and the team's AC45 yacht is expected to be fully repaired by Tuesday afternoon.
Vasilij Zbogar, helmsman, stated, "this incident didn't come as a surpirse. Conditions were fresh with a southwesterly breeze between 20 and 25 knots, gusting at 30 knots, and we were pushing the boat to her limits throughout the day. We had a very intense training session and we were constantly on the edge. At some stage we were sailing upwind with the wing completely released as we were pushing to the limits. Our top upwind speed was over 17 knots while downwind we got up to 29 knots!
"When you sail in such an aggressive way you are bound to hit some small bumps along the road that leads to the America's Cup in San Francisco. Now we know when to push hard and when to sail in a more conservative way. Today's incident is a very valuable lesson.
"Fortunately, the damage to the wing is only minor. We will need to replace 1 rib at the top, repair another 2 or 3 that were partially broken and, of course, replace the foil. This will not require more than a few hours' work and by Tuesday afternoon the Green Comm Racing boat will be fully repaired."
With very strong breeze forecasted, most teams will sit out Tuesady. As a result, Green Comm Racing might be luckier than it seems and it will not miss a training day.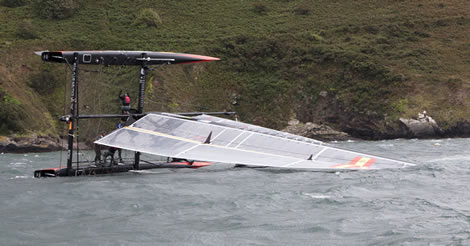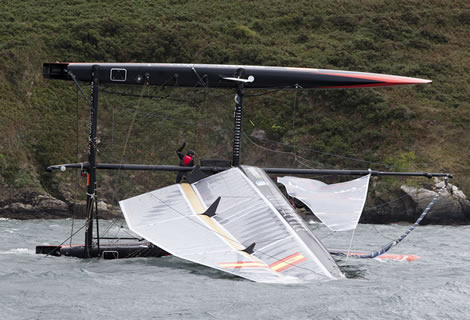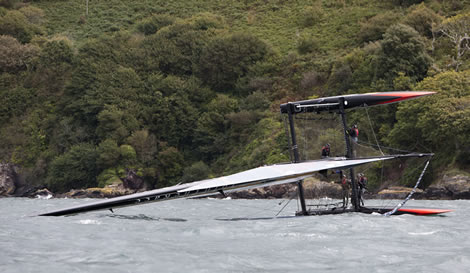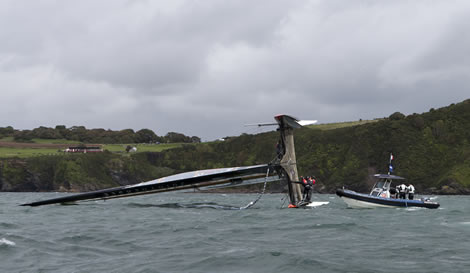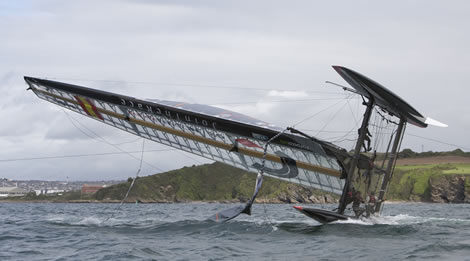 Back to top
Back to top