Audi Azzurra's finish line failure
Champions make their luck and world champions Quantum Racing had worked themselves into a strong second position, ready to seize any opportunity to win the 25 miles premium points Coastal Race were it presented to them, but a change back from white to their traditional black team outfits might just have contributed an upturn in fortunes for the Audi Med Cup Circuit leading team.
They bounced back from a miserable set of scores Friday, 6,4,7, to crucially win today's vital Coastal test at the Region of Murcia-Cartagena Trophy Regatta off Cartagena.
If it was a day when good fortune favoured Quantum Racing and the ill-timed luck of Audi Azzurra Sailing Team dramatically handed victory to the American-flagged team when a halyard lock strop failure on race leading Italian boat, only 0.8 miles from a grandstand in-harbour finish. It denied the unlucky Italian crew a hard won victory when their mainsail came sliding down. In the minutes it took to them to make a temporary fix Audi Azzurra dropped to fourth.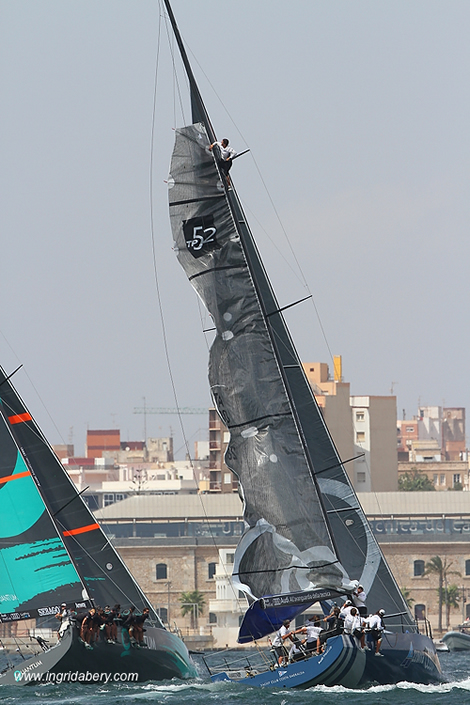 Also profiting were Jose Cusi's Bribon crew who immediately jumped from having seemingly lost their grip on their lead of the regatta which they have held since the end of the second day of racing. Crossing the line in second just behind Ed Baird's Quantum Racing, Bribon now enter the final day of racing with a leading margin of five points over Audi Azzurra Sailing Team, while Quantum Racing's victory promoted them from fifth to lie third overall at this regatta.
A consistent day for Tony Buckingham's British crew on Ngoni, sailing to a well earned pair of second places mean that the team which is skippered by helm Kevin Sproul (GBR) enter the final day's one windward-leeward race with a five points lead in this five boat fleet, almost certain to become the first British boat ever to win an Audi MedCup Circuit Regatta Trophy.
The TP52 coastal race took the tightly-matched fleet on an initial windward-leeward loop in the brisk northeasterly Levant wind before a long five mile beat out to Cabo Agua to the east of Cartagena, a long tactical run back, two sail reach inshore to round the rocky Pigeon Island before the final beat back into the harbour.
The initial upwind proved difficult to read with an immediate choice to be made, but with the extra wind pressure offshore to the right, it was a benefit which Audi Azzurra and Audi ALL4ONE were able to profit from after starting off the committee boat end of the line. Audi Azzurra Sailing Team led their sistership narrowly at the windward mark, but they had trouble with their spinnaker hoist, losing distance immediately to their rivals. But Vasco Vascotto, Francesco Bruni and the Azzurra crew fought back hard taking places on the top third of the long beat and with an excellent run back, they established their lead again on the run.
They looked set for a certain victory, holding distance on Quantum Racing, which had sailed an equally astute race, showing better pace in the conditions and assured, steady tactical choices which allowed them to climb to second.
The position of the finish line was clearly visible to the Audi Azzurra Sailing Team when the drama happened, but with such a failure there was no immediate contingency and it took the visibly frustrated crew some minutes to get sorted.
"We don´t like to speak about luck when we lose places," Azzurra's Francesco Bruni said later, "But this time it was really something exceptional. We broke the halyard of the main, the little part that holds the sail up, and then it came tumbling down. We were just one hundred meters away for the end and the race was over for us. It really felt as if it was God´s sign for us not to win the coastal. We are doing well, we have to remember that we did a great regatta and keep going".
It was good sailing which turned a corner for Quantum Racing, but good luck can't be discounted and the wardrobe call might have helped: "It's a bit like one of our guests said to us in Marseille: 'If you are superstitious, then you will have bad luck!. I don't know if that is true, but the black shirts do seem luckier," said Ed Reynolds, Quantum Racing's project manager, with smile - joined on the chase boat by former skipper-helm Terry Hutchinson. "Terry certainly said he found it much more stressful on the support boat than on the race boat."
The America team's tactician Adrian Stead gave his take: "The key today was to keep working and stay focus the whole day through. I probably underestimated a fact, and that is that we actually went out this morning to have a look at the current at the shore and there was not much running. By the time we got there in the race it was strong at that hurt us. All credit to the blue boat, they sailed very well, we kept the pressure on them. Unfortunately, they broke the main halyard, we know how that feels from when we broke the backstay. It´s been great racing, we struggled yesterday and certainly today we needed this kind of result. Last night we sat down in the container to talk, we change our shirts from white to black, which I have to say are bloody hot, and went out there today."
Gonzalo Araújo skipper-helm on Bribón added: "It´s been a tough day, we worked hard. We had a bit of everything, good and bad luck. We recovered and fought, and at the end we were rewarded. We had an incident with ALL4ONE, and after we protested, they were penalised. We were getting to the port and the tacked really close to us, which made us tack also sending us to shallow water area, we nearly hit the bottom. What happened to Azzurra is very bad luck, because they had done an almost perfect race. Our efforts were rewarded today."
"The important thing for us today was that neither of the two Spanish boats got two firsts today, and so we started the day with a five points lead and finished the day with a five points lead. We are pretty stoked to be honest," said Ngoni's David 'Freddie' Carr. "The shifts went through up to 50° and we saw between ten and 20 knots, so tactically it was about as hard as it gets."
Of the Soto 40 racing Tim Burnell, Ngoni's Australian navigator-tactician said: "It has been such a fantastic experience for us all. There was no pressure on us at all and three of us had never been on a Soto 40 before far less this one, but Gerry Mitchell on the main really does a great job driving the boat, he keeps Kevin the helm honest and looking after the boat speed and he has also really helped us. By and large we have put the boat in the right spot and we have sailed absolutely clean, we have stayed out of trouble"
The TP52 goes down to two final windward-leeward races with Bribon, the 2008 Region of Murcia Trophy winners, holding a five point lead, while Ngoni need only to race to be sure of the Murcia title for the Soto 40s.
Región of Murcia Trophy, Cartagena - TP52 results after seven races:
1. Bribón (ESP), 2+5+1+2+2+3+3= 18 points
2. Audi Azzurra Sailing Team (ITA), 5+1+4+5+1+1+6= 23 points
3. Quantum Racing (USA), 3+2+6+6+4+7+1,5= 29,5 points
4. Container (GER), 7+4+3+4+3+2+9= 32 points
5. Audi Sailing Team Powered by All4One (GER/FR), 4+7+7+1+5+5+4,5= 33,5 points
6. Synergy Russian Sailing Team (RUS), 1+3+5++3+7+6+10,5= 35,5 points
7. RÁN (SUE), 6+6+2+7+6+4+7,5= 38,5 points
8. Gladiator (GBR), 9(DNC)+9(DNC)+9(DNC)+9(DNC)+9(DNC)+9(DNC)+13,5(DNC)= 67,5 points
Soto 40 results after seven races:
1. Ngoni (GBR) 2+1+1+1+2+2+2= 11 points
2. Iberdrola Team (ESP) 4+2+2+3+1+1+3= 16 points
3. NH Resorts (ESP) 1+3+3+2+3+3+1= 16 points
4. Patagonia by the Australian Team (AUS) 3+4+5+4+4+4++4= 28 points
5. cruiser-racer.com (ESP) 5+5+4+5+5+5+5= 34 points
More from Ian Roman/Audi MedCup
And from Ingrid Abery/www.ingridabery.com
| | |
| --- | --- |
| | |
| | |
| | |
| | |
| | |
| | |
| | |
| | |
| | |
| | |
| | |
Back to top
Back to top