Looking for consistency
Cartagena is without question one of the Audi MedCup Circuit season's most difficult race tracks, a real challenge for the tacticians, strategists and navigators thanks to the wind conditions which change so often.
"You have to remember that there is very often no pattern to follow," states Audi MedCup co-founder and top navigator, Nacho Postigo. "It can be completely different from one lap of a race to the next, so – for me – this is the most challenging course area of the season."
The unassuming but uncompromising stretch of water off Spain's southeastern coast is the arena for the fourth Audi MedCup regatta this season. It will be the battleground as TP52 leaders Quantum Racing (USA) and Container (GER), first and second respectively on the leaderboard, seek to re-establish their consistency, which they sustained through the first two regattas of the season, but which seemed to abandon them in breezy Cagliari last month.
Adrian Stead tactician on Quantum Racing comments: "I think it´s going to be another great regatta. Every boat has the potential to win it. We´ve had a look at our sails and we´ve changed our backstay arrangement to alleviate the issues that we had in Cagliari and we´re aiming to bounce back strong. We have a lead in the circuit and the goal is to maintain it or to extend it. Our forecast predicts a medium sea breeze, I think that it will be interesting to see how it goes with the couple of new sails that we have. We strive to be faster and better, because it´s a tight fleet and there are good sailors in every boat. All seven boats are capable of winning the regatta. After three different regattas and three different winners it´s pretty obvious that the final winner will have to be very consistent."
Quantum Racing suffered their first ever technical breakdown to rule them out of a race in Cagliari and Stead confirms they have re-configured the offending running backstay arrangement.
So, too Markus Wieser (GER), skipper-helm of second-placed Container is determined to return to their earlier consistent momentum:
"The last regatta we made a couple of mistakes for which, at this level of performance, you immediately pay. We can no longer afford such mistakes. That can't happen again. It's all still undecided in the circuit, the Italians are strong and hot on our heels, but we'll concentrate on our own races and don't want to get mixed in unnecessary fights for positions."
The TP52s and Soto 40 teams have been on the water practising today in perfect 13-17 knot sea breeze conditions and very warm sunshine, looking to put a final polish on their team work before the regatta gets under way. The TP52s have their official practice race tomorrow.
Many Audi MedCup sailors have been engaged in other top level events since July's Region of Sardinia Trophy in Cagliari. Niklas and Catherine Zennström's Rán crew have completed remarkable back to back wins in the Rolex Fastnet Race, the first time in more than 50 years that a team has managed this feat.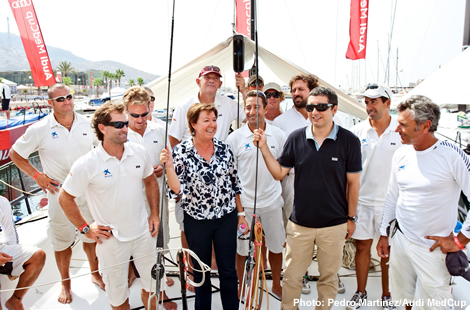 Hamish Pepper (NZL), Container's tactician, has continued his Olympic Star campaign for New Zealand competing at the Olympic test event in Weymouth where he and Craig Monk finished sixth.
The Bribon crew had a very successful week on home waters off Palma winning at the Copa del Rey and Quantum Racing's Kevin Hall (USA) competed in the inaugural America's Cup World Series with Artemis Racing.
Two new teams will debut in the Soto 40 class in Cartegena: Barcelona's Tony Guia (ESP) has taken on XXII for this regatta and has a long term interest in competing in the class. Guia was a Spanish pioneer on the Whitbread Round the World race sailing on Licor 43 in 1981-82 and then Fortuna Lights in 1985-86. He has a strong link with the City having not only been on the sailing team on Licor 43, but the boat was also built here in Cartagena and Licor 43 is a local sponsor.
Their team will be known as www.cruiser-racer.com – XXII.
Guiu commented: "We are really happy to be here because we can see that the atmosphere it´s outstanding. You see people you know well and some others that you don´t know personally but that you recognize because of their great reputation. We are excited because we think that we are in the same conditions as the rest of the teams as far as the boat goes, maybe not so much with the crew, although we´ve added two new Greek members and Sabine Schumann, a German tactician, so we´ll be there giving our best effort. For people like me, who´ve been sailing for so long, is a dream to sail here, a great satisfaction. The organization is great, I know Cartagena well and I know that the city is deeply involved, something that makes me proud."
And for the first time an all-Australian team will compete on the Audi MedCup Circuit. Brent Fowler and a crew comprising primarily of fellow Farr 40 sailors from Western Australia are well used to the strong breeze, but after stepping on to a Soto 40 for the first time today are looking for a more gentle introduction to the class. Aboard Britain's Ngoni, Kevin Sproul (GBR) steers this week, joined by America's Cup sailor David 'Freddie' Carr (GBR) on the crew along with navigator Tim Burnell (AUS) and Hamish Calder (GBR).
Back to top
Back to top