One point lead to Groupe Edmond de Rothschild
Day 1 of the Extreme Sailing Series at Aberdeen Asset Management Cowes Week kicked off with plenty of bow-down action, near pitchpoles and close calls in the final race, thrilling the crowds. The breeze increased to 20 knots by late afternoon, and the crowds were treated to four races on the first of seven days of Extreme 40 racing – the final race being a small taste of what is to come over the next couple of days when the wind forecasted to be even stronger.
French team Groupe Edmond de Rothschild were slick in their operation and sit at the top of the leaderboard after day 1 just 1 point ahead of Italian entry, Luna Rossa. British helm Paul Campbell-James of Luna Rossa, was the winner here in Cowes in 2010, and today put his local knowledge to good use: "We had a good day," he said. "We always pushed to go slightly further in for tactical reasons, and you can hear the oohs and the ahhs of the crowd when you are actually only 20 metres away from them… You get the odd shout when you go past, the odd odd boo when the French team go past. It's wicked!"
The action was tight with the 12 Extreme 40s fighting for space around the two lap courses with bear aways at the top mark delivering plenty of jaw-dropping action and multiple waving of protest flags as the referees whistle rang out across the water: "It is so tight in this breeze," said Leigh McMillan, skipper The Wave, Muscat. "Because we are going so fast, the closing speeds happen so quickly. We do everything possible to try to keep track of all the boats on the course so you know where the dangers are but sometimes you are taken by surprise. It is scary in between races because you know you have another one coming. But as soon as that gun goes the adrenaline is absolutely pumping and you focus on keeping the boat upright and overtaking boats. It all happens in a bit of a blur to be honest and you get to the end of a race and you think, 'how did that just happen?'!"
A compulsory mainsail reef and no gennakers was imposed by the race control before the start of race 4 as wind speeds hit 20 knots with gusts over 25.
In between racing the crowds and VIP spectators were treated to a show of other stadium sailing Extreme style… Benji Borg and Seb Ripard from Malta and Britain's Simon Mark and Nick Murray went into close combat for a couple of hours as they raced their Olympic class 49ers pre-Extreme 40s. And British windsurfing champion Guy Cribb challenged Oman Air to a spectacular head to head at the end of the day. Enthralling stuff and plenty more to come over the coming days as Act 5 starts to ramp up.
Current overall standings after four races

Position / Team / Skipper & crew / Points
1st Groupe Edmond de Rothschild (FRA), Pierre Pennec / Christophe Espagnon / Thierry Fouchier / Hervé Cunningham 43 points
2nd Luna Rossa (ITA), Max Sirena / Paul Campbell-James / Alister Richardson / Manuel Modena 42 points
3rd The Wave, Muscat (OMA), Leigh McMillan / Kyle Langford / Nick Hutton / Khamis Al Anbouri 34 points
4th Red Bull Extreme Sailing (AUT), Roman Hagara / Hans Peter Steinacher / Will Howden / Luke Cross 33 points
5th Alinghi (SUI), Tanguy Cariou / Yann Guichard / Nils Frei / Yves Detrey 28 points
6th Artemis Racing (SWE), Santiago Lange / Andy Fethers / Michele Ivaldi / Phil Jameson 27 points
7th Team GAC Pindar (GBR), Ian Williams / Mischa Heemskerk / Andrew Walsh / Jono Macbeth 27 points
8th Oman Air (OMA), Sidney Gavignet / Kinley Fowler / David Carr / Nasser Al Mashari 24 points
9th Niceforyou (ITA), Alberto Barovier / Stefano Rizzi / Daniele de Luca / Simone de Mari 19 points
10th Emirates Team New Zealand (NZL), Adam Beashel / Richard Meacham / Andrew McLean / Chris Ward 19 points
11th Aberdeen Asset Management (GBR) John Pink / Rick Peacock, Greg Bowman, John Gimson 12 points
12th Team Extreme (EUR), Roland Gaebler / Nahid Gaebler / Benedikt Wenk / Dan Morris 1 point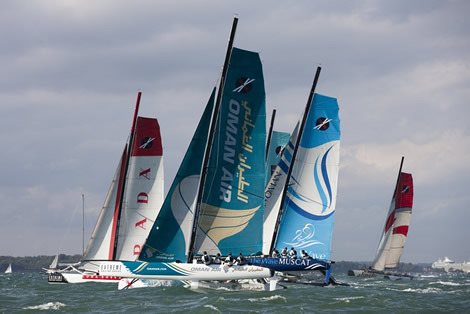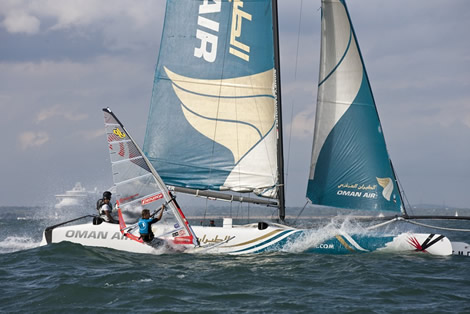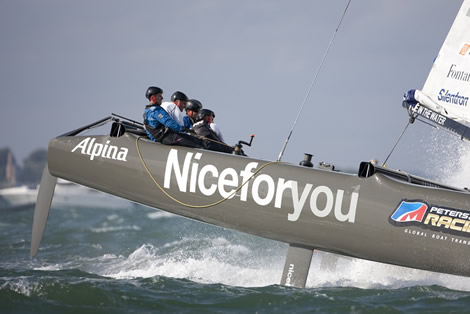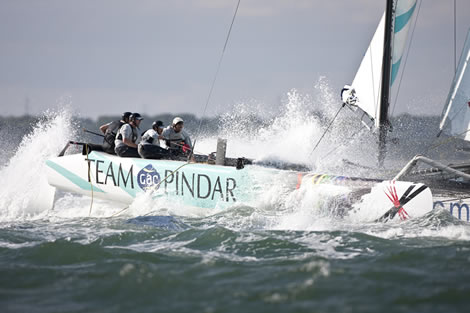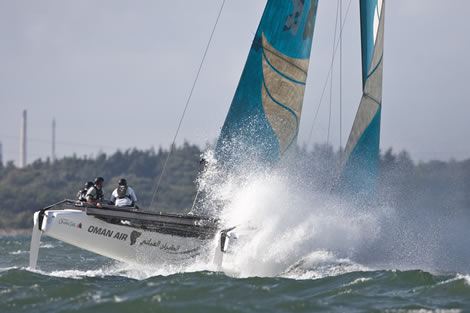 Back to top
Back to top