Victory for 20-year-old DeVos
Sunday July 31st 2011, Author:
Joy Dunnigan
, Location: none selected
20-year old Ryan DeVos aboard Volpe, with Ed Baird calling tactics and Dick DeVos, Scott Nixon, Sam Rogers, Mike Hill, Drew Weirda, Alex Clegg and Cary Seigler serving as crew has become the Melges 32 North American Champion. Steve Howe on Warpath took second place honours while Rod Jabin's Ramrod finished third.
Teams traveled out to the course around 1030 after a short on land postponement. On the water, they sat around for a little more than two hours before the raceable breeze finally decided to make an appearance. The first race of the day got underway just before 1300. Howe put the pressure on early as he rounded the top mark in first, followed by Ryan DeVos and John Tyalor's Ninkasi. Schwartz was fourth and Dalton DeVos on Delta was fifth. On the first downwind leg, Schwartz separated from the pack taking him from fourth to third. More pressure up the left side of the course helped him get ahead of DeVos, but not for long. Howe took the win, Ryan DeVos didn't skip a beat to take second and Schwartz took third.
Race two of the day, the final race in the eight-part series witnessed Alexis Michas on Zetiana rounding the top mark in first, Dalton DeVos in second and Steve Rhyne on Mojo in third. Jabin rounded fourth. Downwind, Dalton DeVos gained ground to take over the lead and took it to the finish line for the big win. Rhyne slipped in right at the line to take second ahead of Michas.
After racing, an awards ceremony was held to publicly, officially crown DeVos as North American Champion and the runners up.
Results:
| | | | | | | | | | | | |
| --- | --- | --- | --- | --- | --- | --- | --- | --- | --- | --- | --- |
| Pos | Boat | Skipper | R1 | R2 | R3 | R4 | R5 | R6 | R7 | R8 | Net |
| 1 | Volpe | Ryan DeVos | 1 | 4 | 1 | 9 | 1 | 11 | 3 | 9 | 28 |
| 2 | Warpath | Stephen Howe | 2 | 7 | 6 | 12 | 2 | 3 | 1 | 13 | 33 |
| 3 | Ramrod | Rodrick Jabin | 5 | 6 | 3 | 13 | 4 | 1 | 10 | 5 | 34 |
| 4 | Delta | Dalton DeVos | 4 | 3 | 12 | 1 | 11 | 12 | 4 | 1 | 36 |
| 5 | Mojo | Steve Rhyne | 7 | 2 | 8 | 5 | 5 | 13 | 8 | 2 | 37 |
| 6 | Zetiana | Alexis Michas | 8 | 5 | 2 | 4 | 10 | 9 | 13 | 3 | 41 |
| 7 | Intac | Mark Plaxton | 11 | 8 | 5 | 6 | 3 | 2 | 9 | 10 | 43 |
| 8 | Pisces | Benjamin Schwartz | 13 | 1 | 15 | 2 | 13 | 10 | 2 | 8 | 49 |
| 9 | Goombay Smash | William Douglass | 6 | 16/DNF | 10 | 14 | 7 | 5 | 7 | 4 | 53 |
| 10 | Ninkasi | John Taylor | 9 | 12 | 13 | 7 | 9 | 4 | 5 | 7 | 53 |
| 11 | roXanne | Kip Meadows | 10 | 9 | 14 | 8 | 12 | 7 | 6 | 6 | 58 |
| 12 | Celeritas | Malcolm Gefter | 15 | 14 | 7 | 3 | 8 | 15 | 11 | 11 | 69 |
| 13 | Arethusa | Philip Lotz | 12 | 10 | 9 | 15 | 6 | 6 | 12 | 15 | 70 |
| 14 | Bronco | Michael Dominguez | 14 | 11 | 4 | 11 | 14 | 8 | 14 | 12 | 74 |
| 15 | Wild Horses | Bill Canning | 3 | 13 | 11 | 10 | 15 | 14 | 15 | 14 | 80 |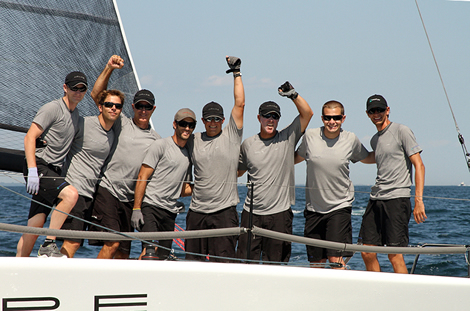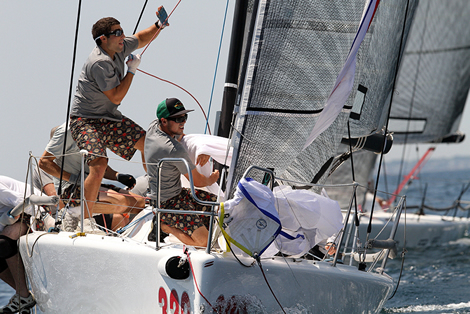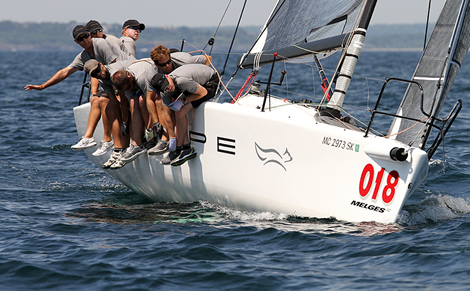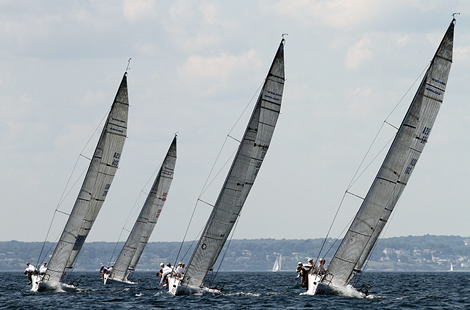 Back to top
Back to top