First Audi MedCup victory for Audi ALL4One
Finishing second at two Audi MedCup regattas last year, in Cascais and on these same waters off the Sardinian capital, Jochen Schuemann and Sebastien Col and the crew of the Franco-German Audi Sailing Team powered by ALL4ONE won their first ever Audi MedCup event today with a comfortable nine points margin over Audi Azzurra Sailing Team, which also posted their best overall finish of this 2011 Audi MedCup Circuit season so far.
The ALL4One win put behind them a catalogue of weak early season finishes by composing a scoreline which included a telling victory in Saturday's high points scoring 25 mile coastal race and two race wins from this maximum nine race complement, sailed on the Gulf of Cagliari. Just as they got the best yet from their powerful Vrolijk design which the crew have struggled to find the best gears for across the wind ranges, so also did Vasco Vascotto, Francesco Bruni and their Italian crew aboard Audi Azzurra Sailing Team
The Audi backed 1-2 here, by the Vrolijk twins, built on different sides of the world, Audi ALL4ONE in Australia and Audi Azzura in Valencia, highlighted not just a turnaround of fortunes for the two teams which have struggled for consistency, but how open the Audi MedCup Circuit is this season.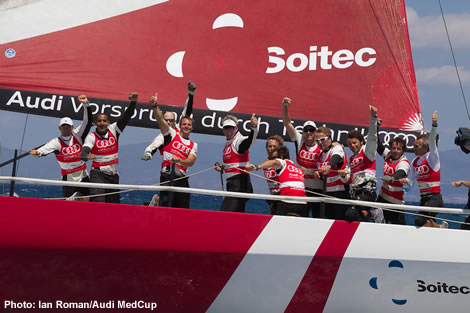 Jochen Schuemann, skipper, Audi Sailing Team powered by ALL4ONE commented: "First event win ever for this Audi team, last year we finished twice second, so this is quite special for us. We've sailed really solid these last days. Today, we broke the spinnaker in the first race while hoisting, that was quite stupid and could've put us at risk but the second race went great. It feels good to win, not more not less, it will be hard next time. We had a good lead but we had three boats really close behind us for a while. It´s a very close competition and we are looking forward for the next regatta in Cartagena."
His tactician Sébastien Col, added: "It feels good to finally win a regatta. At the beginning of the race we didn't expect it. We wanted to do things well. This is a victory we will enjoy. In Marseille we knew already that that the potential was there and we've finally found the key points the get the boat sailing well, which gives us confidence for the upcoming regattas. In the next one we should find similar conditions but with a bit bigger seas. We will still learn things from the boat and we'll still discuss with the designers and our coach in order to get the maximum out of it. I believe we were at the maximum during the last two days, what's really satisfying."
Three different crews have now won successive 52 Series Trophy Regattas, but Cascais Trophy winners Quantum Racing finished fifth overall here, one place behind the Marseille Trophy winners Container, while José Cusí's Bribón team secured their first podium finish of the season by taking third, their boat being one of the few that isn't a new build for this season.
Heading for next month's Region of Murcia Trophy, Quantum Racing do leave Cagliari with their overall 2011 Audi MedCup Circuit lead intact now seven points ahead of Udo Schutz's Container who were 11 points behind after Marseille, but the final day of this regatta was a perplexing one for the current world champions. They were only coming off the start line of the first race in the breezy Mistral conditions when their starboard running backstay failed and they were forced to forfeit the race, their first retiral from a race due to gear failure in the four seasons that team has been campaigning the Audi MedCup.
Repaired for the second contest, Ed Baird and his crew led in the 21-25 knots of breeze but were wrong footed on the final beat, on the wrong side of a wind shift, but then compounded their woes by having to take a pair of penalty turns for a mark rounding infringement to finish seventh across the line.
Ed Reynolds Project Manager for Quantum Racing said: "Over the years I don't think we have had a breakdown, or done circles (penalty turns) and we end up with both on the same day. We came in and tacked too close to Synergy, it was not a cheap foul, it was one of those things. You load these boats up so hard and although we check these things meticulously, it was the top terminal where it goes around the eye went. The guys sorted it really quickly. It is the first time we have had a major breakdown in the Audi MedCup Circuit. But in the bigger picture, between crying and joking, we were saying that maybe wants to win the MedCup. Container did not have the week they wanted, but the two Audi boats did a great job here."
If Quantum Racing's finish to the regatta was not what was required of the Audi MedCup leaders, on the contrary the strength of the Audi Azzurra Sailing Team's second half of the event was to behold, returning a 2,3,2 and winning in the final race today. They went from last to second in just two days.
Vasco Vascotto, Strategist on board said: "In the bad moments we always stick together and never give up. We finished second at this event it is almost a miracle. I am very proud of our shore crew we had some good meetings during the bad moments and that is the key, to keep working for the future. We are finally smiling! It's a big move from last to second in two days, and gives us lot of hopes for the future. It's also a message for the other teams: even if sometimes we are on the ropes we come back!"
The Mistral conditions were towards the top of the range for racing again at times today. Container unfolded a stunning repeat of the strategy which won them the first race of the regatta, ripping apart Audi Azzurra's 80 metre lead when they scythed down the left of the final run in much more wind pressure to eclipse the home team on the finish line. But in the second race Audi Azzurra Sailing Team made no errors and combined solid strategies, good boat handling and ample speed to win conclusively ahead of their twin rivals on Audi Sailing Team powered by ALL4ONE.
In the Soto 40 class there was simply no stopping Iberdrola Sailing Team. Jose Maria Torcida and his Spanish crew reigned supreme with five race wins from seven starts at the Soto 40's first regatta in Italy. In truth Iberdrola Sailing Team were ahead at the finish more times than not, but they were made to fight by all three other teams at different times. They win their third successive regatta title.
Agustín Zulueta, Team Director of Iberdrola Team said: "The fact that this is the third regatta and we have three wins out of three is something that wasn´t even in our best dreams. Our work has been impeccable, we are the team that has practiced the most and in days like these, with this condition, it pays off. If I´m not wrong, we´ve won six races out of seven, so overall we are quite pleased. It´s obvious that the other Spanish boat, Noticia IV, has shown a high level, we´ll see how they perform in the next regattas, where I think that the fleet might be stronger. Let´s see if we keep this type of work, learning about the boat and its handling, not just for this season, but for the upcoming years."
The Region of Murcia Trophy will see the battles in both classes resume on 23 August.
Region of Sardinia Trophy 52 Series - final results after nine races:

1. Audi Sailing Team Powered by All4One (GER/FR), 4+1+3+3+1+5+1,5+6+2=26,5 points
2. Audi Azzurra Sailing Team (ITA), 5+3+6+7+5+2+4,5+2+1=35,5 points
3. Bribón (ESP), 7+4+5+2+2+4+6+3+4=37 points
4. Container (GER), 1+2+7+4+7+1+9+1+6=38 points
5. Quantum Racing (USA), 6+6+2+1+3+6+3+8 (DNF)+7=42 points
6. RÁN (SUE), 2+5+4+6+6+3+10,5+4+3=43,5 points
7. Synergy Russian Sailing Team (RUS), 3+7+1+5+4+7+7,5+5+5=44,5 points
8. Gladiator (GBR), 9(DNC)+9(DNC)+9(DNC)+9(DNC)+9(DNC)+9(DNC)+13,5+9(DNC)+9(DNC)+9(DNC) = 85,5points
Soto 40 final results after 7 races:
1. Iberdrola Team (ESP), 1+1+2+1+1+1+2=9 points
2. Noticia IV (ESP), 2+2+3+2+3+2+1=15 points
3. Ngoni (GBR), 3+3+4+4+2+3+3=22 points
4. XXII Sardegna (IT), 4+4+1+3+4+4+4= 24 points
5. Patagonia (ARG), 6(DNC)+6(DNC)+6(DNC)+6(DNC)+6(DNC)+6(DNC)+6(DNC)=42 points
2011 Audi MedCup Circuit - TP52 standings after 3 events
1. Quantum Racing (USA), 19 + 30 + 42= 91 points
2. Container (GER), 31,5 + 28,5+38= 98 points
3. Audi Azzurra Sailing Team (ITA), 32,5 + 37+35,5= 105 points
4. Synergy Russian Sailing Team (RUS), 37 + 39,5+44,5= 121 points
5. Bribón (ESP), 47,5 + 38+37= 122,5 points
5. Ràn (SUE), 40,5+41,5+43,5= 125,5 points
7. Audi Sailing Team Powered by All4One (GER/FR) 58 + 43,5+26,5 =128 points
8. Gladiator (GBR), 85,5 + 47+85,5= 218 points
Owner Driver Trophy
Niklas Zenström (SWE), RÁN (SWE)
Soto 40 results after three events
1. Iberdrola Team (ESP) 13 + 14+9= 36 points
2. Noticia IV (ESP) 25 + 22+15= 62 points
3. XXII (ESP) 23 + 26+24= 73 points
4. Ngoni (GBR) 33 + 26+22= 81 points
2. Patagonia by Negra (ARG) 28 + 17+42= 87 points
Owner Driver Trophy
Tony Buckingham (GBR), Ngoni (GBR)
From Nico Martinez:
From S.Gattini-G.Trombetta/Studio Borlenghi
Back to top
Back to top