Magical Mystery Tour out in front
Thursday's Swan European Regatta racing consisted of the one long distance coastal race starting at a sociable time of 12.30, giving many crew members a chance to shake any weariness off following the Pantaenius Crew Party last night. Bright sunshine and a calm sea state of approximately 7–10 knots from the northwest saw both the Swan 45 Class and Class A set off on a 25 nautical mile course, while Class B and Class C were heading for an 18 mile course, both taking them as far as Warner Buoy in the East of the Solent. The wind and sea state increased slightly the further East the crews sailed, and built to 12 knots before dropping off for the finish.

The Swan 45 Class and Class A certainly were not going to let either Class have the advantage at the start, Peter de Ridder's Swan 45 Checkmate and Club Swan 42 Magical Mystery Tour sailed by the Leask family were jostling for position while Hawkeye stayed well clear, until about 10 seconds to go when attention was turned to hoisting kites. The Swan 45, Van Uden, owned by Harm Tiddens was first to hoist but had issues setting the kite, while Magical Mystery Tour hoisted and set, gybing at the first available opportunity to stay in shore. A fight for wind was unravelling between Swan 45s Samantaga jointly owned by Philippe Moortgat and Patrick van Heurck, Glynn Williams' WISC and Hawkeye before the rest of the fleet followed suit and gybed to head in shore.

The second start of the day was Class B and C, with John Spooner's Swan 46 Vixen and Janet and Lionel Miller's Swan 44 White Heather pushing the line. Kites were also up early in quick succession and set smoothly. Stephen James' Swan 38 Jacobite got her nose ahead giving them a slight advantage off the line.

The spinnakers were up for the entire length of the Solent, injecting colour into the landscape. Approaching the first mark, North Sturbridge, was Magical Mystery Tour leading the fleet by a substantial margin. Class A Swan 65 Desperado owned by Richard Lofthouse, was chasing Magical Mystery Tour, while Swan 45 Checkmate was at the front of the rest of the fleet of Swan 45s. This was not a leg to relax on however. Due to building wind spinnaker changes were happening across the fleet demonstrating sleek team work. By this stage the fleet had spread to a procession with Magical Mystery Tour heading up the pack.

Class B were the first home with the Swan 44 Selene achieving line honours sailing in at 3 hours and 35 minutes and winning the race on corrected time. Adrian Lower of Selene said: "It was a great day for yachting. We were thrilled with the boat's performance, it seems to be our conditions and the crew surprisingly sail faster after a good party the night before. So I think I'm a bit disappointed with sending them to bed early at the beginning of the week. On the start of the first run we were very fast downwind and we had a good downwind leg." Ian and Glynn Thompson's Swan 40 Sloop John T came third in the long distance race maintaining their position as top dogs of Class B.
Class C line honours went to Cisne, a Swan 43 owned by David Collins and Tony Thorpe, in the time of 3 hours and 45 minutes, giving them a third in the long distance race on corrected time whilst maintaining their third position in Class C overall. Alistair Evans' Swan 37 won the race on corrected time also cementing their second position overall. The Swan 38 Jacobite successfully defended her overall first position with a second place today.

Peter de Ridder's Swan 45 Checkmate won the race in their Swan 45 Class, bumping them up to second place overall. De Ridder said: "It all happened at the start and then we managed to gybe away on starboard. Gybing back in between the moorings gained such a long distance in front of the other boats so for them it was almost impossible to catch up with anyone. So that was the key I think." Glynn Williams' Swan 45 WISC came in second, proudly standing by that pole position overall.

Class A was triumphantly won by Magical Mystery Tour securing the familiar number 1 standing overall. Edward Leask said: "It was absolutely fantastic, beautiful sunshine and a good breeze. We were lucky, perhaps a little clever. We had a brilliant start and were holding the lead down through the forts nearly all the way to the Warner Buoy. It was a convincing win".
Uxorious, the Swan 62 owned by Colin Buffin and Peter de Graaf's Swan 42 Baraka GP came in second and third securing their podium positions overall.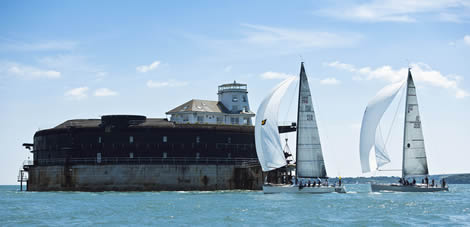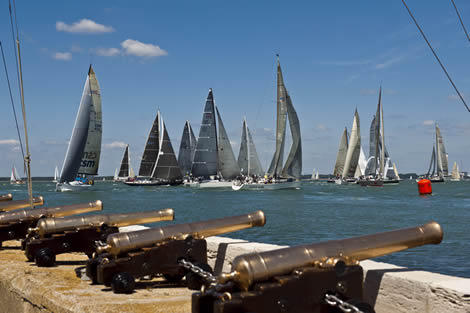 Back to top
Back to top