Four teams undefeated
Clear skies and a gentle breeze welcomed the 15 teams competing in the RC44 Cagliari Cup in Sardinia. With one day of match racing scheduled into the event, the fleet raced six flights with four teams coming away undefeated: Team Ceeref, Oracle Racing, Katusha and Team Aqua.
Cameron Appleton was at the helm of Team Aqua and seemed to cruise to victory in each of their four races. Leading the match race ranking coming into Cagliari, their form today cemented their place at the top of the leaderboard, two points ahead of Paul Cayard on Katusha and Russell Coutts steering Oracle Racing.
Oracle Racing were also undefeated despite a sometimes eventful day. "The first race we lost one of our crew members overboard (Matt Coutts) at the windward mark and had to circle round and go back for him. Our second race was really close with No Way Back they were ahead of us but we managed to pass them. There was some good racing out there," explained Russell Coutts after racing.

On a day where the professional skippers are allowed to steer, Igor Lah, at the helm of his own boat, Team Ceeref, put in a stand out performance taking three straight wins from Ironbound (USA), Islas Canarias Puerto Calero (ESP)and Aleph (FRA) helmed by 2010 World Match Racing runner up, Mathieu Richard.
Team Ceeref sit fourth in the overall in the match racing standing on nine points, after three events events. On equal points is Artemis Racing which had good fortune on their side in their match against David Murphy's Ironbound (USA). "We had an interesting race with Ironbound where we both went around the mark the wrong way," explained a relieved Morgan Larson after racing. "We managed to unwind ourselves, so even though they beat us on the water they didn't sail the correct course, so didn't get a result. Torbjorn (Tornqvist owner of Artemis) was the only one on the boat that noticed the mistake which was key to us doing well."
The two new teams who have joined the Tour in Cagliari also added points to their scoreline with Poland's MAG Racing winning two out of their four races with team tactician Piotr Przybylski, at the helm. "We are very happy with our performance today, we finished with good results in my debut on the helm and although I have sailed on these boats for a few years before but it has always been in different positions from front trim to back trim but never on the helm so for me it was a really great day. It was so important for us to have won two races; it allows us to push forward for the future."

RUS 7 Racing team powered by anywayanyday.com picked up their only race win against fellow Russian's Team Nika, whose owner Vladimir Prosikhin described their day as "unlucky, but very enjoyable".
Tomorrow marks the start of the fleet racing phase of the event and with more new teams arriving on the circuit Team Aqua's Cameron Appleton, a veteran of the class is contemplating how it's going to pan out. "It's going be great racing against 14 teams; it will be hard in the fleet racing. All of a sudden a 10th result might look pretty good. Its early days, I'm interested to see how mixed up the results will be at the end of it. It's great to see the class growing and the new teams means it's going to be harder on the race track."
Racing continues for the RC44 Cagliari Cup from the 30th June – 3rd July.
Match racing results (NB: The RC44 Match Racing ranking is based on a rolling round robin format throughout the six events, with the rankings based on the number of victories and losses over the completed events. Note not all teams will have raced the same number of races up until the end of the series.)
Flight 1
Artemis Racing 1 - AEZ RC44 Sailing Team 0
ORACLE Racing 1 - Synergy Russian Sailing Team 0
Islas Canarias Puerto Calero 1 - No Way Back 0
Team Aqua 1 - Peninsula Petroleum Sailing Team 0
Team Nika 1 - Aleph Sailing Team 0
Flight 2
MAG Racing 1 - RUS-7 Sail Racing Team powered by AnyDayAnyWay.com 0
No Way Back 1 - Ironbound 0
RC44 Team Ceeref 1 - Aleph Sailing Team 0
Synergy Russian Sailing Team 1 - Peninsula Petroleum Sailing Team 0
Katusha 1 - Team Nika 0
Flight 3
ORACLE Racing 1 - No Way Back 0
AEZ RC44 Sailing Team 1 - MAG Racing 0
Katusha 1 - Aleph Sailing Team 0
Team Aqua 1 - RUS-7 Sail Racing Team powered by AnyDayAnyWay.com 0
Artemis Racing 1 - Team Nika 0
Flight 4
RC44 Team Ceeref 1 - Ironbound 0
Islas Canarias Puerto Calero 1 - Peninsula Petroleum Sailing Team 0
Katusha 1 - Aleph Sailing Team 0
AEZ RC44 Sailing Team 1 - Synergy Russian Sailing Team 0
No Way Back 1 - RUS-7 Sail Racing Team powered by AnyDayAnyWay.com 0
Flight 5
Team Aqua 1 - MAG Racing 0
Artemis Racing 1 - Ironbound 0
ORACLE Racing 1 - Peninsula Petroleum Sailing Team 0
No Way Back 1 - Synergy Russian Sailing Team 0
RUS-7 Sail Racing Team powered by AnyDayAnyWay.com 1 - Team Nika 0
Flight 6
Katusha 1 - AEZ RC44 Sailing Team 0
RC44 Team Ceeref 1 - Islas Canarias Puerto Calero 0
Ironbound 1 - RUS-7 Sail Racing Team powered by AnyDayAnyWay.com 0
Team Aqua 1 - Team Nika 0
MAG Racing 1 - Aleph Sailing Team 0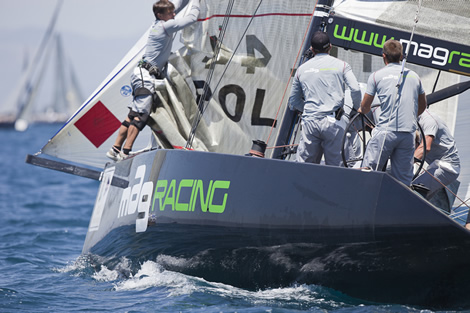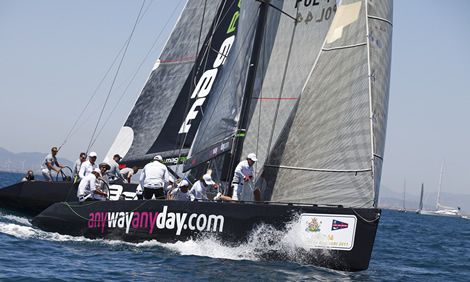 Back to top
Back to top