Revving engines in Marseilles
From the time of each team debrief at the end of the Cascais Trophy to Wednesday coming's first start of the Marseille Trophy, the second regatta of the 2011 Audi MedCup Circuit, the quest for each of the TP52 Series teams has been how to keep improving.
Six teams in Cascais finished knowing that regatta winners Quantum Racing set a high benchmark, and so for them it has been how to reach and exceed that level, while for the American-flagged Audi MedCup Circuit leaders the goal is no different: incremental gains in each possible area.
America's Cup winning helm Ed Baird (USA), skipper of Quantum Racing summarised today: "We've been talking about that and how to find a way to get those things come to us. There´s been some small changes to equipment. One of the fascinating things about equipment sports is that you always end up with an idea of how to make something work better after you experiment with it than the way you did when you were dreaming it up.
"The job of our guys is to find a better way to use the tools we have or invent a new tool. We talk about it all the time, there's tons of things that we can improve and get better. It´s difficult to train with the rules of this class because you can only do it in a venue alone since you can´t come to the racing venue more than two days before practice day, but everybody is in the same situation, trying to get the most out of these two days of sailing."
Mechanical modifications reported, include keel changes and updates on the new Vrolijk designed sisterships Audi Azzurra Sailing Team and Audi Sailing Team powered by ALL4ONE After their seventh place in Cascais, the Franco-German team's tactician Seb Col, reports on some of their changes: "We've made big changes to the spinnakers. We've tried to make the boat sail in another way, and we've changed our positions onboard a bit too.
"Today we were out with other boats again for the first time and we thought it was better. Upwind, even if we aren't the fastest, we have a speed which is quite good. But we still can improve the way we use the boat. It's not an easy boat, and we knew it. Azzura and us, we've gone a bit further with the rule together with Vrolijk whereas the other boats are still following the lineage of previous boats. Our hull is more stable, more powerful, but we also have more drag."
Others have chosen to make few mechanical changes but to concentrate more on polished crew work, as Russia's Synergy Sailing Team have. Their young Italian navigator Francesco Mongelli explains: "We thought that we have to be a bit more relaxed as a team and not be so much in a hurry and forcing things. Just trying to get into the regatta in Cascais and having the sailing team and the shore team working together has been very tiring, so we said that here in Marseille the plan is to try to be a little more relaxed."
And for Audi MedCup Circuit newcomers Gladiator, Tony Langley's British team, they are gaining confidence from the preliminary skirmishes, informal training races on the waters off Marseille today, as navigator Graham Sunderland explains: "We have some really good talent on board and we are not aiming or expecting to come last. We felt that this event and the worlds are quite different and we have learned a lot just being here early. We have lined up and have done well so far, we feel we are strong downwind and are really pleased with that and so we are just trying to work on the design elements of our boat relative to the new ones. It is not as bad as we thought. The speed difference is not as bad as we thought. Our priority this week is boat handling, making sure we can get the boat around the corners. If we can do that, stay on the track and Chris Main our tactician can keep us in the right spot then we will have a good week."
In terms of personnel changes Luke Molloy (AUS) takes over mainsheet on Synergy Russian Sailing Team (RUS), while Thierry Fouchier (FRA) joins the Audi Sailing Team powered by ALL4ONE. Chris Main (NZL), previously with Synergy Russian Sailing Team joins Gladiator (GBR) as tactician.
The Official Practice Race is scheduled to be raced for the TP52 Series on Tuesday before points racing gets under way on Wednesday. Quantum Racing (USA) go into this regatta with a lead of 12.5 points over Germany's Container skippered and steered by Marcus Wieser (GER) with Audi Azzurra Sailing Team (ITA) lying third.
The Soto 40 Series starts Thursday with local ace Alain Fedensieu skippering XXII- Marseille. Iberdrola (ESP) lead the Soto 40 Series by 10 points.
The Audi MedCup Circuit Race Village has been open today but the Open Village with free public access officially opens on Tuesday 14th June.
TP52 standings
1. Quantum Racing (USA), 19 points
2. Container (GER), 31,5 points
3. Audi Azzurra Sailing Team (ITA), 32,5 points
4. Synergy Russian Sailing Team (RUS), 37 points
5. Ràn (SUE), 40,5 points
6. Bribón (ESP), 47,5 points
7. Audi Sailing Team Powered by All4One (EUR), 58 points
8. Gladiator (GBR), 85,5 points
Soto 40 standings
1. Iberdrola Team (ESP), 13
2. XXII Portuguese Sailing Team (POR), 23
3. Bigamist (POR), 25
4. Patagonia (ARG), 28
5. Ngoni (GBR), 33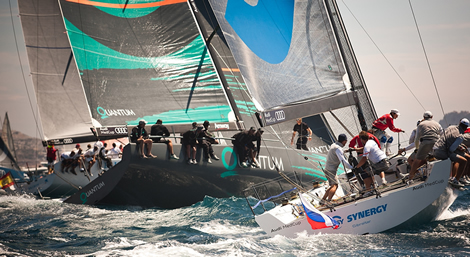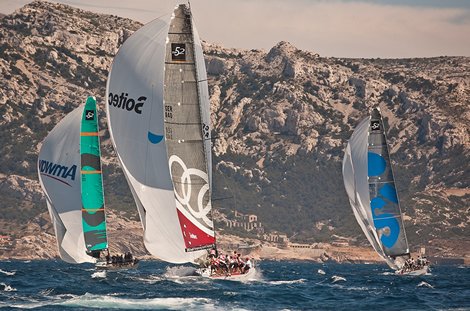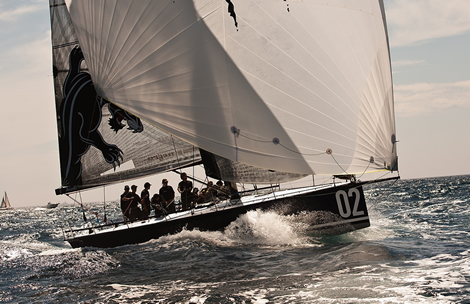 Back to top
Back to top