Chasing ghosts
We have a lot to talk to Francesco Bruni about, whether it is the choice of Olympic equipment for Rio and his unique perspective having campaigned a Laser in 1996, then the 49er in Sydney with his brother, or the soon-to-be-scrapped Star, which he raced in Athens, or his near roles as helmsman initially for the Yacht Club Costa Smerelda's revitalised Azzurra challenge and then Vincenzo Onorato's challenge for the 34th America's Cup, of course neither of which have come to pass, although Bruni continues to keep a foot in both camps.
One of Italy's most popular sailors, Francesco Bruni is part of a Sicilian sailing dynasty. Mum and dad and uncle all sail, his father being a long term Finn sailor, while Francesco and to a greater extent his two brothers, Gabriele and Marco, run the North loft in Palermo and are long term members of the active dinghy scene on the island. Aged 38, Francesco continues to live in Palermo with his wife and two children.
Francesco had a conventional path up through the dinghy world, from Optimists to 420s and then sailing with his brother Gabriele in the 470, taking part in the Italian trials for the 1992 Games. He subsequently switched to the Laser, and in 1994, what he describes as "his magic year", won both the Laser Worlds and Europeans. His results were never quite as good in his subsequent Olympic campaigns, although he and his brother were runner-up at the 49er Europeans on two occasions.
"I really like new challenges and I like to know a little bit about being a bowman, helmsman - the complete variety in sailing," explains Bruni of his apparent lack of loyalty to any one class. "I didn't like the idea of being stuck in a class and trying to win a medal at any cost and having to spend 12 years in one boat. I like the idea of change and that's why I did three Olympics with three very different classes – Laser, 49er and Star. Plus I love the Olympic atmosphere and the challenge..."
Bruni made a vague attempt at a comeback in the Star this year racing at the Trofeo Princess Sofia in Palma and then Hyeres as part of the Italian selection trials. "I knew that I had almost no hope," admits Bruni. "Diego Negri is doing it full time and is going very well. I had a couple of weeks off and I decided to do it. But we did well. We ended up 9th in Palma and 13th in Hyeres without any training. We hoped for him to make a mistake but he sailed very well. So he is going to the Olympics and he deserved it." Italy has been, we think, the first nation to select its sailors for London 2012.
Despite his diverse Olympic career including campaigns on more performance-orientated boats, Bruni is very disappointed that the Star seems set to be out for Rio 2016. "I don't like it. The Star is an old boat, maybe it is not cheap - I can understand that - but we need a keelboat in the Olympics. I don't think the Olympics should be different from the rest of the sailing world. It should be a good representation of the number of nations, some classes for young, new people, but also for me it is stupid to lose the big names that you find in the Star as well as all its traditions being lost – I don't like that."
Bruni points out that the criticism of the Star as being expensive is true, but there are plenty of ways that the cost could have been restricted, such as limiting it to one builder and fixing the price. He is fine with the idea of another keelboat being chosen, although he sees no reason to change from the Star as it would still need to be a two person boat. "With the Star, there should have been some modification, but not a revolution. But any decisions that ISAF takes is always a big mistake. To put the women's match race in there and no men's match racing.... And also women's match racing with a fixed boat. Everyone knows that the good thing about match racing is that you can travel around without a boat. They should have done that, like normal match racing, and then fixed the class one month before the Olympics so that no one has to buy a boat, making it expensive, etc."
Last year we were getting deep and meaningful, citing the demise of the Star and the V5 America's Cup leadmines as being symptomatic of a broader evolution in our sport towards, lighter, faster boats and the end of spinnaker poles. Bruni acknowledges this trend but hopes that the two styles of sailing will continue. "You can't just put the tradition in a corner and change it all completely."
In fact it was in the America's Cup Version 5 boats that, in our opinion, Bruni proved himself to be one of international yacht racing's foremost helmsmen. With Bruni spearheading the YCCS's Azzurra campaign on the Louis Vuitton Trophy, the Italian team won the event in Nice at the end of 2009. However the profound revolution going on in the America's Cup were not to the liking of the traditionalists at the YCCS, who are also understood to have held the opinion that a Cup in multihulls represented too much of an advantage for Oracle. The Azzurra legacy now continues, but on the Audi MedCup, where the team have joined forces with Alberto Roemmers' Matador from Argentina in the new Audi Azzurra Sailing Team. While Matador's Guillermo Parada helms, Bruni and his bubbly colleague Vasco Vascotto are the Azzurra crew in the afterguard.
"I am very happy with this," says Bruni. "The TP52 is such a strong circuit this year with six boats. We are missing numbers with some of the old boats, but hopefully they will come back. It proves monohull racing is not over even if the Cup is in multihulls. Monohulls are still a bigger piece of the sailing world."
With Azzurra not heading for the Cup, last year in Dubai Bruni was the replacement for ousted skipper Karol Jablonski for the Russian Synergy Sailing Team on the Louis Vuitton Trophy, but there were stronger rumours of Bruni being the skipper-in-waiting for Mascalzone Latino, despite Gavin Brady skippering the Mascalzone Latino boat at the LV events. Confused? "I have been very close to Mascalzone and I think I could have been part of the team if they had done the Cup," Bruni admits.
Over recent months Bruni has been campaigning the RC44 with Vincenzo Onorato and also the Mascalzone Latino Melges 32. He even took part in an A-Class catamaran regatta in the USA aboard a Mascalzone Latino entry. "I was ready to go," says Bruni. "I was really crossing my fingers and it is a big pity that Mascalzone quit. Personally I am not happy about it, but I cannot give Vincenzo the money to do it! The fact is the thing that is not very nice is that he invented the game with Oracle and then he doesn't play. No one is happy about it."
But in the end Onorato never pressed the start button with his campaign for the 34th AC and while there was his normal management team in place and the lovely Lorenza doing PR, no sailors or design team or sail makers were employed. "We felt that there was good hope because he was the challenger of record, but the reality is that he was probably out before he even started," says Bruni.
Bruni continues to sail with Onorato although in exactly what remains to be see. They pulled out of the RC44's event on Lake Traunsee, Austria. However Onorato, the three time Farr 40 World Champion, seems to keen to focus on the Melges 32 Worlds this year, that are taking place in Palma in September. However in the last 24 hours we have heard that Onorato is also mounting a heavyweight campaign on the X-41 class with an Italian supreme team line-up of Bruni brother Gabriele, ex-Luna Rossa skipper Francesco de Angelis, veteran Italian trimmer and long term Alinghi sailing team member Lorenzo Mazza, Matteo Ivaldi, etc.
"Vincenzo - it is a great honour to sail with him and he's a great person," says Bruni. "I'm sure he wanted to do the Cup, but he didn't find the money for it and he felt that maybe it was better to quit earlier than later."
Since signing with Azzurra and his future seemingly heading towards the America's Cup, Bruni has been a regular participant on the World Match Racing Tour, and is currently competing at the Korea Match Cup and recently won Match Race Germany.
Given the diverse nature of his sailing background, Bruni says that personally he would have liked the fresh challenge of learning to race big wingsail catamarans. "I have never really tried it so my skill is close to zero. I have sailed a Tornado for fun, but nothing serious. I am attracted by the new thing but at the same time if I had the choice I would have chosen a monohull, for my experience, etc."
It seems he will have to wait until next time.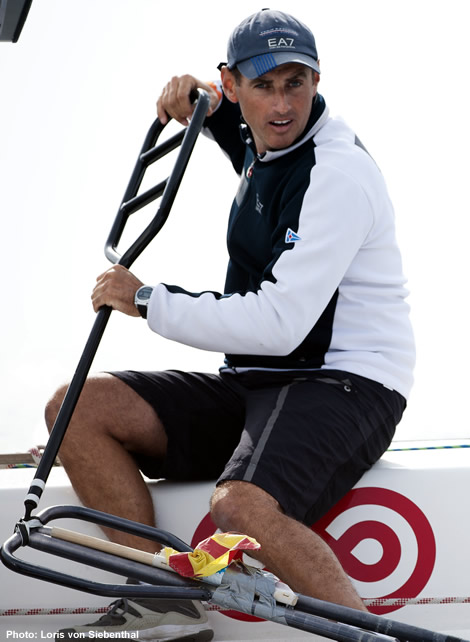 Back to top
Back to top