New lease of life for the Maxi class
Wednesday June 1st 2011, Author:
James Boyd
, Location: none selected
The 100ft supermaxi class (or the 'maxi' class as they were redefined last September) has been stagnating a little over recent seasons with no new builds since Speedboat (now Rambler 100) was launched in 2008, with Alfa Romeo owner Neville Crichton, one of the main drivers of the class, temporarily out of it and these ultimate examples of racing monohull rarely all in the same place at the same time.
Traditionally the greatest gathering of 100 footers was annually in the Rolex Sydney Hobart, after all it was the CYCA that set the 100ft maximum length limit for their race. But these days only three or four maxis typically wend their way south each Boxing Day. Meanwhile Mike Slade's ICAP Leopard, George David's Rambler 100 and vaguely in the same part of ocean, the U.S. Merchant Marine Academy's Dubois 90 Genuine Risk, have been at each other's throats throughout the season so far, but in the Caribbean. Rambler and Leopard are set to continue the competition in the Transatlantic Race 2011, setting off from Newport on 3 July and will then line-up again in this year's incredible Rolex Fastnet Race. Meanwhile Genuine Risk is believed to be entered in July's Gotland Rund up in Sweden by Hugo Stenbeck, Team Principal of Victory Challenge. If any of these boats make it to the Maxi Worlds in Sardinia in September then they will meet the former Alfa Romeo, now Esimit Europa 2.
But from 2013 the maxi class will see some new competition.
When it was first formally announced in February, it seemed that the WallyCento was a kind of repackaged Wally 100. Not so. The Wally 100 is not a model you buy from Wally but a boat you have designed and built that must comply with a new Wally-created box rule. The result is expected to be a more thoroughbred racing machine than existing Wallys, perhaps best described as being like a 100ft version of Sir Irvine Laidlaw's 82ft Highland Fling XI, complete with most racing accoutrements but with an interior, class rules governing interior and systems fit out.
While it might be tempting to think the new class is a result of last year's 'is she a Wally or isn't she?' debacle surrounding Highland Fling, in fact the WallyCento has come about because Sir Lindsay Owen-Jones was looking for a replacement for his present Wally 95 Magic Carpet 2 and he and Wally founder and creative force, Luca Bassani, thought that creating a class around the new boat would promote closer racing. Carphone Warehouse boss Charles Dunstone liked the concept, so while the new Magic Carpet is a Reichel-Pugh design currently under construction at Wally's own build facility in Ancona, Dunstone's own WallyCento will be taking shape over the next few months at Green Marine in the UK to lines from Judel-Vrolijk.
"Lindsay thought that because the new boat would be much faster, he may have found himself racing on his own a bit, so he told me 'why don't we try to convince other owners to build this kind of boat and the idea would be to have a class?' So we came up with the box rule idea," explains Bassani. According to Bassani, the Wallycento isn't a one design or part one design because it doesn't make sense at 100ft: "When a client is ready to invest such an amount of money, he wants to put his own ideas and his own preferences in. So a one design of that size in our opinion wouldn't work."
Bassani recounts how Owen-Jones, who also races cars, had the idea that the WallyCento class would emulate (albeit in an inflated waterborne fashion) what the 'Bentley Boys' did for motor racing during the late 1920s, when working with the famous British marque resulted in their four successive wins at Le Mans.
Nuts and bolts
Alarmingly, considering the amount of money at stake and the amount of scrutiny they are likely to come under, the WallyCento class rules fit into just 13 pages of a 60 page A6-sized booklet and that's in relatively large typeface, although boats must also conform to the more general Wally Class rule that covers another 24 pages. In fact we understand that there is another bigger document for the Wallycento that goes into more detail about the technical specific.
Essentially the WallyCento box is:
Length of hull: 30-30.48m
LWL: <29.50m
Bow overhang: 0.2m
Beam: 6.5-7.2m
Draft (fixed keel): <5m
Draft (lifting keel): 4.5-6.2m
Weight: 45-50 tonnes
P: 42-43m
FL: 43m
J: 11.5-12m
BAS: 2.4-3m
E: 13.5-14m
STL: 15.5-16m
So compared to ICAP Leopard for example, the WallyCento has a slightly smaller sail plan, slightly less beam (Leopard's beam is 7.3m) and with her mandatory systems and minimum interior fit out is quite a bit heavier. However the boat is also considerably simpler as moveable ballast in the form of water or a canting keel is prohibited, as are trim tabs, as are canting or rotating masts, although the choice of one or two rudders remains open and retractable prop shafts are permitted. Unlike other maxis, Wallycentos must also be built to Germanischer Lloyd structural requirements.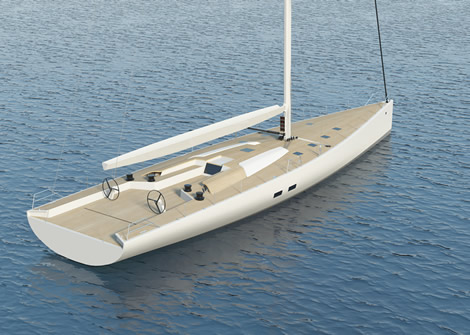 Aside from fitting within the dimensions above, the rules for the sail plan also require that the jib must be self tacking and furling, there is a J measurement dictating the base of the foretriangle and STL governing the distance from the mast to the end of the bowsprit.
Over the winter Paolo Massarini, who is in charge of such matters for Wally, has been busy putting the rules together and one of the hardest jobs has been defining the minimum interior and systems requirements for the Wally Class rules and ultimately the perplexing philosophical question: what maketh a Wally? They are obviously sleek, fast, aesthetically pleasing, innovative, easy to operate with a small crew, clean teak decked, etc, but putting this into more scientific terms is not easy.
So the 'definition of a Wally' has now increased from half a page to five and a half pages in the rule book. This includes prohibiting spinnaker poles, headsail foils and drop line systems, while mandatory are powered winches, removable bowsprits, teak decking, winged or V-shaped booms (ie no lazyjacks), etc.
The accommodation must have three guest cabins and bathrooms at least, plus crew cabins and bathrooms. Each guest cabin must be enclosed by 'rigid bulkheads' and have a solid door, a twin or double bed and opening hatch, etc. We'll spare you the requirements for the head compartment, but the mirror must be 40 x 40cm minimum. 90% of the cabin, saloon and living area's hull/deck inner skin must be covered by 'materials other than its own paint'. And much more...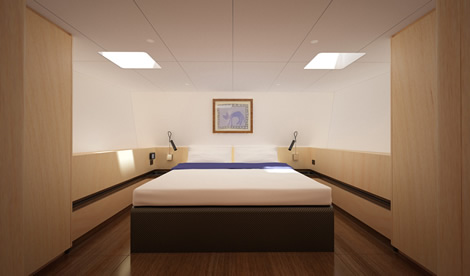 The size of the living area is defined – spanning at least 54% of the length of the hull with a minimum of 1.9m headroom over 90% of the 'walkable area'. Then there are minimum requirements for the engine size, engine compartment insulation and permissible noise limits, the genset, aircon and watermaker sizes, the sizes of the water and fuel tankage, the spec of the galley (including fridge and freezer size), etc.
"All the limits are better defined," states Massarini. "I would say that it is a more accurate description of how the Wally standard is. It is done around the [existing] Wally fleet and that is basically to preceed the WallyCento."
One of the oddities of the WallyCento rule is that while it has all the markings of a rule where boats should be able to race without handicap, like VO70s or TP52s, the plan is still to race them under IRC, rather than on the water, first across the line wins.
"We thought it would have been a bit too hard to achieve that, too hard for the naval architects," explains Bassani. "You have some freedom and to come out with the same number becomes too difficult. And the owners themselves want some degree of freedom – 45 or 50 tonnes of displacement is the minimum and the maximum, then you have a minimum and maximum sail plan. Some would like to go to the lighter path, some to the more powerful path. It gives more flexibility and intrigue." However it seems that the ultimate objective, once more is known about the boats after they are launched, and when there are more of them competing in their own class, will be to race them without handicap.
Massarini reckons the hull shapes of the WallyCentos will look like large versions of the latest IRC designs and will be at max beam, in which case they will have a similar beam:length ratio to the present generation Mini Maxis. As there is no moveable ballast it is likely designers will aim to hit maximum weight with the added weight going on the bulb. Unfortunately where we suspect the rule will fall down, or at least will end up costing owners vastly more than it might otherwise, is that at present it is a 'cut your toothbrush in half' rule, where any gram saved in the hull can be slapped on to the bulb. This might have been appropriate for the Volvo Ocean Race once upon a time but even there (and in the TP52s) they have defined maximum bulb/keel weights and vertical centre of gravity limits, but doesn't sound right for the WallyCento.
Massarini explains: "None of the designers wanted to put the maximum weight of the bulb, so that will drive a very sophisticated interior construction and hull construction, but that is where GL is coming in. We say 'okay you can play as you like, but you have to respect the certification of GL, so we are safe'.
"We didn't want to put limits in terms of sophistication of the boat. We know that it is possibly driving the cost on the high side of the box - they are not going to be cheap boats, but that is the kind of game the owners of these boats want to play. They are happy with the rule as it is and it has been developed with the help and contribution of the two owners and their teams."
When they are launched (towards the end of 2012, ready for the 2013 season), the WallyCentos will join the newly Financial Times-backed FT Wally Grand Prix Series. This year's series comprises PalmaVela, the Nespresso Cup, the Loro Piana Superyacht Regatta, Maxi Yacht Rolex Cup and the Voiles de St Tropez. So not too many overnights, but not just windward-leewards... However Massarini points out that they will be IRC boats, built to GL, and so there is plenty of opportunity to do other events, even offshore or trans-ocean.
With Green Marine and Wally's yard in Ancona building moulds for the WallyCento then presumably there is the opportunity for these moulds to be re-used. Bassani says that they have their own WallyCento design they are offering in three versions – one is a Grand Prix boat, like the new Magic Carpet, another version that fits the WallyCento box rule but in a less rigorous way and another that won't fit in the box and will be more of a cruiser racer, with extra displacement and a shorter mast.
In terms of performance the new Wallycento should be going upwind at 12.8-13 knots, which Luca Bassani compares to the 11.2-11.5 knots of their existing Wally 100s. Downwind they should be able to reach the high 20s. "On Indio, which is 12 tonnes heavier than these boats with less sail and less righting moment we did 25-26 knots."
So while they may not be stripped out full-on grand prix affairs like Rambler 100, at least the new WallyCentos will be part of the way there and will revitalise maxi boat racing in the Med, and will certainly add some glamour...
Video from the recent Nespresso Cup...
Back to top
Back to top