Air-borne bulb canting keeler
The most radical offshore racing yacht to be launched in decades is to compete at Audi Hamilton Island Race Week 2011.
The 42-footer, simply named Q, has been created to capitalise on the exceptional performance gains that come from canting keels by taking the moveable ballast concept to the limit: the entire keel fin and ballast bulb rotates around the hull so that when it is fully canted it is completely clear of the water!
The innovative concept is the brain-child of Ian Oatley, a member of the Oatley family who own Hamilton Island. It has been four years in design, development and build. American design group Reichel/Pugh converted Oatley's ideas into reality and the yacht was then built by McConaghy's in Sydney.
Put simply, rotating the keel clear of the water eliminates speed-sapping drag, and because the keel fin is positioned so far to windward less ballast is needed to gain maximum stability. Rating and handicap considerations haven't come into the equation for this boat, but pleasure and high speed have.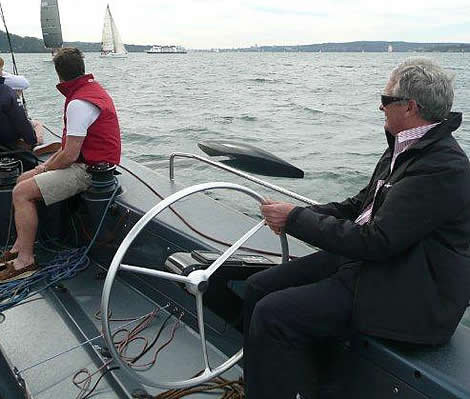 Ian's crew for Audi Hamilton Island Race Week will be made up of mates: there will be no 'heavyweight' sailors on board: "We are into having fun and enjoying our sailing," he said. "We started out as a gang of mates who enjoyed sailboarding, and now, because our bodies can't cope with that anymore, we do a lot more keelboat racing."
When Ian discussed with his crew the concept for a new design there were two prerequisites: It had to be big enough for them to stay together as a team, and it had to be an exhilarating boat to sail – a bit of a 'hang-on-and-hope' situation at times, just like they enjoyed when sailboarding in a strong wind.
With those parameters in mind, Ian put his always fertile mind to work: "I wanted a boat which would accelerate immediately when a gust hit, just as you experience with a sailboard. I bounced some ideas around with John McConaghy and then, when I sat down with the gang to talk through what would be the ultimate boat it suddenly dawned on me – a carbon fibre ring around the boat that would transfer the keel from side to side."
The end result is a rotating keel yacht where the efficiency of the ballast weight is fully optimised. This leads to the yacht's displacement being less than Grand Prix racing yachts of similar size (Q weighs less than four tonnes), while the righting moment is increased to what was previously only achievable in much bigger boats. In short, the power-to-weight ratio is fully optimised, and that translates into greater speed.
Q is now launched and rated and is competing in the Cruising Yacht Club's winter series in Sydney as a warm-up for Audi Hamilton Island Race Week, which will be staged from 19 – 27 August. Already there are more than 60 yachts on the entry list, a number that augurs well for a fleet of around 200 this year.
Back to top
Back to top