New one design for the Audi MedCup
Aside from a new array of turboed TP52s for the Audi MedCup this year, the new kid on the block is the South American designed and built Soto 40 of which there are five racing here in Cascais. This strict one design replaces the GP42, which like the TP52 is a box rule boat and probably not the right vessel to be an 'introduction' to the MedCup given the recent depressed economic climate.
According to Audi MedCup Technical Director Nacho Postigo at the beginning of last season they had a meeting with the GP42 class and it became evident that no new boats were likely to be built. This they further confirmed by talking to the lead design houses and builders.
As Postigo describes it: "There were plenty of people who wanted a turn-key solution. They didn't want a project manager and didn't want to talk to a designer or a yard to customise their boat. If they wanted to do that they would go for a TP52. So we decided that even if it wasn't our preferred philosophy, why not make the little class a one design?"
Originally the Soto 40 was one choice of three, the others being the new Harry Dunning-designed McConaghy 38 and a new 39 footer they commissioned the design for from Marcellino Botin, to be built by Mick Cookson, which Postigo describes as being like a "mini –Team New Zealand TP52". However the Soto 40 won out because it was a contemporary boat with an existing fleet in South America and with a yard that could build them quickly. "There were existing boats, like Patagonia, that could join the fleet and that would be easier rather than starting from scratch and trying to find five, six, seven owners to buy new boats," explains Postigo.
Typically in South America there are 15 Soto 40s regularly racing of which 10 are in Chile. They have their own circuit from Chile around Argentina, Uruguay and Brazil including events such as Rolex Islabela Sailing Week, where a regular competitor is Torben Grael (who's son helms).
The last boat the Audi MedCup organisers ordered (XXII – being sailed here in Cascais by a young team of local Portugese dinghy and Olympic sailors led by Mini Transat hero and ex-Olympic Laser squad sailor Francisco Lobato) was hull #22, while since then five more have been sold including two to Asia.
Postigo believes the Soto 40 offers a reasonably unique opportunity for potential owners. Those looking to compete in the Audi MedCup can buy a boat in South America and carry out pre-northern hemisphere training down there. To this end the MedCup organisers, World Sailing Management, are considering starting a new circuit in South America called the South Cup. If it goes ahead, this will initially comprise three events, in Buenos Aires, Punta del Este and Mar del Plata in Argentina, with future events also likely to be held in Brazil.
Alternatively, says Postigo (with his salesman's hat on) those looking to buy a boat in Europe are reasonably assured to retain a good resale value for their boat as there will be a ready market in both Europe and South America.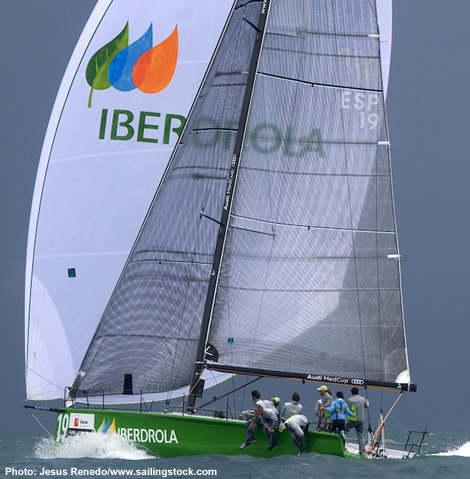 The Soto 40
Designed by Argentinian Javier Soto and built by M Boats, the boat costs 243,000 Euros straight out of the builders in Buenos Aires or with delivery to Europe, electronics and sails it is 340,000 Euros. This compares with a base price for the new Farr 400 ex-works in UAE of US$ 395,000 (approx 277,000 Euros). However it should be pointed out that the 400 has a carbon-foam construction whereas the Soto 40 is E-glass/Corecell foam/epoxy, using a resin infusion process, with localised carbon fibre reinforcement in her longitudinals, plus a carbon fibre mast (the boom and spreaders are alloy), bowsprit and rudder.
During construction the boat is weighed three times with the aim of it finally coming in at 4,290kg. Should the boat not come out at that then corrector weights are added, although rather than these being put in the bilge they are fitted through holes in the bulkhead – at the same height at the centre of gravity of the hull and deck.
According to Nacho Postigo there is nothing that needs doing to the boat when it arrives from the yard other than fitting rope bags. There is no need to fair the appendages as the keel is milled from steel while the bulb is also milled. "Anything you touch is going to make it worse! The rudder is made in a female mould. All the boats when you template them they are very accurate. So you step the rig and go sailing..."
The 40 has sleek lines and with a flush deck, a chine aft, but her unique feature is her 'when I grow up I want to be a 49er' deck winglets, causing crew weight to be further outboard when hiking. Overall beam is 3.77m, which gives it a similar beam:length ratio as a TP52 albeit with a narrower waterline beam thanks to the deck winglets.
In terms of maximum crew weight this varies between the South American circuit and the Audi MedCup where boats are obliged to carry a guest. Thus the official class crew weight is 770kg, but on the Audi MedCup it is 700, or a total of nine crew including guest (or one less than a GP42), although today the Spanish crew on Iberdrola were racing with ten (small/light) crew.
After her glass fibre construction and winglets, next most significant feature of the Soto 40 is its lack of coffee grinder, a conscious decision by the class to keep the price down, says Nacho Postigo, although perhaps not first choice for the Audi MedCup. However it is a one design, the same for all and certainly gybing and hoists provide the crew with a thorough work-out.
Another significant feature of keeping the price down is the sail inventory. This comprises seven sails – main, two genoa, one jibs, three kites – which teams start off with at the beginning of the year and then they are allowed three more sails over the course of the season, according to how much they sail: the first new sail after 10 races, the second after 30, the third after 50, although the inventory must remain the same. However there are reasonably generous rules governing how much of a sail can be replaced before it is deemed a 'new sail'. As was the case with the GP42s there is no coastal race for the Soto 40s which solely race windward-leewards, so there is no need for specialist reaching sails.
Equally significant to keeping the lid on cost is that Soto 40 teams are not allowed to have their own tender. Thus all the sails they are likely to need for a day, all the water, food, spares, tools, etc must be on board when each boat leaves the dock.
There is no owner driver rule for the Soto 40s, although there is a separate championship for owner drivers, which Ngoni's owner Tony Buckingham is gunning for. Nacho Postigo reckons that depending upon the number of professional sailors employed (there is no limit) campaign costs range from 150,000 Euros to 400,000.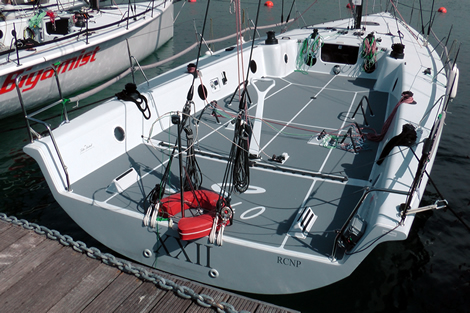 There is nothing especially odd about the cockpit layout except that there is an option of wheel or tiller steering. In Cascais, Ngoni is the sole example of the former. With a big square head to the mainsail there are twin runners, the main sheet track spans most of the width of the cockpit sole. There are six Harken winches, two for the runners, two primaries and two in the pit. The winglets allow for hiking without sawing through the back of your thighs (unlike the new TP52s apparently...)
The rig is carbon although as you will soon read in our interview with Ngoni's Kevin Sproul its bend characteristics are somewhat unusual, combined with the use of PBO discontinuous standing rigging. The main sheet is the 'German system', where a bight of sheet goes down to the track, the sheet ends going up the boom, diagonally down to the sidedecks and then back below deck to the cockpit.
The rig has four halyards with a fraction kite halyard that isn't typically used for racing. Jib fairleads are positioned via a transverse track with one control setting the lateral position, the other leading forward and then back to the pit area allowing adjustment of the up/down.
There is no gear below decks for a drop line for the spinnakers. As Nacho Postigo puts it: "That makes life harder. Judging distances to the mark – we can drop in two boat lengths? No, four boat lengths at least!" However teams are coming up with cunning ways of getting around this with what available gear there is (more again imminently from Kevin Sproul).
In terms of speed upwind a Soto 40 goes 7.4-7.6, so similar to a Farr 40, but downwind Postigo expects them to go 80% of true wind speed, so 8 knots in 10 knots of wind, 16 in 20 knots. In fact we can vouch that in 20 knots boat speed can approach 18 on the surfs...
In part two of this article Ngoni's Kevin Sproul tells of what they have learned sailing their Soto 40.
| | |
| --- | --- |
| | |
| | |
| | |
| | |
| | |
| | |
| | |
| | |
| | |
| | |
Back to top
Back to top