Victory for Oracle Racing
Oracle Racing proved to be the masters of Lake Traunsee decisively winning the 2011 RC44 Austria Cup. Their score line said it all, three firsts, three seconds out of the nine races sailed, and only one race outside of the top five. Steve Howe (USA) is currently campaigning on the Melges 32 circuit, but has enjoyed his first outing with the RC44s. "It feels really good to win, great place, great venue, the team did a nice job and Russell (Coutts) did a great job of getting us around the course. It's the first time I've sailed on the boat, there are a few guys on the team I've sailed with before on other boats but not like this, it was a lot of fun."
Team Aqua (GBR) took second place, one place better than in San Diego two months ago in their old boat, Chris Bake was the first owner to come onto RC44 circuit in 2007 and was pleased with their weeks work in Austria. "I think getting out there and sailing a new boat and having the consistency that we had was great. There were a few missed opportunities and that probably cost us first place but Oracle Racing sailed unbelievably and they deserve the position they got. We got a good second and so I'm really happy, the team has done a phenomenal job pulling the boat together, the boat felt good, so now it's just a matter of improving on that."
From last place in San Diego, to a podium place in Austria, the Dutch team, No Way Back, finished the only race of the day in fourth place with their main competition, Ceeref (SLO), four places behind to hand them third place. Guest tactician for the event was 27-year-old Laser World Champion Tom Slingsby (AUS). "Third overall is a great result, the team has got loads of talent on board and I'm sure they will get better at every event from now on. Hopefully I will get asked back at some point in the future, but for now I have an Olympic Laser campaign going on so that's my main priority and I want to do well in London next year."
Hugues Lepic and his French Aleph Sailing Team, placed second in the final race of the event. It took the team up to fifth overall, an excellent start to their new RC44 campaign. "We are very pleased with the results and have really enjoyed the event. It wasn't perfect and there is plenty more we can do, but we think this is just one event and we will see what happens in the other events to come," said Lepic.
The Tour now heads to Cagliari in Sardinia (29 June – 3 July). Michele Ivaldi (ITA), tactician on Ceeref will be the local and is expecting some excellent sailing conditions. "Cagliari has great sea breeze's all the time and when the mistral comes its game on!"
As for the RC44 Championship Tour standings - after two events Oracle Racing take the lead, Team Aqua move up to second with Katusha (RUS) falling two places to third. The biggest mover is No Way Back, up from 11th to fifth – we will wait to see who they will bring out as their secret weapon in Cagliari with Tom Slingsby away focusing on his Olympic campaign.
Results - RC44 Austria Cup - Fleet Race (after 9 races)
1 Oracle Racing (USA) Steve Howe / Russell Coutts - 2, 2, 3, 9, 2, 1, 1, 5,1 - 26
2 Team Aqua (GBR) Chris Bake / Cameron Appleton - 8, 1, 8, 1, 4, 2, 3, 2, 5 - 34
3 No Way Back (NED) Peiter Heerema /Tom Slingsby - 1, 3, 12, 3, 1, 9, 8, 3, 4 - 44
4 Team Ceeref (SLO) Igor Lah / Michele Ivaldi - 7, 7, 11, 9, 3, 4, 2, 1, 8 - 52
5 Aleph Sailing Team (FRA) Hugues Lepic / Mathieu Richard - 11, 13, 5, 5, 6, 3, 4, 8, 2 - 57
6 Katusha (RUS) Gennady Timchenko / Paul Cayard - 3, 4, 6,, 9, 8, 7, 9, 6, 10 - 62
7 Peninsula Petroluem (GBR) John Bassadone / Inaki Castaner- 9, 6, 2, 9, 11, 12, 5, 11, 3 - 68
8 Ironbound (USA) David Murphy / Peter Evans - 6, 8, 4, 2, 12, 6, 11, 9, 13 - 71
9 Islas Canarias Puerto Calero (ESP) Daniel Calero /Jose Ponce - 4, 10, 13, 9, 5, 10, 10, 4, 11 - 76
10 Team Nika (RUS) Vladimir Prosikhin / Tomislav Basic - 10, 5, 1, 9, 13, 11,12, 10, 6 - 77
11 Artemis (SWE) Torbjorn Tornqvist / Morgan Larson - 13, 9, 7, 7, 7, 5, 7, 13, 12 - 80
12 Synergy (RUS) Zavadnikov Valentin / Peter Holmberg - 5, 11, 10, 4, 10, 8, 13, 12 , 9 - 82
13 AEZ (AUS) Rene Mangold / Christian Binder - 12, 12, 9, 6, 9, 13, 6, 7, 7, (2) - 83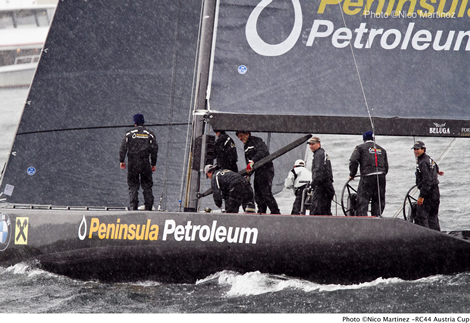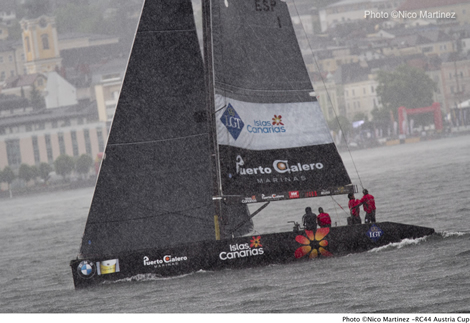 Back to top
Back to top