Coffee club
The Wally contenders for the 2011 Nespresso Cup have arrived in Portofino as preparations get underway to contest for 'The Ultimate Cup'. Crews have been out training today ahead of the first racing that starts tomorrow. Seven of Luca Bassani's glamorous giant sailing yachts have arrived while the largest, the 43.7m Esense has been delayed in Palma with engine problems and is due on Saturday.
"Our hopes are, of course, to win but we are not the only ones who are hoping," said Claus-Peter Offen, owner of Y3K, who finished second overall last year. "There are a few boats who have the same hopes! The level of the boats and the crews is very high and very competitive and it's going to be an exciting weekend."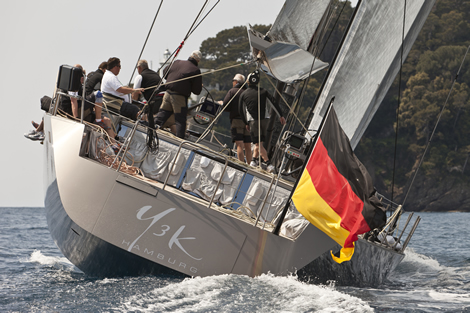 Teams competing for the Nespresso Cup include a full array of international sailing stars from the world of the America's Cup, Olympics, Volvo Ocean Race and match racing experts. At the same time, the Nespresso Cup, exclusively for Wally yachts adopts a 'Corinthian' approach with an owner/driver rule in force in the Overall Division as the skippers recruit crews as much as for their talents as for the ambience on board.
"The Corinthian spirit is important for us and we try to do our best, and enjoy the racing which is the most important thing," said Kenora's Marco Pecori. "The crew are our friends with many different nationalities and we have sailed together for two years now."
Nespresso Cup defending champions Sir Lindsay Owen Jones' Magic Carpet 2, will have to deliver a strong performance over the next three days if they want to retain the Nespresso Cup trophy designed by leading designer Konstatin Grcic: "This puts pressure on me and the team," said Jochen Schümann, Nespresso Cup Race Ambassador and tactician on board. "The desire is to win again and it would be a great honour to repeat that but we have to start at zero and hope we have the right luck and conditions to make it happen."
Six of the Wally yachts competing here in Portofino also competed in the first edition of the Nespresso Cup last year including Y3K (Claus-Peter Offen, GER, 2nd), Indio (Andrea Recordati, ITA, 4th) and Ryokan 2 (Philippe Ligier, FRA, 5th). The 2011 Nespresso Cup welcomes newcomer Inti headed up by Timone Andrea Merani. The all-Italian crew is brimming with America's Cup talent including their 40 year-old tactician Alberto Barovier, who sailed with Luna Rossa and BMW Oracle Racing and holds 11 World Championship titles: "The expectation from our side is pretty high," commented Inti skipper, Andrea Merani. "We have a strong crew and we trained in the last two days to be competitive here in Portofino where the weather condition will be not the best for our boat. But thanks to our crew we will be able to race with only 15 people on board so saving some weight."
The Nespresso Cup racing is managed by the Yacht Club Italiano and racing is scheduled start at 1100 tomorrow. The current weather forecast is for a light northerly breeze, requiring 100% focus out on the water but, then again, these sailors have learnt to take Mediterranean forecast with a pinch of salt: "The weather reports are usually 100% wrong so very hard to predict – today the forecast was for no wind and we had 14 knots," said Claus-Peter Offen.
"The Nespresso Cup is more than just a sailing event," commented Guillaume Le Cunff, International Marketing and Strategy Director, Nestlé Nespresso S.A. "It is a unique event that celebrates the combination of performance and design. At this year's edition of the Nespresso Cup, we are delighted to bring together some of sailing's most respected world-class sailors and Wally owners, as well as leading names in design who have a history of collaboration with Nespresso, to deliver one of the most beautiful and inspirational regattas."
List of entries : Name / Owner / Length
Dark Shadow / André-Jacques Auberton-Hervè / 30.45m

Esense / Holding Montenegro / 43.70m
Kenora / Long Beach Ltd / 32.72m
Indio / Andrea Recordati / 30.50m
Inti / Lauro Buoro / 24.00m

Magic Carpet2 / Sir Lindsay Owen-Jones / 29.00m

Ryokan 2 / Philippe Ligier / 24.00m

Y3K / Claus-Peter Offen / 30.50m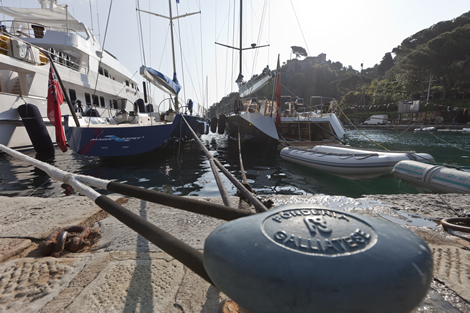 Back to top
Back to top