New RC44 team
Wednesday April 20th 2011, Author:
James Boyd
, Location: none selected
With just three weeks to go until the second event on the RC44 Championship Tour gets underway on Lake Traunsee, Austria, the class are welcoming a new team and a new boat to The Tour.
Russia's Team Nika will join the class in time for the RC44 Austria Cup from 11-15 May. New owner and technology entrepreneur, Vladimir Prosikhin first got a taste for RC44 racing, as a guest onboard the RC44 Beecom in Portorož, Slovenia in 2009.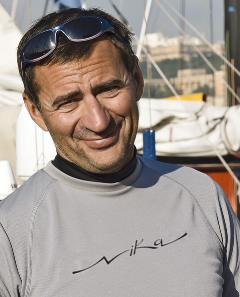 After an enjoyable 2010 season competing on his Shipman 72 in the Rolex Mediterranean Circuit and chartering the Volvo 70, Ericsson 1, for last year's Rolex Middle Sea Race, Prosikhin decided that his future was in one-design racing.
"I am very excited and happy about joining the RC44 class. I was thrilled by the way these boats raced, was very impressed by the event in Portorož, the atmosphere and the people involved with the class. It was just a matter of time before I entered the class as I wanted a fair one-design race in one of the best modern boats," said Prosikhin.
Having purchased the former K-Challenge and recruited many of the former Slovenian RC44 Ekipa 44 team, Prosikhin's new crew also includes naval architect and co-designer of the RC44 class Andrej Justin, alongside double Olympians Mitja Margon, Tomaz Copi and Tomislav Basic. Prosikhin is planning to build a strong competitive team that can challenge for the Championship title in future seasons.
"We haven't yet raced together on board Nika as a team, but hope to build a strong competitive team and eventually win. I will be happy if we finish this season in the middle of the table," continued Prosikhin.
Chris Bake's Team Aqua is not new, but a leading force on the RC44 circuit since its launch in 2007. They too have plenty to celebrate in Austria as they take delivery and compete for the first time in their brand new boat GBR 2041.
The original Team Aqua, the oldest boat in the fleet, enjoyed a fantastic swansong in San Diego as the team clinched third place, but now they have decided that to maintain the momentum behind their championship challenge, a new boat would be invested in for the 2011 season. The team is set to arrive in Austria to commence testing at the start of May to put the new boat through her paces ahead of racing.
Back to top
Back to top